No Time to Waste! We're Climate Neutral Certified for the 2nd Year Running

In response to the global climate crisis, we're proud to announce that we are Climate Neutral Certified for the 2nd year running. Booth & Partners is one of the hundreds of companies that are committed to leading the way toward creating actions against climate change. 
Our staffing solutions and the entire B&P operations? It's mostly carbon neutral. We do everything we can in the business to reduce our emissions. That's what Climate Neutral label means. We measure, reduce, and offset our entire carbon footprint, and we will definitely do it every year. Climate change is the single biggest threat to humanity and we have to stop it, not in 2030 or in 2050, but we have to act NOW. 
Rewind to 2021
Booth & Partners was introduced to Climate Neutral by our client, Peter Dering of Peak Design, who is also the co-founder of Climate Neutral. The idea behind Climate Neutral is to become carbon neutral by offsetting your company's carbon emissions through paying carbon offsets. 
In the previous year, we committed to the following efforts to help reduce our carbon footprint as a company: 
Converting all our office lighting to LED to save energy.

Allowing our employees to work from home to reduce our transport emissions. 

Working with Environmental Organizations

Reducing Single-use Plastic Materials

Conserving Energy

Engaging in active communication about sustainability
Our hope is that if we lead by example, other companies will follow and we'll transform the sector through carbon offsetting. 
Why Act Now?
Globally, we emit almost 60 billion tonnes of greenhouse gases every year. These are the emissions that cause climate change, and our company is responsible for 393 tonnes of these emissions in 2021 due to the resources required to make and deliver our services.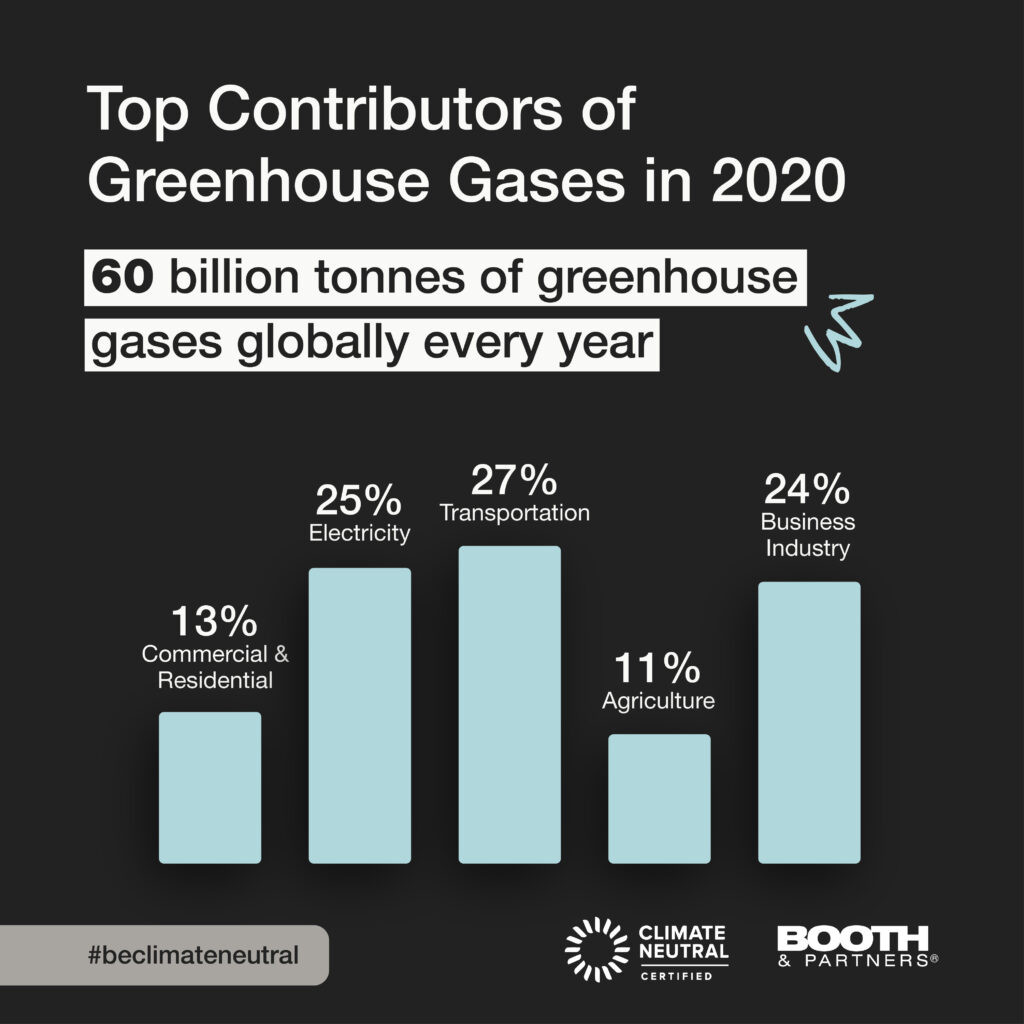 If we don't take responsibility for this problem now, then there's no way we'll hit the 2050 goals science tells us we need to achieve. These are make-or-break goals. Reach them, and we avoid the devastating effects of climate change. Miss them, and life on Earth will change for billions of people – forever.
We're acting now because scientifically-vetted solutions to climate change exist, and they are accessible to brands like ours.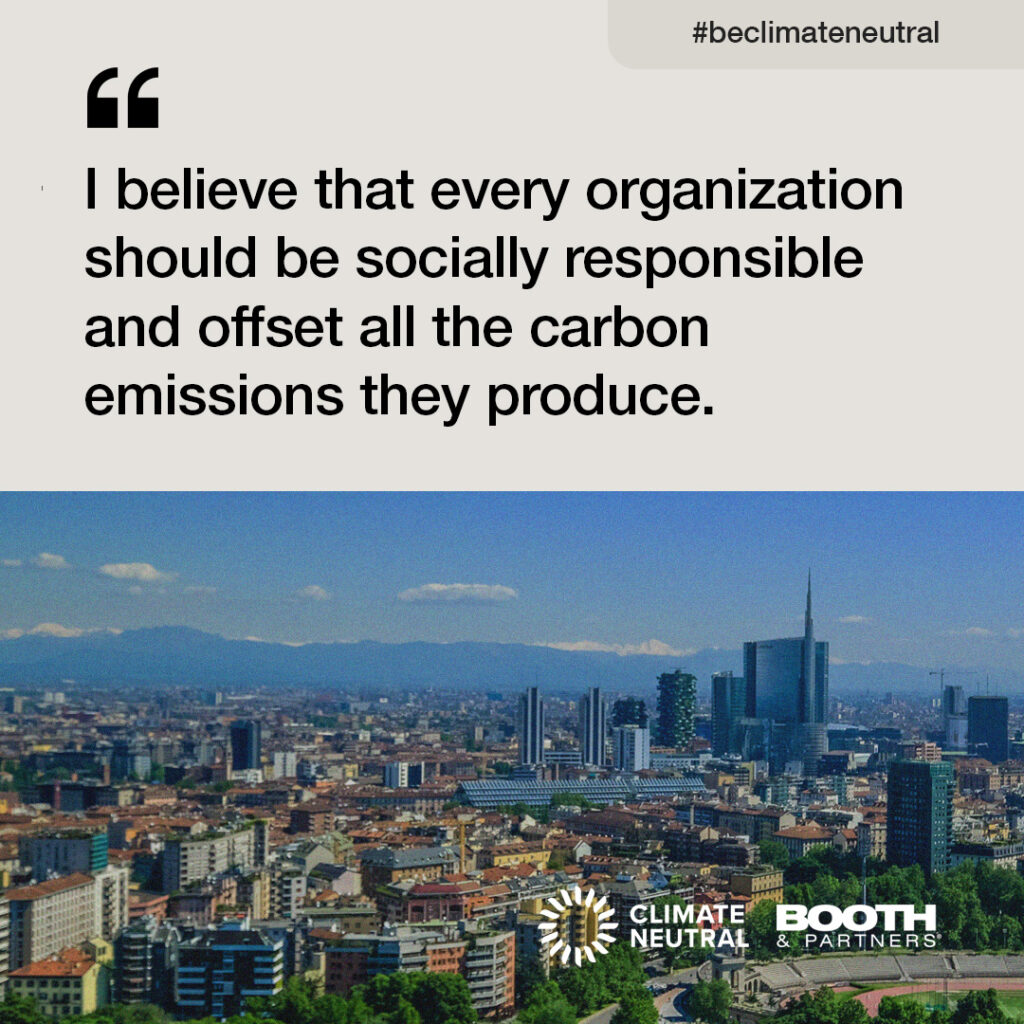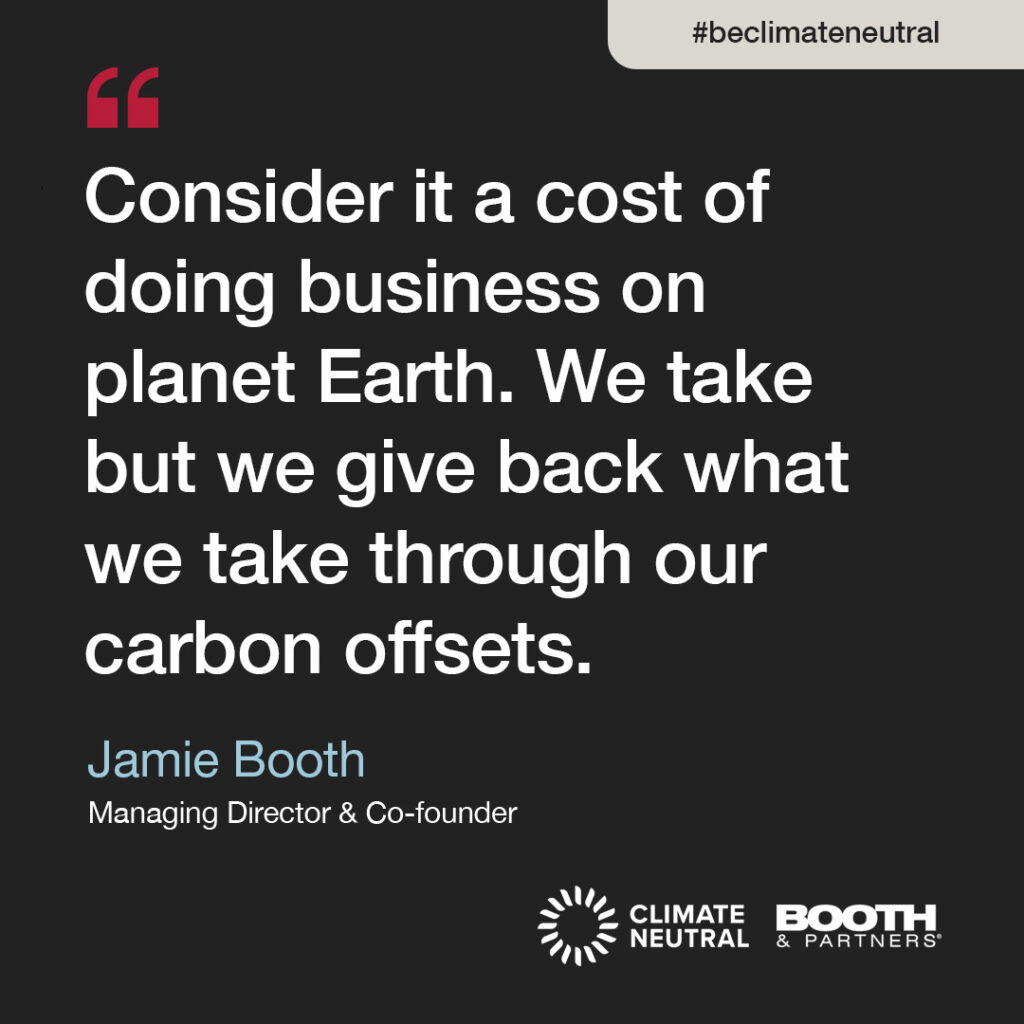 Climate Change Impacts us All 
We think highly of the brands and individuals doing actions for the environment. Getting Climate Neutral recertification means we are operating our business and servicing our clients in a carbon-neutral way. 
Together, Climate Neutral Certified companies are working to eliminate more than 1,000,000 tonnes of carbon emissions – and we're just getting started! 
We want to encourage more brands and individuals to play a part in restoring the climate. To do that, Booth & Partners will use the Climate Neutral label to communicate our values to clients, potential customers, employees, and many more.
The Future We Choose
The Climate Neutral program is the epitome of being sustainable. We commit to two significant emission reduction goals every year which ensures that we don't just offset our emissions but we work hard to find ways to also reduce them as a company. 
In addition, we also support 1% for the Planet and commit 1% of top-line revenue to environmental non-profits who are making efforts to protect local environments and combat climate change. This means we don't just offset our own company's carbon emissions but we also take an active approach to environmental protection and stewardship.
For the year 2022, here are some of the reduction efforts that we will make: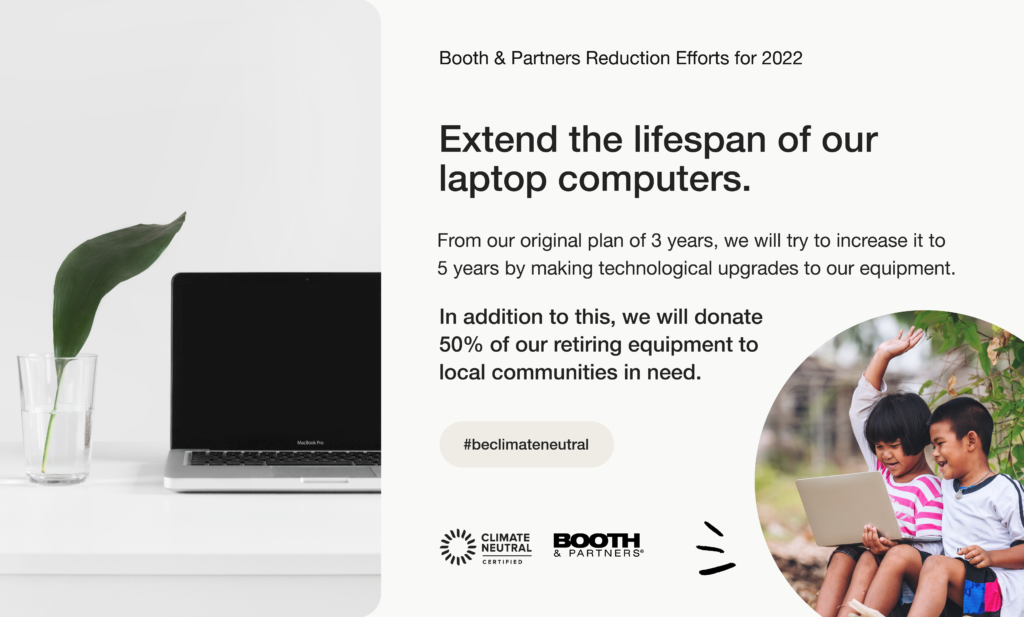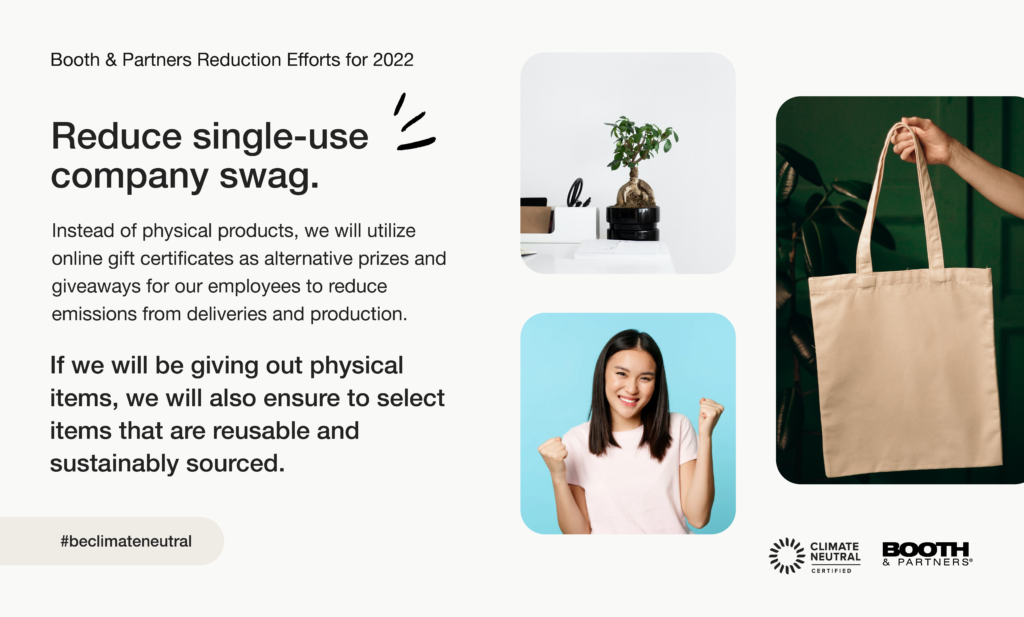 Climate change requires immediate action — there isn't a minute to waste when it comes to removing climate-changing emissions from our global economy. If every company were to measure, offset, and reduce their emissions right now, we could accelerate this journey in a serious way.
Sustainability is a Journey
To lay it out plainly, our Climate Neutral journey is a long-term goal for us. We are excited as a team to keep on carrying out advancements to our processes that will positively and significantly impact our environment and our community. Stay tuned for more updates! 
To learn more about Climate Neutral and other brands committed to climate action, visit climateneutral.org.
Discover more about outsourcing and
how you can maximize it for your
business success!
Get a copy of our E-book: Guide to Outsourcing.
DOWNLOAD NOW