Work-From-Home Outsourcing Solutions: Definition, Benefits, Challenges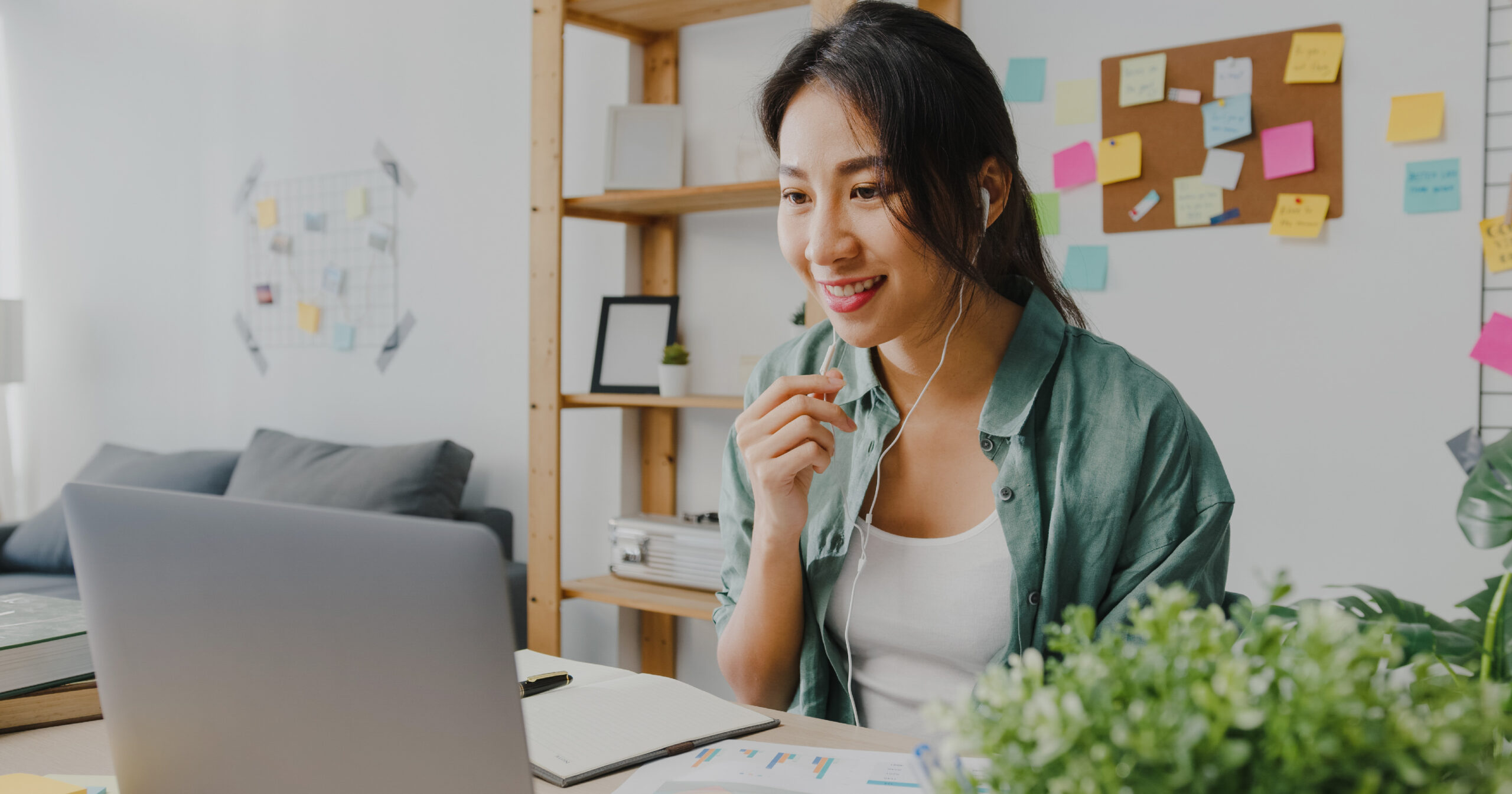 The work-from-home arrangement continues to grow in popularity among outsourcing companies. Amid the ongoing massive resignations and tight competition for top talents, can it be the solution to address the labor shortage in your business? Is it an effective employee retention strategy?
In this article, let's take a deep dive into what work-from-home outsourcing is, including its types of services and benefits. 
What is Work-from-home Outsourcing?
To understand what work-from-home outsourcing is, let's define these two terms first: 1) work from home and 2) outsourcing.
Work from home (WFH) is a set-up where employees do their jobs from their place of residence (e.g., house, apartment) instead of a centralized location (e.g., office). Typically, jobs that don't require in-person interactions and can be carried out digitally, such as customer service and web development, can adopt this work arrangement.
On the other hand, outsourcing is the process of hiring another company to manage tasks for your business. The commonly outsourced services are administrative functions like data entry, lead generation, and other manuals, time-consuming tasks. You can also outsource specialized roles like accounting and copywriting, especially when these are not the core specialty of your business. 
Combining the two terms, work-from-home outsourcing, also called remote outsourcing, is the process of subcontracting home-based tasks to a service provider. It happens when your outsourced team works remotely instead of together in one place. In other words, it doesn't refer to a single service but to the type of work arrangement.
Types of Work-from-home Outsourcing Services
Work-from-home outsourcing is an umbrella term for outsourced jobs that can be done remotely. Here are some examples of work from home outsourcing services:
Customer service:

This service lets you provide support to customers before, during, and after a sale. It can be about answering inquiries, resolving issues, or dealing with complaints. 

IT services:

Among the jobs under IT services are web design and development, software development, helpdesk services, network management, and more. Read this article to find out more about IT services:

Which IT Services are Typically Outsourced?

Lead generation:

It helps you generate large volumes of high-quality leads to increase your conversion rates.

Data entry:

It saves you time from manually entering information into your database.

Virtual assistants:

Virtual assistants can help you with different administrative functions, including email management, schedule management, research, and more.
The common denominator among these services is they can all be done online. As long as the employee has the right equipment, they can finish these tasks just as they do when working at the office.
At Booth and Partners, we make sure to provide the necessary equipment to our remote employees as part of our onboarding process. This is to make sure that the specifications of their work gadgets meet the requirements of their respective roles.
Benefits of Work-from-home Outsourcing
Shifting to the remote work arrangement was way too sudden two years ago. But companies and employees alike have adopted it, and for many, there's no turning back. It's either they fully embrace this set-up or adapt the flexible work arrangement.
But why go remote?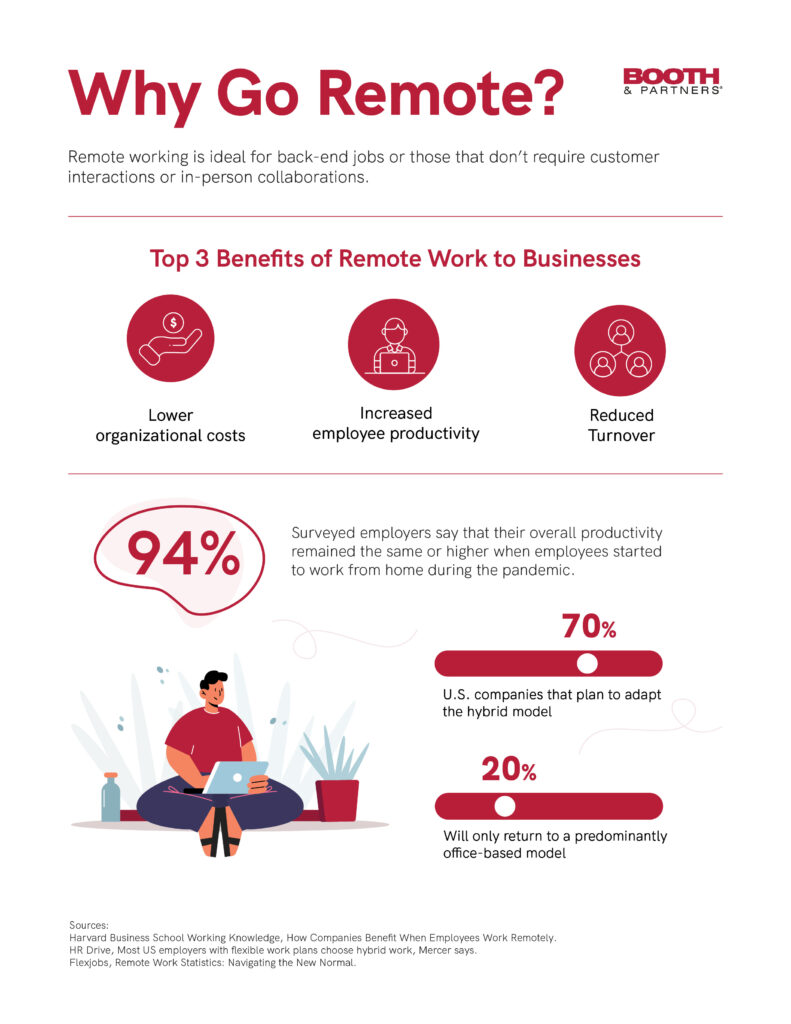 1. Increased Productivity
Six out of 10 workers said they are more productive when working from home than when they do at the office. Several factors come into play in why going remote increases workplace productivity. This includes fewer interruptions, a quieter environment, a comfortable workplace, time to focus, and avoidance of office politics.

When outsourcing, a team lead or supervisor manages your staff on your behalf. Key performance indicators (KPIs) are also in place to track if your team meets its task requirements. It also gauges the quality of output they produce. This can give you the assurance that your team is productive even if you can't see them face-to-face.
2. Reduced Turnover
Sixty-one percent of employees work from home by choice rather than necessity, according to a study from Pew Research Center, a non-partisan American think tank.
In a separate Pew Research Center study, it revealed that the top reasons why workers left their jobs during the onset of the Great Resignation are the following:
Low wages

No opportunities for advancement

Felt disrespected at work

Child care issues

Not enough flexibility to choose when to put in hours 

Benefits weren't good

Wanted to relocate to a different area

Working too many hours

Employer required a COVID-19 vaccine
About 50% of these issues can be addressed by allowing remote work. One of the reasons is that working from home removes the stress, effort, and money associated with daily commutes. Rather than sitting for hours to reach the office, they can take their extra time to have a better work-life balance. 
3. Lower Organizational Costs 
Your employees are not the only ones who can save from this work arrangement. On your end, this set-up is more cost-effective since it reduces your office maintenance costs. Pair it with outsourcing and you can achieve higher time and cost savings in the long run.
When you outsource, your service provider will take care of the recruitment, training, onboarding, equipment, benefits, and management of your team, and get up to 70% of cost savings in the process. 
To get an idea of how much you can save, try our savings calculator.
Your Work-from-home Outsourcing Partner in the Philippines
Booth and Partners is a staunch advocate of the work-from-home arrangement. To boost the confidence of our clients in our WFH capability, our IT team works tirelessly to secure our end devices and tighten our data security protocols.
Laptops and desktops have limited access to sites to prevent cyberattacks from suspicious websites. Moreover, employees need the assistance of the IT team to install applications. We also have device authentication with Google Workspace and secure internet access with Zscaler. 
If you're planning to build a remote team in the Philippines, contact us today.
Discover more about outsourcing and
how you can maximize it for your
business success!
Get a copy of our E-book: Guide to Outsourcing.
DOWNLOAD NOW