What Makes a Workplace Inclusive? Insights from Our LGBTQIA+ Tribe Members

The workplace, whether physical or virtual, is an employee's second home. It's where they spend most of their waking hours interacting with their co-workers and building a network with other professionals. Now imagine if you don't feel safe in your own home. In a space where you were supposedly free to show your true colors, you are forced to dull your shine out of fear that you won't be truly accepted, or worse, be judged or discriminated against for your authentic self. This is the reality that most LGBTQIA+ employees still face today. And while many companies have taken great strides to strengthen their diversity, equality, and inclusion (DEI) efforts, the solutions are often lacking and not really helpful when it comes to addressing the underlying issues. As an employer, how can you create a truly inclusive working environment that considers the struggles of your minority employees?
In the spirit of Pride Month, Booth & Partners turns to the voices that truly matter when it comes to this conversation. We sought the perspectives of our LGBTQIA+ community members on various subjects related to workplace inclusivity. From the knowledge they share on these issues, you can gain a better understanding of their situation and learn what it means to become a true ally for Pride Month and beyond.
What do you see as the most pressing workplace issues for LGBTQIA+ employees that need to be addressed?




John Carlo, Senior Accounts Payable Specialist: "While workplaces can openly advocate for equality and inclusion, we cannot turn a blind eye to the silent discrimination that our community still faces to this day. This article written by Dan Avery revealed that 46 percent of LGBTQ employees have experienced discriminatory treatment in their professional lives due to their sexual orientation or gender identity. They cited instances of being overlooked for employment opportunities, workplace harassment, being denied promotions or salary increases, exclusion from company events, and having their work hours reduced or job termination. In 2021, about 9 percent of respondents reported being denied employment or laid off specifically due to their sexual orientation or gender identity. Employees should be provided with equal opportunities regardless of their sexual orientation, gender identity, or expression (SOGIE). "
Liz, Talent Acquisition Manager: "There's already been a lot of improvement, but I would say that there are still plenty of measures employers can take to raise awareness for our community in and beyond the workplace. Fostering understanding and acceptance is critical, as it is a source of empowerment for us. Organizing recognition programs that highlight the contributions and celebrate the unique identities of the LGBTQIA+ community, offering free access to LGBTQIA+ resources, implementing more inclusive policies, and conducting awareness training for allies are just some of the elements companies can work on to create a vibrant and inclusive environment for everyone."
Jalen, Training and Quality Specialist: "Offer LGBTQIA+ inclusive benefits. Employee benefits are a major factor to consider among job seekers and can sometimes unintentionally exclude our community. The solution is to offer equal employee benefits regardless of people's sexual orientation, including adoption policies, parental leave, and time off."

Insight: Inclusivity is not only limited to gender and sexual orientation, but encompasses all identities, be it disability, race, ethnicity, class, or age. It's about validating the perspectives and experiences and embracing the unique ideas that everyone brings to the table.



How do you feel about the representation of different identities within the LGBTQIA+ community (such as transgender, non-binary, or intersex individuals) in the workplace? Are there specific areas where more progress can be made?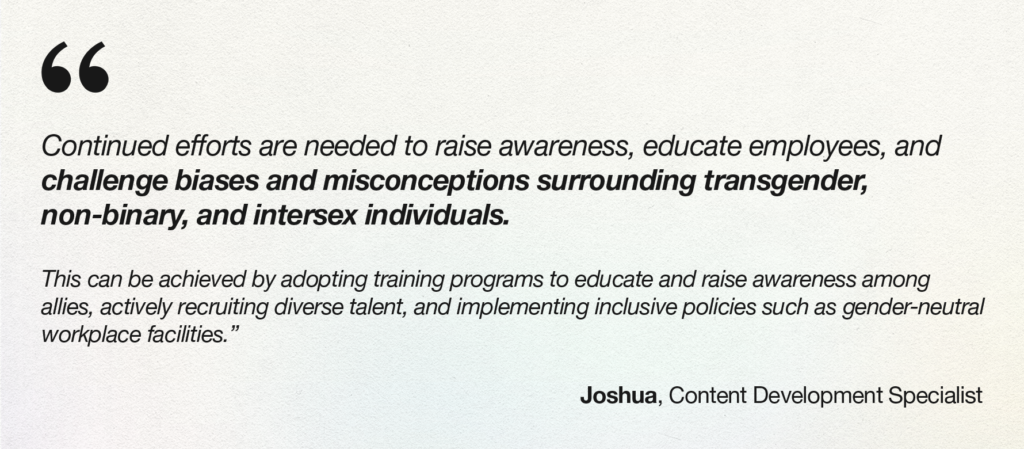 John Carlo: "Every letter and character in LGBTQIA+ represents a valid and unique identity. It feels good that a lot more individuals are now finding the confidence to come out with their respective identities. The progress we've made over the last couple of years to recognize the importance of self-identification and SOGIE can have a tremendous positive effect on future generations." 
Spencer: "The LGBTQ+ spectrum defies singular representation, as no specific color or image can capture its diversity. We can spread awareness for all identities through SOGIE education trainings and workshops." 
Liz: "While progress has been made in raising awareness and promoting visibility of our community within our Tribe, there is still work to be done to ensure comprehensive representation. It is essential to recognize that different identities within the LGBTQ+ community may face unique challenges and experiences in the workplace—for instance, transgender, non-binary, and intersex individuals often encounter specific barriers and discrimination different from other identities. To improve representation, organizations can actively recruit diverse individuals, improve visibility by promoting LGBTQIA+ members to leadership roles, advocate for inclusive language, implement policies that address specific needs, and provide education and training to foster awareness and allyship, ultimately creating a more inclusive and supportive workplace for all LGBTQIA+ identities." 

Insight: Representation among the different identity groups within the community is much more visible now than in the past, but there's still room for improvement. 
In your opinion, what roles does allyship play in creating an inclusive environment for LGBTQIA+ employees? How can allies be better supported and encouraged?




Anonymous: "Allyship plays a huge role in creating an inclusive environment for LGBTQ employees. Allies can help provide resources, support, and encouragement to colleagues who may be struggling with their identity or coming out."

Jalen: "Allies can be supported and encouraged by providing LGBTQIA+ inclusion training. Every recruiter should train employees to recognize and stop discrimination in its tracks in the workplace. Updating company materials and collaterals to better represent LGBTQIA+ employees is crucial to providing equal opportunity to all individuals."


Insight: Allies are crucial in the formation of an inclusive work environment and can be better supported and encouraged through inclusion training and workshops.



What are your thoughts on pronoun usage and the practice of asking for and respecting individuals' pronouns? How could the company promote a culture that normalizes this practice?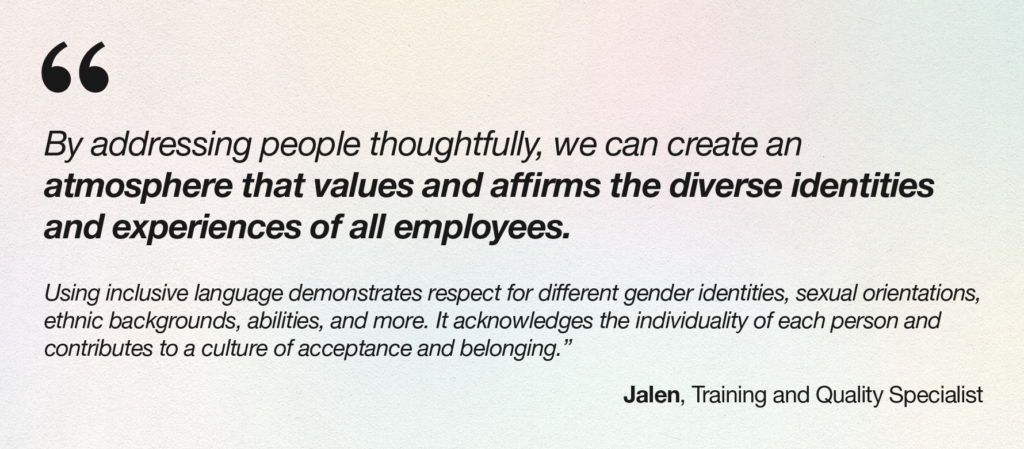 Anonymous: "Pronoun usage is something I think should be normalized in all workplaces because it's such an easy way to show respect for someone else's gender identity."
Joshua: "Promoting pronoun respect is something that every inclusive workplace should practice. We can normalize this by offering workshops on pronouns and inclusive language, having leadership promote proper usage, and using it in communication materials, in email signatures and introductions, and when conversing with colleagues. These small efforts contribute to creating a respectful environment that values diverse gender identities in our community." 
Insight: Promoting pronoun respect and inclusive language in the workplace is critical for fostering a healthy and inclusive workplace. When companies normalize proper pronoun usage, it has the power to make individuals feel valid and contributes to a more supportive work environment.
Conclusion
These conversations with our LGBTQIA+ Tribe Members taught us that while the landscape of diversity and inclusion has already seen some improvements in recent years, we've still got a long way to go on the path toward achieving true diversity and inclusion.
Only when our members feel seen, accepted, and safe in their second home can they maximize their full potential. And it is a lesson that we and other companies must not only take to heart but also show through our actions. As an organization that is always willing to listen, learn, and improve, we intend to use the valid insights of our LGBTQIA+ Tribe Members as a compass, guiding us on how to serve as better allies for Pride Month and beyond.
If you want to be part of a people-centric company that's on a continuous journey toward championing diversity and inclusion, you can learn more about us and our open roles here.
Discover more about outsourcing and
how you can maximize it for your
business success!
Get a copy of our E-book: Guide to Outsourcing.
DOWNLOAD NOW