6 Ways to Get Ahead of Your Competitors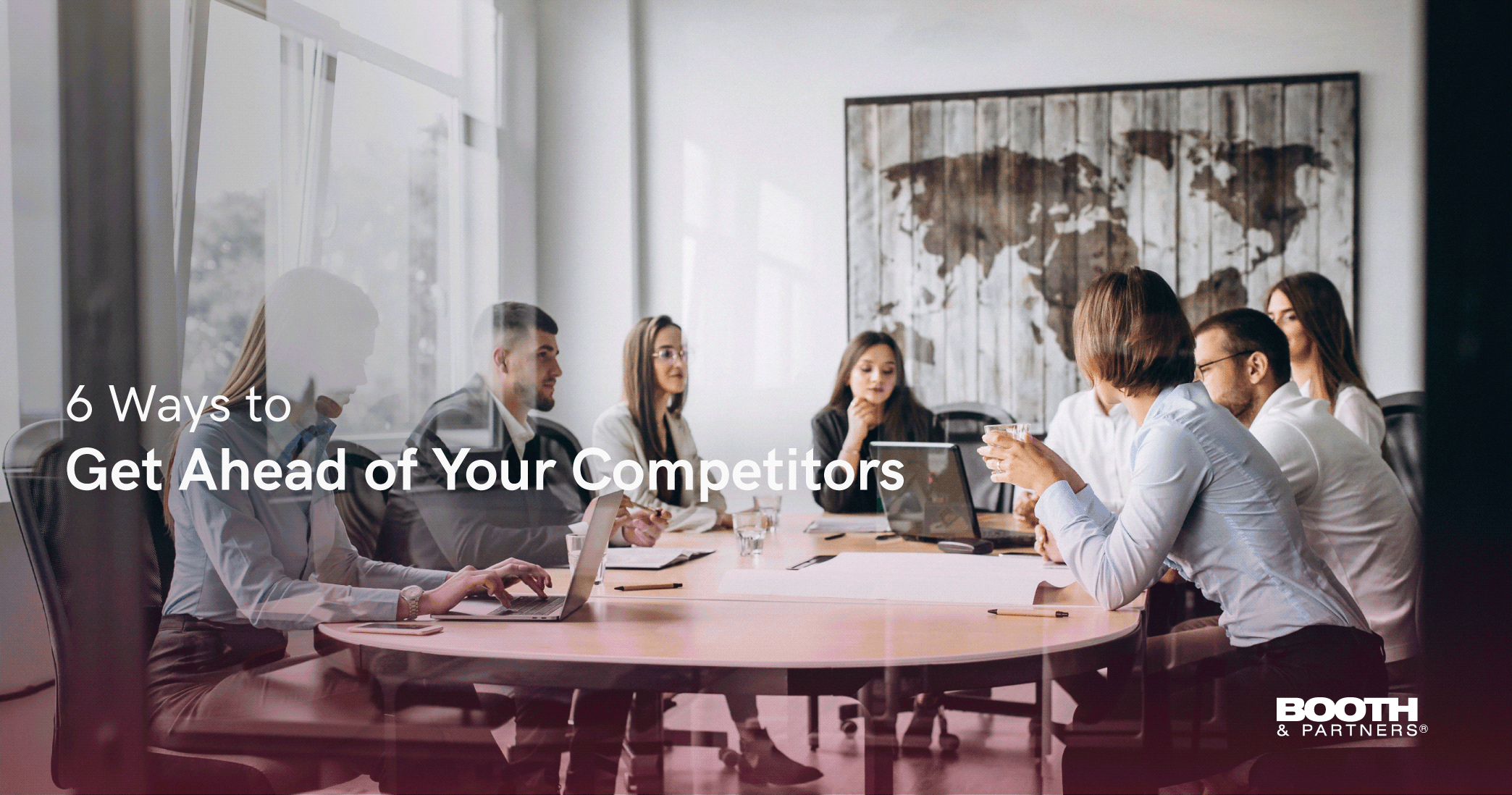 Competition is at the core of running a business. You're not just trying to do the best that you can, you're also trying to get the better of other businesses in the game. The idea is that competition between companies helps drive things forward. 
Whether you're in a small, medium, or large enterprise, this thought rings true for every type and pushes growth. If you're going to survive and thrive as a business, then you need to get ahead of your competitors. In this article, we have compiled a couple of methods to ensure that your business comes out on top.
1. Know Your Competitors
The first step to do is to figure out who your competitors are. You'll have your local competitors, online competitors, and national & international competitors. Essentially, it's anyone who might be getting a share of your market that might otherwise be coming to you. Once you've got your list of competitors, you can now focus on your main competitors. 
After you've identified these direct competitors, it'll be time for a little bit of analysis. During this process, you'll need to figure out their strengths and weaknesses. What are they good at? What do they do better than you? What are they not as good at? What did they overlook? All of these questions will help to gain a clearer picture of the overall strength of the competition. It'll help you to focus on the areas that you do better than they do, too.
2. Look at Your Strengths and Weaknesses
After you've looked at the strengths and weaknesses of your competition, you should then look at your own company. Every company in the world has flaws, and so will yours. Taking the time to do this will also help you to figure out how you can improve your business. This will help close the gaps that are preventing you from gaining a competitive edge over other companies.
Even if your competitor has a better product and is willing to sell it at a lower price, you can still win. Every competing company has weak points which are places where your brand can outperform. Things like 24/7 customer service or extended warranties on a product can go a long way if done right.
Your job is to find these points and take advantage of them in your marketing. Let your prospective customers know why these selling points are important and why it makes your brand the better choice.
3. Plan for Growth
Planning is crucial in any competition. You must have a clear idea of the direction you want to take and brainstorm various ways to stay ahead while catering to your customer base. The more knowledge and education you have about everything related to your business, the better the chance you have of remaining competitive even if your competitors are doing well.
There's nothing wrong with simply staying where you are, but it can show a lack of development if your competitors are expanding into new markets. One of the best ways to grow is to look at new areas for your business whether it's international or nationally. This investment will see greater offerings and improvement, providing that your core processes aren't negatively affected during the expansion. One of the best and easiest ways to grow or scale your business is simply through outsourcing. This process is proven to be budget-friendly when it comes to scaling a business.
4. Find Ways to Create and Expand Your Brand
Expanding your brand is not something that happens naturally, it must be nurtured and planned. Experiment with various marketing techniques which increase the awareness of your company among potential customers. Ask important questions, such as:
Has the business evolved from where it started?

How has it evolved or grown? 

What does this growth mean to customers or clients? 

Do you have to visualize your data to draw better conclusions and move forward?
After these, you may find yourself wanting to expand internationally. Once you're in this stage, it is always best to research which market you would want to expand to as different markets provide different opportunities. Finally, it is important to always consult with a professional that knows the specific market you want to target such as an outsourcing company or hiring agency.
5. Manage Your Resources
A top issue which companies battle with is the mismanagement of resources. Whether it's regarding human resources, financial resources, or asset management, the highest wall that a company may face is managing all of these proficiently. A good way to make sure you don't run out of resources is to set a clear limit on how many projects are in motion at any given time. This will help avoid some potentially costly missteps.
Having an excess of available resources isn't quite as damaging but might also lead to complacency. So it's advised to try balancing your resources appropriately with both limits and allocations for quality control purposes.
Seeking and receiving professional help from third-party services that specialize in these types of problems are also the go-to solution for most competitive companies. When you have efficiently and effectively reduced your costs while keeping your productivity the same or better, you have then started your journey scaling your business exponentially.
6. The Best Employees
A business is only as good as its employees. They're the ones who will drive everything forward, and the better they are, the better your company will be. If all the best talent is working for your competitors, then you'll find it impossible to stay ahead. So it's important to make sure they're working for you. 
There are plenty of ways you can make your business appealing to potential employees, including paying a good wage and offering favorable working conditions. But, if you want to take things to the next level, it's better to work with outsourcing companies that make it their number 1 goal to bring in the best of the best. This hiring process may seem to be a lot of work, but it can be one of the most rewarding things that a company could do.
Focus on the Future
Finally, remember that it's always important to keep an eye on tomorrow. Things might be going well right now, you might even be ahead of rival companies right now, but if they're planning for a brighter tomorrow while you're sitting contented, then you run the risk of falling behind. It's always important to think about which path you're going to take your business in, so make sure that you're developing a plan for the coming years and beyond. It'll help to keep you ahead or move you ahead of the competition.
If you're on the hunt for a reliable outsourcing service provider that can help you deal with your business processes and requirements, Booth & Partners can be your partner to get ahead of the competition. Discover more about how we can help you scale up your business, get in touch with us today.
Discover more about outsourcing and
how you can maximize it for your
business success!
Get a copy of our E-book: Guide to Outsourcing.
DOWNLOAD NOW