Hybrid Work Challenges: How B&P Workspace Solutions Saves the Day in 6 Ways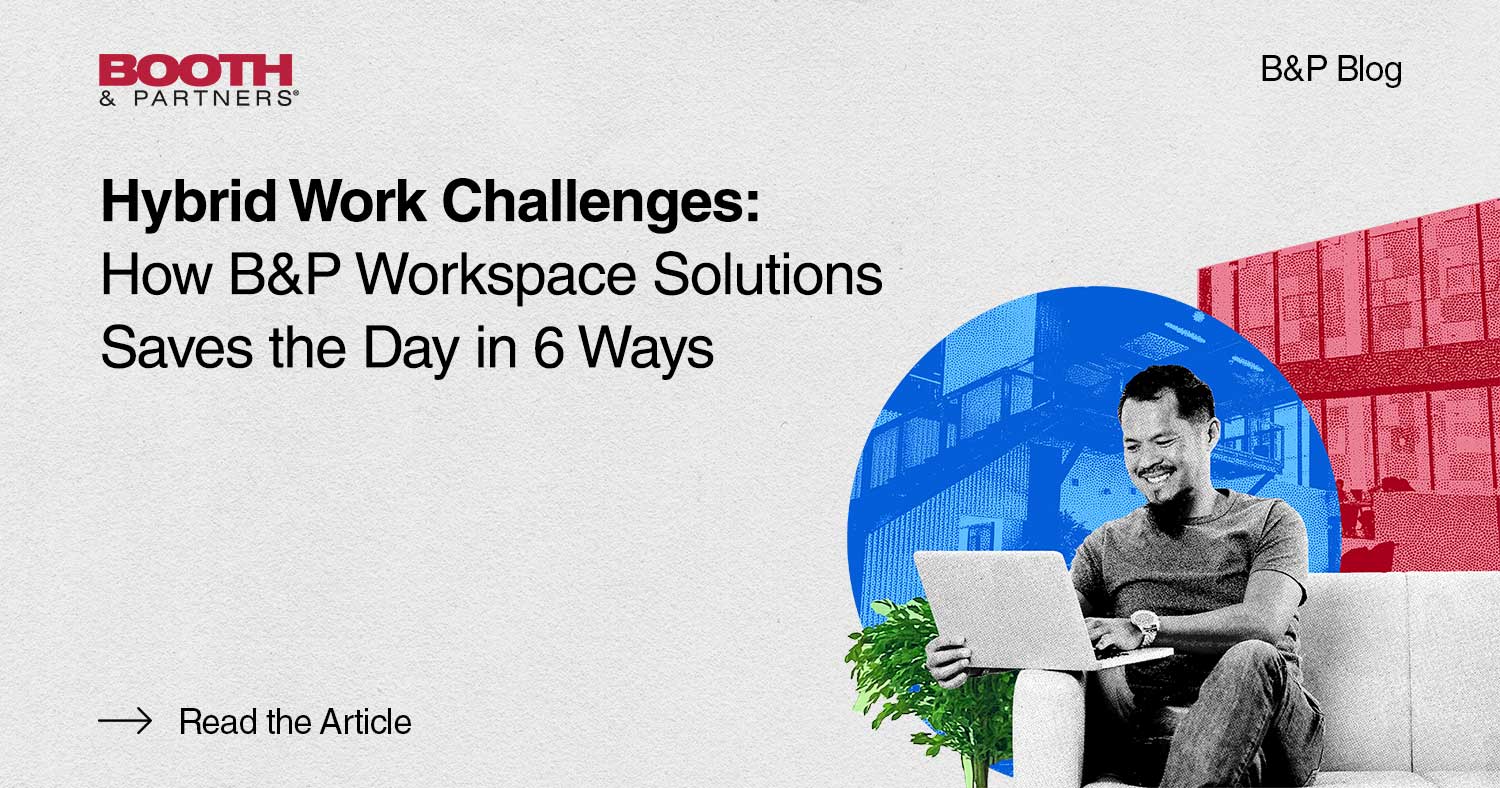 It's a fact that the pandemic has accelerated the trend towards hybrid work, allowing employees to work remotely while staying connected with their teams. But here's the problem: not all companies are equipped to handle the challenges that come with hybrid work. 
According to recent statistics, a staggering 69% of companies struggle with determining where their employees will work. The inability to determine where employees should work can negatively impact a company's operations, productivity, and employee morale.
In this blog article, we'll explore the rise of hybrid work and flexible workspace solutions and provide practical tips and advice on how to address the most pressing hybrid work challenges that businesses face today. So whether you're looking to understand the different types of workspace solutions or seeking insights into how to keep your employees productive, engaged, and motivated in a hybrid work environment, this article has something in store for you!
Understanding the Rise of Hybrid Work and Flexible Workspace Solutions
The rise of hybrid work and flexible workspace solutions is a direct response to the pandemic's effects, which have challenged traditional ways of living and working. The flexible workspace movement has come a long way since its early days. Recent statistics estimate that there are now over 35,000 flexible workplaces worldwide, with a global market value of approximately $26 billion. 
A recent Research and Markets report predicts that the coworking industry market will grow from $8.14 billion in 2021 to $13.03 billion in 2025. Companies like Booth & Partners are leading the way in offering diverse workspace solutions to provide a creative space for individuals to thrive in, giving remote professionals access to a distributed network of flexible workspaces in Makati CBD. 
The benefits of flexible working spaces include the ability to scale office space up or down based on a firm's evolving needs, which is especially important in a hybrid work environment. However, finding a balance between remote and office work is crucial, as remote working can be conducive to productivity but can also leave individuals isolated or subject to distractions. The best of both worlds is achieved when employees work from wherever they work best, and coworking spaces offer a solution to those who thrive on working in a collaborative space.
Top Hybrid Work Challenges and How Workspace Solutions Can Address Them
The ongoing COVID-19 pandemic has transformed how we work, and hybrid work has emerged as a popular option for many organizations. However, it also presents unique challenges that can affect productivity and employee well-being. In this section, we will dive deep into the top hybrid work challenges organizations face and how workspace solutions can help address them.
Expensive Office Leases
Running a traditional office can be a financial burden for many businesses. Flexible workspace solutions offer a more cost-effective option, allowing companies to adjust their workspace according to their requirements. 
By using flexible workspaces, businesses can save money on expensive office leases and infrastructure costs, which can help them allocate funds to other aspects of their business. These workspaces also provide the flexibility to scale up or down depending on the company's size and needs, making it easier for businesses to manage their costs. 
With the cost-effectiveness of flexible workspaces, companies can focus on growth and development without worrying about the financial impact of maintaining a traditional office space.
Lack of Collaboration and Communication
In a hybrid work model, where employees work both remotely and in person, a common challenge is a lack of collaboration and communication among team members. When working from home, it can be challenging to stay connected and collaborate effectively. However, flexible workspace solutions offer a potential solution to this challenge. 
By providing employees with access to coworking spaces, they can work together in a shared environment that promotes collaboration and a sense of community. This can be especially beneficial for teams that need to work closely together, such as creative teams or project teams.
Limited Access to Resources
When working from home, the lack of access to essential office equipment and technology can hinder productivity. For instance, poor internet connectivity can lead to disruptions in communication and delays in work delivery. 
However, flexible workspaces provide a solution to such challenges by offering access to essential office equipment and resources like high-speed internet, printers, and scanners. This ensures that employees have everything they need to work efficiently and meet their deadlines.
In addition, the availability of such resources in flexible workspaces helps to maintain a professional and productive work environment, which is crucial for businesses that value the quality of work output.
Isolation and Burnout
Remote work can result in employees experiencing isolation and burnout, negatively impacting their well-being and productivity. In addition, the lack of in-person interaction and social connection may lead to feelings of disengagement and detachment from work. This can cause fatigue, stress, and a decreased sense of job satisfaction. 
However, flexible workspaces can help alleviate these challenges. By providing a social environment for employees to connect with colleagues and build relationships, flexible workspaces can help combat feelings of isolation and loneliness. 
Maintaining Company Culture
In a hybrid work setup, employees may feel disconnected from the company culture since they are not physically present in the office regularly. This is among hybrid work challenges that can't be ignored for companies prioritizing a strong company culture. However, flexible workspace solutions can facilitate a community-like atmosphere that allows employees to interact with others from different departments and even companies.
Flexible workspace solutions help organizations maintain a sense of belonging and foster a strong community that can positively impact the company's culture. By offering employees the option to work in a shared workspace environment, companies can promote a collaborative and engaging work culture that transcends physical office locations.
Management of Remote Employees
In today's increasingly remote work environment, managing and monitoring remote employees are among hybrid work challenges for companies. Flexible workspace solutions can offer an effective way for companies to manage their remote workforce by providing a centralized platform where managers can monitor their employees' productivity and ensure they have the necessary resources to work effectively. This will guarantee that employees are meeting their targets and that productivity is maintained at optimal levels.
Different Types of Workspace Solutions Your Business Might Need
As the nature of work continues to evolve, businesses are looking for flexible and adaptable workspace solutions that can cater to their specific needs. From traditional office spaces to flexible workspaces, there are various options available to choose from. Let's discuss the different types of workspace solutions that businesses might need and how they can benefit from each of them.
Coworking Spaces
Within the realm of modern-day entrepreneurship, the notion of coexisting alongside a handful of businesses is often referred to as coworking. This type of workspace is commonly shared by more than ten businesses on a single floor, resulting in a diverse and buzzing environment. While coworking spaces may not offer the same level of privacy as other office solutions, the environment they provide fosters collaboration and socialization among coworkers. 
If the idea of revamping your current office space seems like too much of a daunting task, a coworking space may be just what you need. By sharing a workspace with several other companies, you can reap the benefits of reduced overhead costs. Not only that, but your employees will have the chance to network and connect with other professionals on the same floor, which can alleviate feelings of isolation.
Private Offices
For businesses seeking a versatile workspace that offers privacy, security, and top-notch amenities, private office spaces are the way to go. This flexible workspace solution provides companies with all the facilities they need to operate in a professional office environment without the burden of maintaining a physical office. Private offices are particularly well-suited for startups and small and medium-sized enterprises that require scalable options to accommodate their growing business needs. 
These private offices are fully equipped with everything a company could need, including lockers, filing cabinets, desks, chairs, and cutting-edge biometric security features. They are highly customizable to cater to each company's unique requirements and corporate culture. With an array of potential uses, private offices can be utilized as a corporate headquarters, a project space, a conference room, or even as an innovative area where employees can network with other businesses in the building. 
Meeting Rooms
Meeting rooms have become an increasingly popular workspace option due to their unparalleled privacy. Unlike other workspaces, private meeting rooms are specifically designed to maintain the confidentiality of business matters. Equipped with all the necessary amenities, a well-appointed meeting room can satisfy any requirement, be it a team gathering, client meeting, or critical business negotiation. 
As more and more small businesses adopt a hybrid work model, client meetings held at home or in coffee shops are becoming less practical. For independent contractors who require workspace solely for online meetings, meeting rooms are the ideal choice. These spaces provide the freedom to configure the area according to the specific needs of the meeting, taking into account the nature, purpose, and size of the gathering. So, whether it's a formal board meeting or a creative brainstorming session, a private meeting room offers the perfect setting for businesses to thrive.
Virtual Rooms
Virtual rooms offer the perfect solution for remote companies looking to maintain a physical office presence in a commercial zone without incurring the expense of traditional office space. This innovative workspace model provides all the services of a fully-furnished office, allowing businesses to lease only the features they require when needed, thereby creating a professional image for clients. 
Virtual rooms are particularly well-suited for remote companies seeking to establish a business address to receive parcels and mail. Operators maintain a secure location for packages and mail, allowing businesses to come and pick them up at their convenience. Along with a registered business address and telephone number, virtual rooms also offer the services of a virtual receptionist who can answer calls on behalf of the company. 
Moreover, businesses can also rent temporary office space and meeting rooms by the hour or day if required, providing the flexibility to conduct business in a professional setting when necessary. With virtual rooms, remote companies can create a credible office presence that impresses clients and enhances their reputation without the burden of maintaining a physical office.
Discover Convenient and Strategic Office Locations for Your Business with Our Premium Workspace Solutions
Are you searching for premium office spaces strategically located in the bustling business hubs of the Philippines? Then, Booth & Partners is here to cater to your needs! 
Our fully furnished office spaces come equipped with all the necessary features and amenities to help you and your team increase your operational efficiency. From 24/7 IT support to lightning-fast internet connectivity, biometric access, cleaning services, and access to conference rooms, our flexible workspace solutions have got you covered. 
Our spaces offer you the freedom to use them on your terms, whether it's for meetings, brainstorming sessions, or presentations. And the best part is that our workspace solutions can scale up or down based on your changing office space requirements, giving you the flexibility you need to save on time and leasing costs.
Contact us now to schedule a tour and discover the benefits of our flexible workspace solutions, or go ahead and book your office spaces today!
Discover more about outsourcing and
how you can maximize it for your
business success!
Get a copy of our E-book: Guide to Outsourcing.
DOWNLOAD NOW