Incorporation vs. Staff Leasing in the Philippines: Which is Better For Your Business?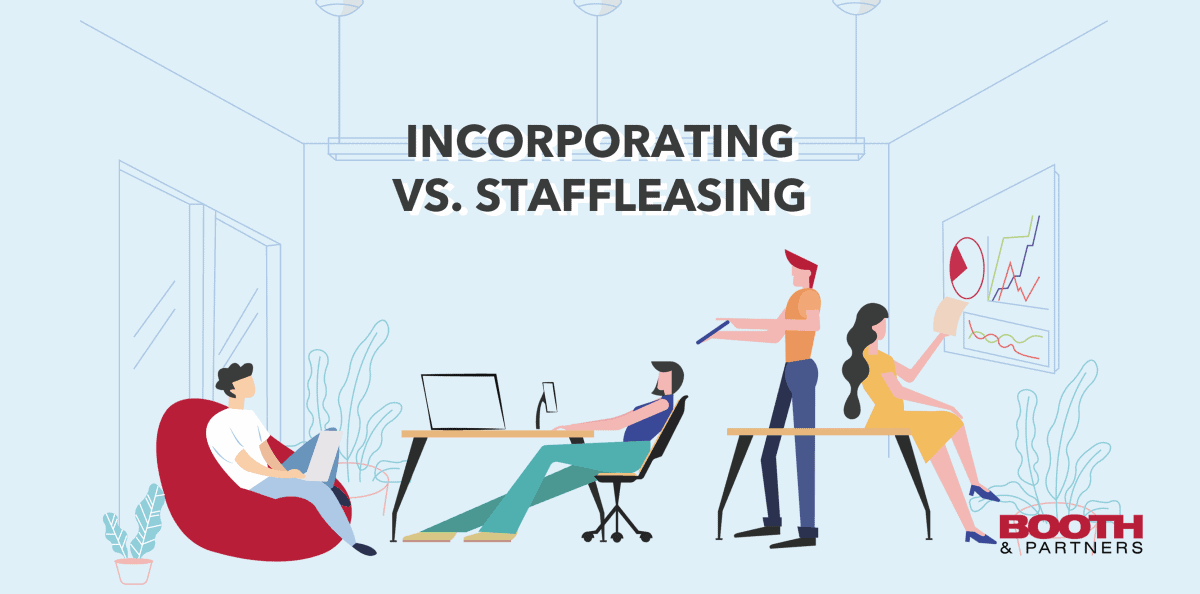 Majority of growing businesses and companies in the Philippines require low-cost yet reliable sources of manpower in order to deliver quality services that cover administrative, back-office, customer support, and IT-related operations. While incorporating a company is an ideal option for entrepreneurs who want full control over business operations, staff leasing is the practical choice due to its cost-effective advantages.
Setting up a business is no easy task. First of all, you have to consider ways on how to start up your own company. You may want to build your operations through incorporating which requires a tedious setup process and high startup costs or you may want to outsource an offshore team that will take care of the time-consuming and repetitive tasks for you. But which is better suited for your business—incorporation or staff leasing?
What is Incorporation?
Incorporating a business can be a risky venture. Among all the business structures to choose from, corporations are the most complicated to set up and maintain. However, incorporation also provides the most protection from personal liability.
While incorporating may seem like a daunting task at first, businesses can benefit from it in the long run. For one, corporations are more feasible and flexible in terms of foreign ownership. This makes incorporation an ideal option for foreign companies to build operations with profitable and valuable manpower in the Philippines.
In setting up a corporation, you must consider the required budget for initial processes such as government registration and consultation fees. The minimum capital requirement in the Philippines varies depending on the business tasks and operations. One more upfront cost to take into consideration is the workplace location, as well as investing in advanced technology. Incorporation may not be the best option for all businesses, but it comes with a number of important advantages.
Key advantages of Incorporation
It protects its owner's assets from the company's liabilities.
Incorporation has a protective corporate veil that effectively protects the company's owners. This means that owners, shareholders, and directors will not be held liable for the company's debts and obligations.
It allows for easy transferability of shares.
The Philippine Constitution treats shares of stock in a corporation as personal property. Owners of corporations may transfer, sell, assign, or give away their shares as they see fit.
It has unlimited life.
A corporation can have an unlimited life due to the fact that it is not dependent on the lives of its owners. It can carry on indefinitely unless it merges with another business or goes bankrupt.
It can raise investment capital.
Company incorporation has the ability to raise money through the sale of stock and other equity interests. It is quite easy to convince investors into buying stocks because of its key benefits such as limited liability and the easy transferability of shares. Although this may mean giving up a bigger slice of the pie, owners can still maintain control over the business by coming up with an agreement regarding the shares of the company.
It provides tax benefits under circumstances.
Incorporating a company provides owners with tax advantages and greater flexibility such as the ability to write off business expenses. These tax deductions are only deductible by corporations. Another thing to note is that under Philippine laws, there are specific types of corporation that may enjoy special tax holidays.
Establishing a successful corporation requires a certain amount of preparation and hard work. Major decisions should be made. Every paperwork should be meticulously documented. Financial and accounting records must be kept accurately. Operating as a corporation has its fair share of drawbacks, but these can be outweighed by the long-term cost savings of the company.
What is Staff Leasing?
Staff leasing allows businesses to cost-effectively outsource operational services and manpower according to their needs and demands. This option lets businesses assemble a virtual team of efficient and qualified professionals who will deliver the required work for them—ranging from management of employees to administrative tasks, as well as accounting, HR, customer support, and IT support.
Businesses can lessen labor costs by outsourcing office functionalities to an offshore team at a relatively lower price. Given the proper process and training, the outsourced staff can handle business operations in an efficient and systematic manner.
Staff leasing in the Philippines provides distinct advantages over incorporating a company. Unlike when forming a corporation, the setup process for a staff leasing arrangement is much quicker and convenient. Your partner leasing company will have the necessary resources such as workstations and office equipment.
Key Advantages of Staff Leasing
It reduces risk and liability.
Staff leasing allows you to minimize legal risk and liability while acquiring reliable services for your business. Staff leasing providers provide quality assurance and account management training that will lead your outsourced staff to perform assigned tasks to the best of their ability.
It is cost-efficient.
Outsourcing your team presents an ideal solution for growing businesses who want to reduce expenses. You can save on staff costs such as facilities, employee benefits, payroll, and HR. It can help you lower your costs while still maximizing operational efficiency.
It improves focus on core competencies.
Staff leasing is an effective way to improve your focus on your business' core activities pertaining to service and product enhancement. This way, you may concentrate on the vital tasks while your outsourced team of experts works on the specific areas of your business that require improvement.
It increases work efficiency.
Aside from being a cost-cutting tool, staff leasing is an effective strategy to help businesses foster productivity. Leasing your staff provides improved outcome while requiring minimal supervision. Staff leasing providers generally employ working professionals with expertise which translates to improved efficiency and productivity.
It allows you to build a team of highly qualified professionals.
One of the most noteworthy benefits of staff leasing is you get to assemble a team of experts who best fit your business requirements. For a starting business, it is vital that you choose a staff leasing provider that can help you accommodate the growing needs of your business. The Philippines has been consistently ranked as one of the top outsourcing destinations in the world due to low labor cost and a talent pool of young educated, customer-oriented, and English-speaking workers.
Choosing the right kind of model for your business helps maximize your chances of financial and operational success. If you want to acquire full control over your operations and workers, and more importantly, if your goal is to build your business operations with a cost-effective workforce in the long run, then incorporation would suit your business better. However, if you want to take advantage of low-cost manpower by outsourcing services and building a qualified team of professionals to do operational tasks for you, then staff leasing would be ideal for you.
In the end, it all boils down to your business needs and capital resources. Incorporation and staff leasing have their own pros and cons, but it is up to you which model to utilize. Some companies are better off with incorporation, while staff leasing works better for others. For some, it is highly recommended to try staff leasing first in order to determine if outsourcing is the best choice for their business.
If you need more help and advice, get in touch with us to know about the services that best suit your business.
Discover more about outsourcing and
how you can maximize it for your
business success!
Get a copy of our E-book: Guide to Outsourcing.
DOWNLOAD NOW