Payroll Outsourcing Service: The Key to Improving Your Employee Experience

The impact of payroll errors is often overlooked in every company. However, when they pile up, it creates a bad employee experience resulting in high turnover rates. 
According to a survey conducted by the Workforce Institute, 49% of employees search for new employment after two consecutive payroll errors.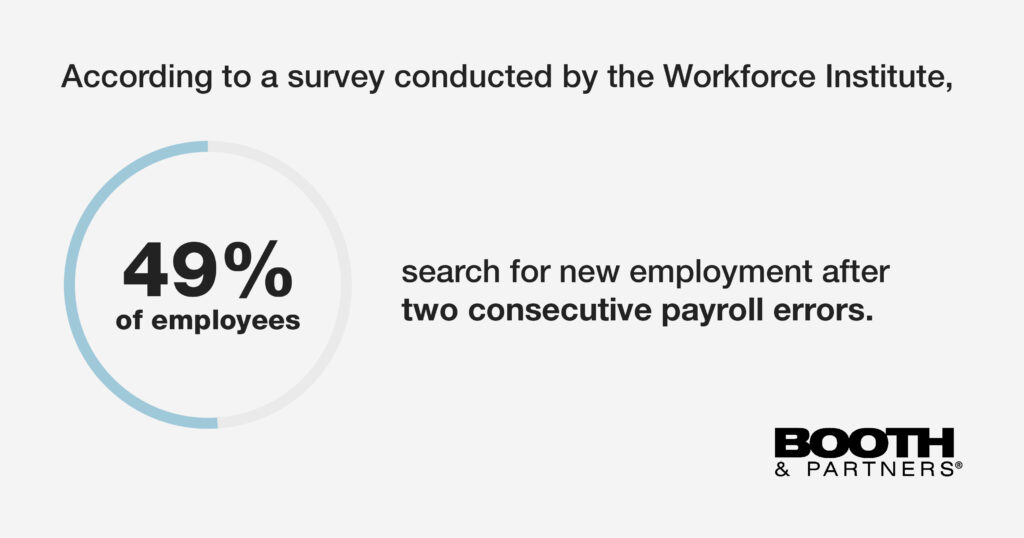 Running in-house payroll is risky, especially for small businesses with no streamlined payroll operations. They are vulnerable to payroll fraud, resulting in revenue loss and a bad company reputation. 
Following the anomalies in payroll records, big companies have found a way to reduce the risk of inaccurate or late payments that further improved their employee experience. They also gained control over their expenses and eliminated payroll tax penalties. 
Their secret? They outsource their payroll operations to a trusted service provider.
What is a Payroll Outsourcing Service?
A payroll outsourcing service is a type of back-office solution that assists businesses in the management of their employee payments. It also involves filing taxes, adhering to regulations, protecting data, and processing unemployment claims.
Payroll processing can sometimes be challenging to handle. This is due to the wide range of factors involved in calculating and producing paychecks, such as pay scales, employee classifications, promotions, and terminations. That's why businesses outsource this function to save time and reduce errors to improve employees' experience. 
When Should You Start Outsourcing Payroll Services?
A company as successful as Unilever had outsourced payroll services in the Philippines to ensure the accuracy and timeliness of their employees' paychecks. The need to outsource payroll services varies across industries, but here are indications that your company's payroll department is a perfect candidate for outsourcing:
You lack resource flexibility and technology to deliver timely and accurate payroll processing;

The company is unable to adapt to the changing employment regulations (e.g., labor overtime rules, tax withholding deferral);

There's an absence of security policies to prevent data leaks, security breaches, and payroll fraud;

The company encounters penalties due to incorrect and late filing of taxes and;

Employees are leaving because of the company's late and inaccurate payroll processing.
How Does Payroll Outsourcing Service Improve Your Employee Experience?
Your company's payroll plays a crucial role in your overall employee experience. If your payroll results in employee complaints and high turnover rates, then you better outsource to a service provider. Here's how payroll outsourcing service can improve your employee experience, which results in higher employee retention:
1. Reduce your HR workload
Every year, the workload of HR departments keeps increasing. The workforce is becoming more diverse, healthcare and insurance expenditures are rising, and employment contracts are becoming more complicated. Your HR staff handles many tasks, such as hiring, interviewing, retaining, training, and terminating employees. If you have a lean HR team, the chances of employee burnout and high turnover rates are tremendously high. 
One way of reducing your HR workload is by outsourcing your payroll to a reliable payroll outsourcing company. The processing of payroll is a time-consuming task that demands extreme vigilance, comprehensive documentation, and rigorous deadlines. By taking this off your employees' plates, you're making their lives stress-free, especially during payroll cutoff dates. 
2. Better focus on their core competencies
For established companies, payroll is delegated to the finance department so their HR can focus on core competencies such as employee retention and legal compliance. Unfortunately, for small companies like start-ups, payroll falls under their HR's main duties. As a result, they lose focus on their core functions by jumping from one task to another. 
That said, you should assign your functions based on your employees' specialized skills. It means having a dedicated full-time employee with specific talent specialization such as in the areas of administration, recruitment, and employee engagement, among others. 
If you lack personnel skilled at payroll processing, consider outsourcing to a service provider. Not only does this allow your team to focus on their high-priority tasks, but it also optimizes your operational efficiency. 
3. Access the latest technology
Payroll software comes with a hefty price. QuickBooks, a popular payroll software, can cost you between $45 and $125 per month. There's also a steep learning curve involved in familiarizing with these technologies. If you want to save on software maintenance costs and enable your organization to access the latest technology, then partner with a reliable service provider. 
Top payroll outsourcing companies have advanced technologies that can centralize your payroll information and reduce inaccuracies in data. They have software that combines HR and payroll that facilitates easy sharing of employee data eliminating the need for manual data transmission. As a result, your payroll processing becomes faster, more secure, and free from discrepancies. 
4. Protect your business from payroll fraud
Businesses that handle their payroll incur a higher risk of payroll errors that result in fines, penalties, and potential lawsuits. This is due to different payroll frauds surrounding in-house payroll systems. Ghost employees, for example, are among common payroll frauds that severely impact a company's bottom line. It happens when a dishonest employee keeps a non-existing employee on the payroll, which results in an overpayment. 
Without appropriate internal controls to manage payroll, it's difficult to detect such frauds. If you want to add a layer of security to your payroll, you must outsource to a service provider.
Outsourcing payroll service provides the best protection against any type of payroll fraud. You also have all the necessary tools in place to ensure the safety and security of your data as well as keep your payroll on top of changing government regulations.
5. Provide employees with timely and accurate salaries
Most of your employees have bills to settle on time. Payroll errors like delayed salaries could cause an employee to miss a crucial payment and experience financial difficulty. That said, your company can't afford to make mistakes in releasing your employees' paychecks. Otherwise, you'll lose your high-performing employees, hurting your company's reputation. 
If your company frequently encounters late salary payments, it may indicate that your HR department is understaffed to process timely and accurate paychecks. 
Outsourcing payroll services can help you pay your employees on time. This is because you have experts focused on quick and error-free payroll processing. By providing timely and accurate salaries, employees are more likely to stay in their jobs, resulting in higher employee retention.
Start Outsourcing Payroll Services to the Philippines
Multinational companies that have outsourced payroll services to the Philippines were able to save on their labor costs by up to 70%. This is due to the country's low cost of living and competitive wage rates that attract foreign investors. Plus, you get to work with professional Filipino talents known for their hospitality and superior English and literacy skills.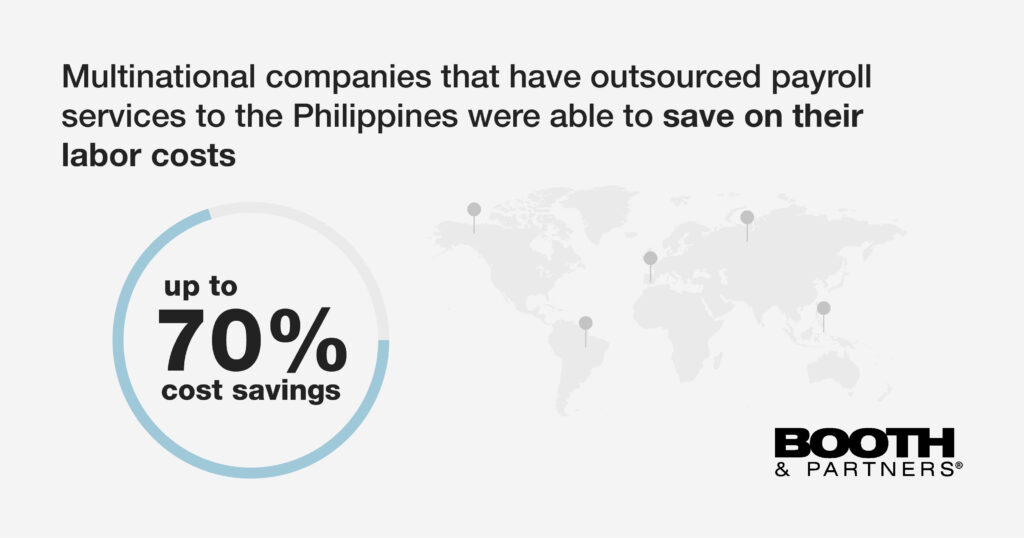 Consider Booth & Partners, a leading employer of record services (EOR) provider in the Philippines that offers payroll outsourcing services to businesses of all kinds. By partnering with us, you get a dedicated team of experts that assist you with your HR processes, payroll, local taxes, and employment law compliance. And the best part is we have a high percentage payroll accuracy of 99.25%, so we guarantee accurate and timely paychecks that improve your company's employee experience.
Are you interested to learn more about our payroll services? Click here to get a quote, or contact us for a quick discovery call.
Discover more about outsourcing and
how you can maximize it for your
business success!
Get a copy of our E-book: Guide to Outsourcing.
DOWNLOAD NOW