Top 11 Tips for Successful Outsourcing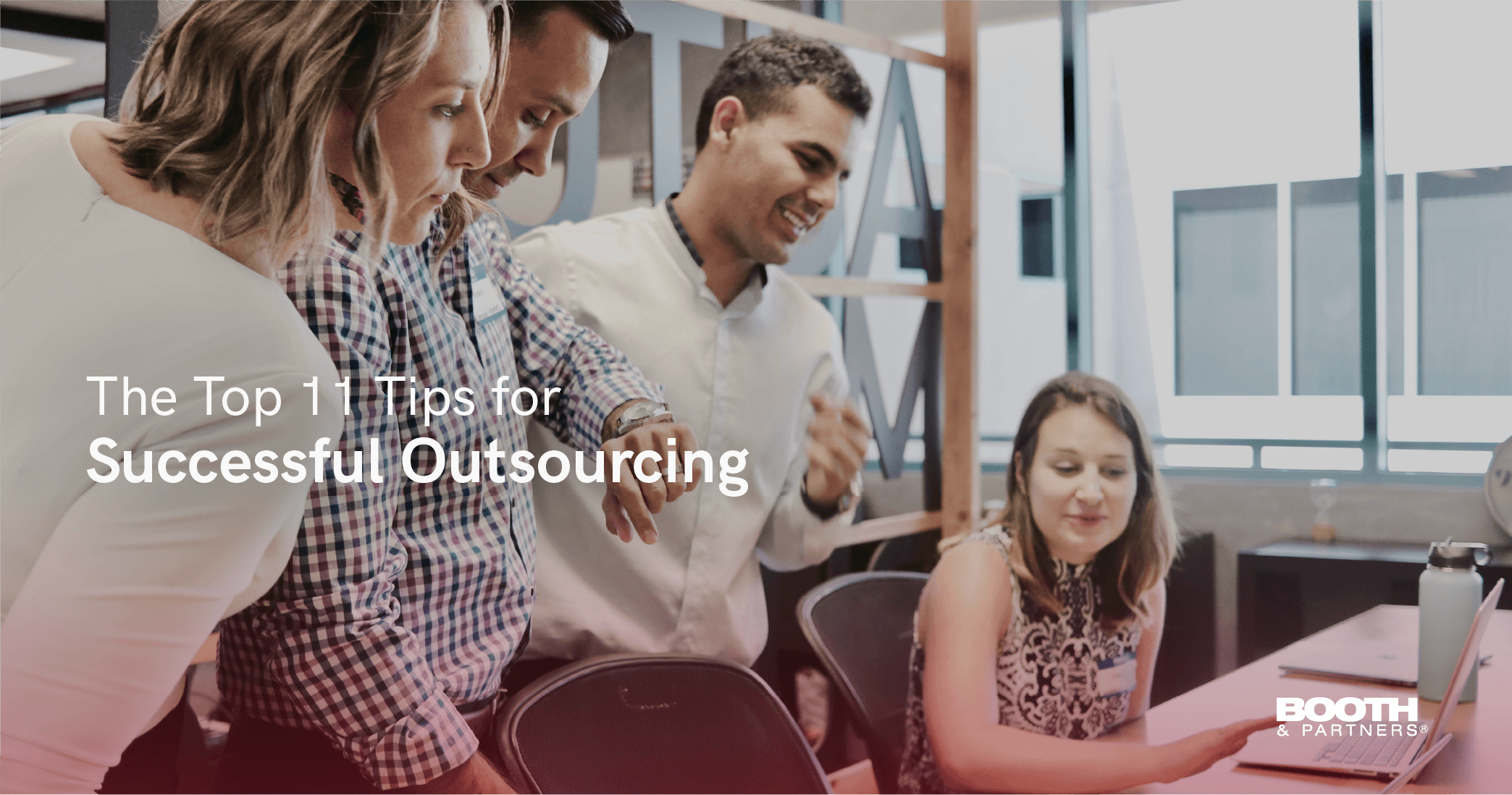 Business process outsourcing (BPO) is now a 187 billion-dollar industry, and it only continues to grow. This is because, for a growing number of organizations, outsourcing is one of the most efficient solutions to boost brands and gain a competitive advantage. It is a brilliant strategy for companies of all sizes and industries and has become crucial to the development and expansion of new products and brands.
However, some businesses are unable to make the most out of outsourcing or were unsuccessful at it. Usually, these mistakes happen due to inadequate preparation, unclear expectations, poor communication, and/or lack of trust and compatibility in outsourcing partnerships — most of which are avoidable pitfalls. In this article, we share strategies for successful outsourcing so you can avoid common pitfalls, mitigate risks, and maximize its benefits.
What Does Outsourcing Bring to Your Business?
Companies turn to outsourcing to accomplish their goals more quickly and effectively. It allows them to cut up to 70% of operational costs, and gain a competitive edge in their respective markets. Outsourcing does all that by providing a multitude of benefits, such as:
1. Less operating costs
Office space and equipment cost a lot to acquire and maintain. With outsourcing, you don't need to worry about those expenses, because your service provider has got you covered. You can cut costs even more if you choose to outsource offshore.

2. Instant access to experts
Hiring expert talent often takes a lot of time and resources. Outsourcing offers immediate access to the same level of expertise at a much lower cost — no need to spend a lot on recruitment, onboarding, and training!

3. Flexible hours
With offshore outsourcing, you can gain access to teams in different time zones. They will be able to represent your business at any given time, even on holidays, weekends, and outside office hours.

4. Scalable team
It is also easier to increase and decrease your staff through outsourcing. During peak seasons, for example, you can outsource an auxiliary team to ease your workload, and you can let the team go once the season is over.

5. Expand to new markets.
If you want to expand to a new region or country, you can outsource a team in that area instead of setting up an office right away. In doing so, you can stabilize your business and test the waters first, before you dive into a new market area.

6. More focus on core functions.
Outsourcing is an excellent solution to reduce the workload within your company. It lets you redirect focus to the essential aspects of your business, such as streamlining core processes and optimizing products and services.
These are only some of the advantages of outsourcing. When you are able to outsource successfully, you can experience more and maximize its benefits.
Tips for Successful Outsourcing
Outsourcing has a learning curve, much like any business aspect. You cannot expect to go in blindly and instantly become an expert at it. With the following tips, we aim to help you navigate towards a successful outsourcing process:
1. Define your outsourcing goals
You need to be clear about the reason why you want to outsource, and what you're aiming to gain through it. Outline your vision, goals, and objectives, and how you'd want to achieve each of them. Don't shy away from getting into the nitty-gritty details!
2. Specify your needs
Evaluate the needs of your business, and be very specific. Which of your business functions would benefit most from outsourcing? How long do you need the outsourced services? How many people do you need to do it, and what are their levels of expertise? Ask yourself questions like these to specify your needs, so you can communicate them clearly with potential service providers.
3. Pinpoint the right outsourcing model
Outsourcing comes in many forms. In terms of location, you can choose between onshore, nearshore, and offshore outsourcing. There are also different services, such as staff leasing and managed services. Research extensively to learn about outsourcing and pinpoint which model works best for you.
4. Communicate with your service provider
If you need help in deciding on an outsourcing model, you can always reach out to outsourcing service providers. And even if you're already doing business with them, clear communication with your outsourcing partner is extremely vital to your successful outsourcing.
5. Document your processes
Document your company's process for the function that you're planning to outsource. Provide the details to your outsourced team, so they can understand how you prefer to get the work done. You can use diagrams, flowcharts, slide shows, or videos to illustrate each step.
6. Communicate within your organization
Outsourcing affects your entire organization, so you need to communicate your strategy with them, as well. Tell them why you're choosing to outsource and how it will benefit the business. This is especially crucial when there are employees who might be affected by the decision. You might also gain valuable insight from your employees about your outsourcing strategy.
7. Budget for unexpected expenses
"Hidden costs" are a common reason why outsourcing fails to meet some businesses' expectations. When you outsource, you might need to deal with unexpected employee turnover or sudden projects that require more expertise. But with an ideal outsourcing partner, these unexpected expenses would be communicated clearly with you, and the change in costs wouldn't be too drastic.
8. Be clear about deliverables
Outsourcing providers need clear deliverables to meet your expectations. Give as much information as you can about what you need them to deliver, how you want it done, and your preferred timeline. Both sides should always stay updated on any changes or progress.
9. You don't have to start big
Starting big right away is a common pitfall for beginners — not to mention a risky move, as well. Instead, you can start small by outsourcing one project or a small team first. Learn how you can improve your approach to outsourcing before moving on to outsource bigger operations.
10. Actively monitor progress
You need to establish clear key performance indicators (KPIs) for your outsourced team. These KPIs allow you to monitor their progress closely and identify ways to correct their performance if the KPIs aren't met. If the KPIs are met, you can use the information to strengthen current processes.
11. Be strict about quality assurance and confidentiality
In outsourcing, you need to pay great attention to quality assurance and data security. Take time to have an in-depth discussion about this with any potential service provider. Both of you should work together to set strict rules about quality control, data confidentiality, and intellectual property. Make sure that your outsourced team signs non-disclosure agreements (NDAs) and exclusive work ownership agreements.
12. Choose your service provider wisely
Much of your outsourcing success relies on having a good service provider. Aside from meeting your budget, they should have ample experience and expertise, and you have to be able to communicate with each other efficiently, as well.
We are here to help
Are you considering outsourcing for your business? Booth & Partners is here to help. We are an outsourcing service provider in the Philippines that serves a wide range of industries around the world.
We work closely with our clients, and support them every step of the way — from determining the best KPIs to monitoring and optimizing their outsourced teams. At Booth & Partners, we strive to guarantee successful outsourcing of our clients, so we make sure that we always deliver the best results for your business.
Learn more about our services, and get in touch with us today!
Discover more about outsourcing and
how you can maximize it for your
business success!
Get a copy of our E-book: Guide to Outsourcing.
DOWNLOAD NOW