14 Reasons to Love Outsourcing this Year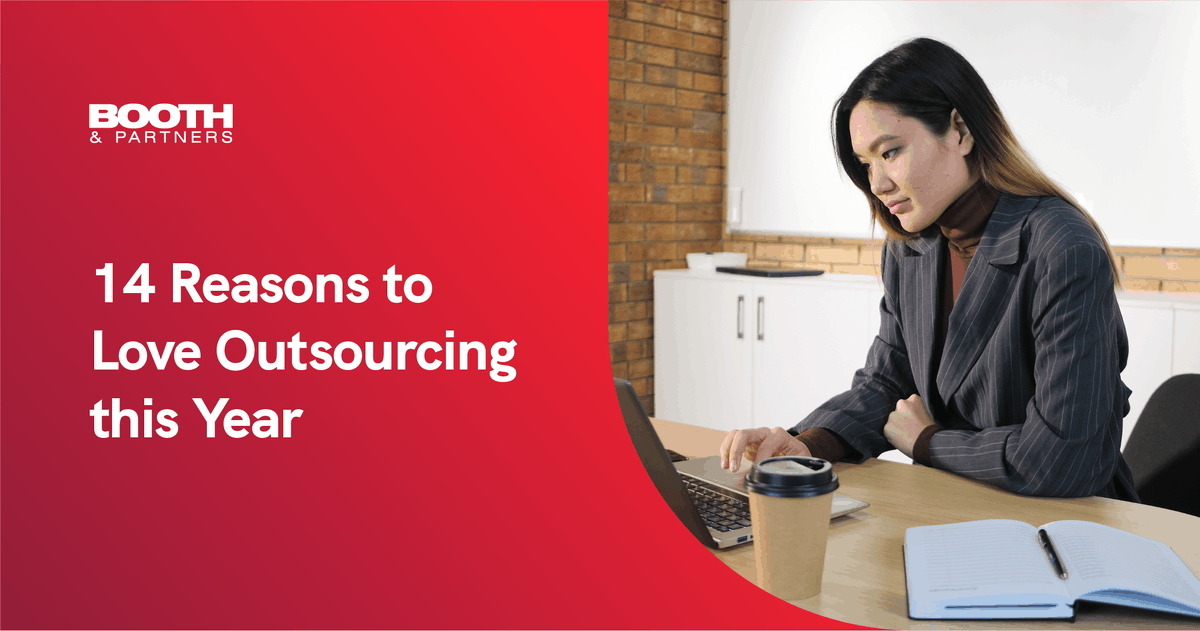 Businesses have plenty of reasons to outsource, mainly because it's a practical way to address their limitations. It can be about the lack of expertise, budget issues, constraints in technology, or the ability to manage risks. 
Outsourcing is a mutually beneficial relationship where you leverage another entity's existing resources including its system, manpower, technology, and the like in return for providing what's due for them. 
That's the main reason why you should love outsourcing. And in this article, we'll show you more reasons to outsource and how it can assist you in taking another step forward to achieving your business goals.
How Does Outsourcing Work?
For those who are new to the idea of outsourcing, it's a business practice where you can hire another company to fulfill the roles or tasks you can barely handle on your own. It's like hiring new employees to give you a hand, only that they're working in a different location. You're giving them directives without having to worry about the recruitment, HR, training, and other details that are normally required for in-house staff.
In short, outsourcing is not only a mere activity. When used to its highest potential, it doubles as an effective business strategy you should take advantage of.
14 Reasons to Love Outsourcing
This billion-dollar industry has captivated thousands of companies worldwide. Its attractive features make it an ideal choice for businesses of all sizes — small businesses, medium enterprises, and large corporations.
Here are more reasons to outsource and why you can't help but fall in love with outsourcing once you've tried it.
1. You can save more when you outsource
Top outsourcing destinations offer various opportunities to lower the cost you're paying to maintain a role. Aside from lower-wage requirements, you can also save on operational costs like office space and equipment. Outsourcing is also a good way to reduce your tax responsibilities. Some countries, especially those located in Asia, have lower tax rates compared to Western countries. Just make sure to follow domestic and international tax laws to avoid complications in the future. 
2. There are incentives available for you
The Philippine Economic Zone Authority (PEZA) provides incentives and government support to PEZA-registered outsourcing companies. Specifically, qualified companies can avail of tax incentives such as Income Tax Holidays and a 5% gross income tax.
3. Outsourcing companies match you to the right talents
Outsourcing companies filter job candidates to make sure they're hiring the most fitting staff for the job. Common factors that are taken into consideration are the job candidate's skills, expertise, and experience. Tests (e.g., written, verbal, typing) are also conducted to measure his or her ability.
4. Expect better service delivery
BPOs normally have quality assurance specialists who review employee performance and outputs based on the metrics you will provide. If the service quality falls short of your expectations, they will lay down the areas of improvement and suggest ways to improve an employee's service delivery.
5. Experience advanced technology
Outsourcing is one of the easiest ways to access technology that is not available in-house. At the same time, it is also a good opportunity to ask for support in transitioning to new systems, in case it's something your business requires.
6. Outsourcing guarantees your data privacy and security
BPO companies enforce strict data protocols to guarantee data protection. It is a good idea to take a tour in a service provider's operations area to see how they implement their data security measures. But usually, mobile devices, pens, and papers are not allowed in workstations.
7. It is also a good risk mitigation strategy
Most of the risks associated with your outsourced task will also be the responsibility of your chosen service provider.
8. You can leverage your outsourcing partner's well-established procedures
Outsourcing companies with proven track records have developed well-established procedures through their years of experience doing the same tasks over and over again. Rather than building your procedures from scratch, it will be wiser to adopt the procedures that work for them. Just make sure to analyze the procedures first and see if it can also work for you.
9. Gain more time to focus on your core business
Dealing with non-core tasks like data entry and customer service consumes a lot of time. Outsourcing lets you get away with this by assigning these functions to people who are more adept at doing administrative tasks at a faster rate.
10. It is easy to grow your team
Depending on your needs, you can scale up or down your outsourcing team. For instance, if your business grows, the BPO company can easily hire additional manpower for you. But in cases of economic downturn, it is also possible to scale down the service you're getting.
11. You'll have more opportunity to expand to new market areas
If you have plans for expansion, outsourcing can be the more feasible option than setting up an office right away. You can use it as a way to stabilize, and if possible, penetrate the new market first before moving on to your next big step.
12. Resolve capacity issues
You can outsource some of your tasks so you won't have to worry about moving to a bigger office. Not only will you save money but you can also avoid the hassle of looking for a new space and preparing the necessary documents. 
13. Take advantage of the flexible hours
Partnering with a company away from your geographical region gives you the ability to operate even after your office hours. Outsourcing companies offer highly-flexible working hours which you can tailor according to your requirements.
14. Meet your business needs
Outsourcing is a good start to meet your business needs. By the time you entrust your nonessential tasks to a reliable company, you can also have more time on your hands to grow your business.
How to Choose the Right Service Provider
Selecting the right outsourcing company is much like selecting a real-life partner. You shouldn't rely on your emotions alone if you don't want it to turn into a heart-breaking (and expensive!) disaster. Remember, you are investing your business' money for this endeavor. You should at least get the quality of service you deserve.
To prevent outsourcing mishaps, it is essential to develop and follow a logical approach in choosing the suitable outsourcing service provider for your business.
We've prepared a list of the basic steps you can follow to guide you in making the right outsourcing decision.
1. Identify your needs
You can only know what you're looking for, including the standards you need to set, if you're aware of what's lacking in your business. Outsourcing just because someone tells you to do it without actually understanding its purpose is useless. You might only end up with the wrong company and with more messed up tasks to clean after.
Before making the move, make sure you're clear on your reasons to outsource, your goals, and the metrics needed to measure the success of this business activity.
Once you're done with this step, it'll be a lot easier for you to shortlist potential companies.
2. Research extensively
"A little knowledge is a dangerous thing," a popular proverb says. It means you shouldn't choose an outsourcing company at face value. Aside from readily-available website information, you can also scour review pages, online directories, job portal review tabs (to know employees' working conditions), and third-party websites to find relevant data.
3. Talk with a company representative
Another way to evaluate a potential outsourcing company is by talking with an authorized company representative. It can be a business development officer or a sales personnel. Ask them for a detailed explanation of their services, available business models, pricing structure, training programs, onboarding process, IT capacity, and other crucial factors that would greatly influence the quality of the task you plan to outsource.
What Services Can You Outsource?
Basically, you can outsource most tasks. It can be an administrative function or a more complex service that requires highly-specialized knowledge.
Some examples of services you can outsource are the following:
Staff leasing

– if you prefer to

have a remote team

.

Data entry

– if you process a large amount of data regularly.

Customer service

– if you need help in assisting customers, resolving complaints, and

building better customer relationships

.

Lead generation

– if you need support in identifying potential customers to increase your conversion rate.

IT

– a way to bring in IT experts in your business at a more affordable cost.

These basic services are ideal if you're just starting out on your outsourcing journey. Its goal is to alleviate your administrative responsibilities so you can focus more on running and developing your business. 

Outsourcing in the Philippines

Looking for a reliable service provider in the Philippines? Get a free consultation today with Booth and Partners. Our Staffing Solutions have been helping businesses from different industries globally. Get in touch with us to know more about our tailored services.
Discover more about outsourcing and
how you can maximize it for your
business success!
Get a copy of our E-book: Guide to Outsourcing.
DOWNLOAD NOW