Adopt-A-Seedling Program: Planting the Seeds of Tomorrow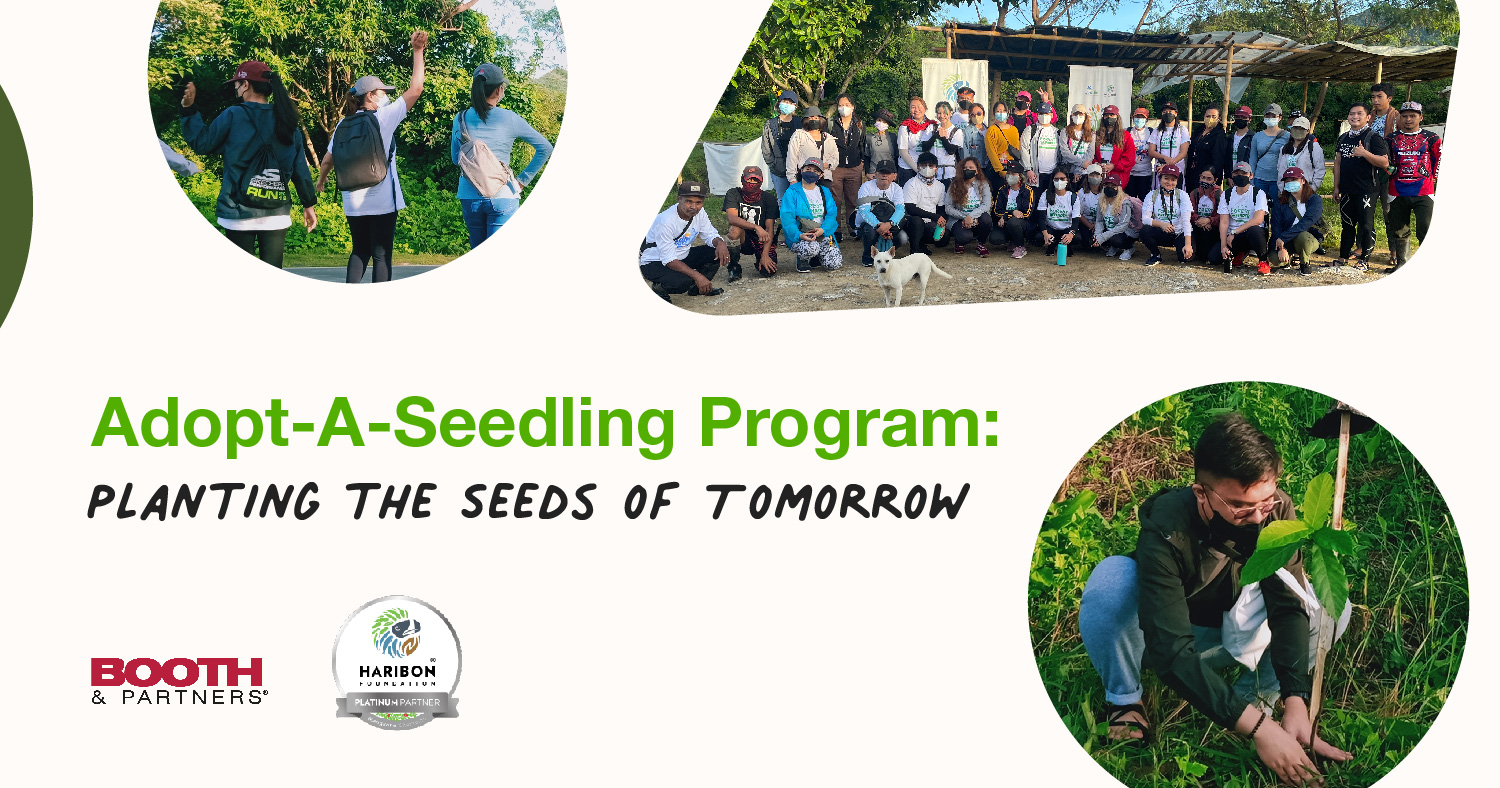 "Our purpose is not just to donate, but to volunteer and be physically present. Doing significant efforts for our environment and our community is a part of our core values. Like these trees, we want to grow and nurture our people by sharing a common goal, a common passion. Together, we will continue to be a partner for the environment."
                                                                                            –Michelle Malonzo, Chief of Staff, Booth & Partners
We can't deny it, trees are vital in our everyday lives. Trees cool our forests. Trees cool our urban centers. Trees are essential for people and wildlife. Trees play such a critical role in our environment. 
Today, we face a growing number of environmental challenges driven by human influence that can greatly impact our lives on this planet. Climate change, plastic pollution, food waste, biodiversity loss, air pollution, ocean levels rising, and deforestation are among the biggest environmental problems of 2022. 
While individual efforts won't make a massive impact, they can make ripples. Collective efforts, on the other hand, can make even bigger ripples. Every one of us can help limit global warming and take care of our planet. People need efficient and effective solutions to address the challenges of this current era. 
Why Trees?
Tree growing is one of the simplest and most effective ways of tackling climate change caused by greenhouse gas because of the ability to capture carbon and draw down emissions from the atmosphere. By joining a tree planting activity, we help our planet become more resilient against climate change and protect our wildlife and their habitat. 
Last July 19 and July 23, we trekked the trails of Mt. Batolusong in Tanay, Rizal, part of the Sierra Madre Mountain Range in the Philippines with a mission to plant our native tree seedlings through Haribon's Adopt-a-Seedling Program.
Volunteers from Booth and Partners at YES City, Brgy San
Andres, Tanay, Rizal part of Kaliwa River Forest Reserve
Trees of Hope
In partnership with Haribon Foundation and their Forests for Life Movement, together with Samahan ng mga Magsasaka ng San Andres Inc. (SAMASAI), our 75 volunteer employees braved the muddy and challenging trail going to the restoration site. 
Photo Credit: Haribon Foundation | Our volunteers trekked to the foothills of 
Mt. Batolusong for the restoration activity with the help of the local volunteers.
We were able to successfully plant about 1,250 native seedlings. It consists of 21 different plant species: Antipolo, Balinad, Balinghasai, Balobo, Bangkal, Dalingdingan, Dolitan, Igang, Kadig/Malapapaya, Kamagong, Katmon, Lanete, Lauan, Malakape, Malaruhat, Narra, Palomaria, Palosapis, Pilaway, Talisay, and Tangisang Bayawak.
Volunteer from Booth & Partners planting seedlings during 
the tree planting activity at Mt. Batolusong in Tanay, Rizal
Haribon Foundation's Forest for Life Movement
HARIBON's Forests for Life Movement (adopt-a-seedling program) is an environmental conservation movement of informed and engaged people. It supports the adaptive capacity of communities and increases the resilience of natural ecosystems to climate change and optimizes mitigation opportunities toward sustainable development. 
This program utilizes rainforestation technology that restores the natural Philippine rainforest ecosystem through planting and growing native trees that commonly grow in the area. 
"Booth & Partners' support for Haribon Foundation's Forest For Life Movement is an important step toward putting emphasis on every individual and business' responsibility to our communities and our environment. The breath of life comes from the tree. While we breathe, we live," says Nova Regalario, Haribon Foundation's Conservation Specialist
Restoring Sierra Madre, Protecting our Environment
The area where we planted seedlings is part of the Kaliwa River Forest Reserve declared under Proclamation No. 573 on June 22, 1968. It is a part of the Sierra Madre Mountain Range that stretches from northeastern to southeastern Luzon. 
According to Haribon Foundation, the Kaliwa watershed is home to various threatened wildlife. Among these are the Northern Philippine Hawk-eagle (Nisaetus Philippensis), Philippine Brown Deer (Rusa Marianna), Philippine Warty Pig (Sus Philippensis), Vulnerable Northern Rufous Hornbill (Buceros Hydrocorax), Philippine Eagle (Pithecophaga Jefferyi) and restricted-range birds of the Luzon endemic bird area.
Giving Back to the Community and the Environment
"We call this activity 'tree growing' because we're not only planting them. With the help of Haribon Foundation and the local community, we ensure that the trees being planted are nurtured and can continuously grow like our company," says Michelle Malonzo.
Photo Credit: Haribon Foundation | Michelle Malonzo planting seedlings 
during our tree planting activity at Mt. Batolusong in Tanay, Rizal
To ensure the survival of the native seedlings we planted, the local community of San Andres will help maintain and monitor them three months after the planting date. By working together as a team, we can help grow more trees for the people, animals, and the environment.
Brands and companies becoming more eco-conscious is not just a trend, but an ideological shift in the way we do work and how it impacts the world from a social and environmental perspective. With climate change becoming a daunting reality, the stronger the call to action is to become more environmentally responsible. 
And as a business, we take it upon ourselves to address and understand these adverse problems. Doing efforts for the environment is one major way of addressing the sweeping effects of climate change. We partnered with environmental organizations like Haribon Foundation to help solve the more important issues in our environment and to find innovative ways to help the environment that are achievable in our organization. 
Volunteers from Booth & Partners during the trekking for
the tree growing activity at Mt. Batolusong in Tanay, Rizal
It's a really great way for our nature-lover tribe members who want to reconnect with nature and meet new and old B&P friends with the same interest while supporting a cause. We look forward to planting and growing more trees, and creating more efforts for our community and our environment in the future!
Our environment needs our care and we can do our part by engaging in environmental activities that can improve our quality of life like tree growing. If you want to join activities for our environment or are interested in the Adopt-A-Seedling program, get in touch with Haribon Foundation.
Discover more about outsourcing and
how you can maximize it for your
business success!
Get a copy of our E-book: Guide to Outsourcing.
DOWNLOAD NOW