Arch's co-sharing offices bring Seattle charm to the Filipino workplace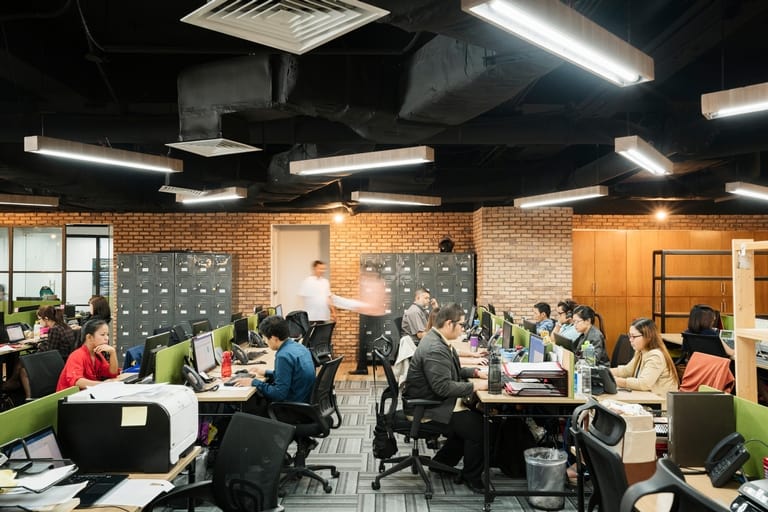 Reinventing offices with great design inspired by well-planned cities is the trend nowadays. Meet Arch Offices, a Seattle-inspired office in Makati.
Manila (CNN Philippines Life) — Hardwood floors, lush greenery, brick walls, and furry friends are just some sights that wouldn't be out of place in an office based in Seattle, a city known for bringing the natural vibes of its parks and forests indoors.
Arch Offices in Makati has all of that, albeit with the absence of the dogs (due to building restrictions) and some of the greenery (it was hard to maintain real plants, so fake ones are on the way).
Arch was started in November 2015 by the husband-and-wife managing team of Jamie and Carmen del Rosario Booth with the intention to lease out part of their expansive 20th-floor office space. The former Seattle residents originally took up the space to house their outsourcing business, Booth and Partners, but found it to be too large for their team.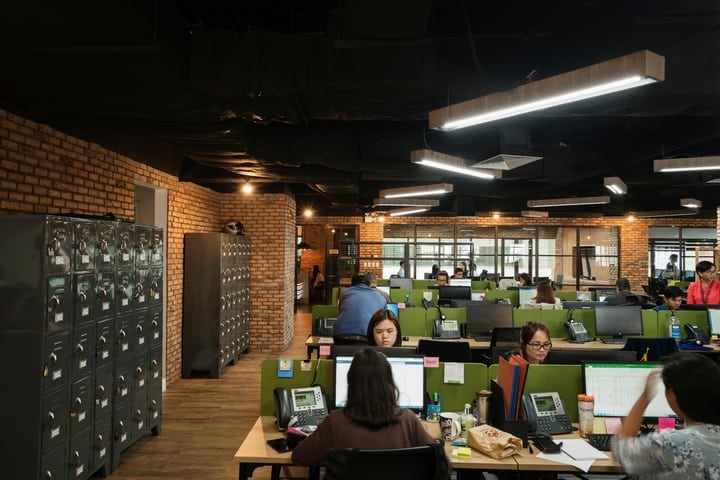 Eventually, they came up with the idea for Arch, a business that provides office and staff leasing services to interested clients who need desks to work on or a staff to work for them. The company currently has 52 employees on the staff leasing side alone, with 60 to 70 percent of the office being used by clients who pay to use its private rooms and desks.
Bridging the gap
The Booths struggled to find the creative work environment paired with the technology they required to operate their BPO. In fact, it took the Booths a year to find the right space, which they then renovated to include the infrastructure they needed to run their business.
When they found that space — the empty, "funky" one in the penthouse of the Citibank Tower — they knew that they wanted it to have a vibe similar to what they saw when they lived in Seattle. "We wanted to bridge Seattle and Manila office environments," says Jamie. "The Arch in our brand name is a symbolism of bridging the gap — like on a bridge over a body of water."
Located right in the heart of Makati's Central Business District, Arch occupies an entire floor with its six private rooms, meeting room, common room, and open floor furnished with fully equipped workstations.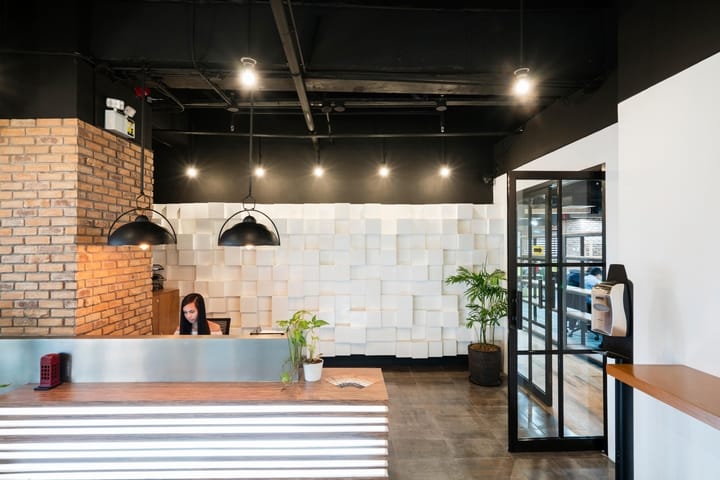 Heim Interiors, the design firm behind Ride Revolution and Sunnies Specs's Glorietta store, was responsible for taking the Booths' Seattle-inspired vision and transforming the former empty space into what it is now. All of the interiors follow the rustic color scheme of brown, green, and black, along with a red-brick finish — a deviation from the usual white, which Carmen explains is due to their desire to keep their employees motivated. "We were trying to insinuate a certain culture with our BPO," she says. "We didn't want the standard cubicles and white walls. We wanted something that everyone was really proud of going to work every day."
One standout example of this is the common room, which doubles as a picturesque lounge. There are modern table and chair sets placed atop the turf grass floor, with a Flying Pigeon bicycle resting by the wall, which makes for a nice backdrop during lunch breaks.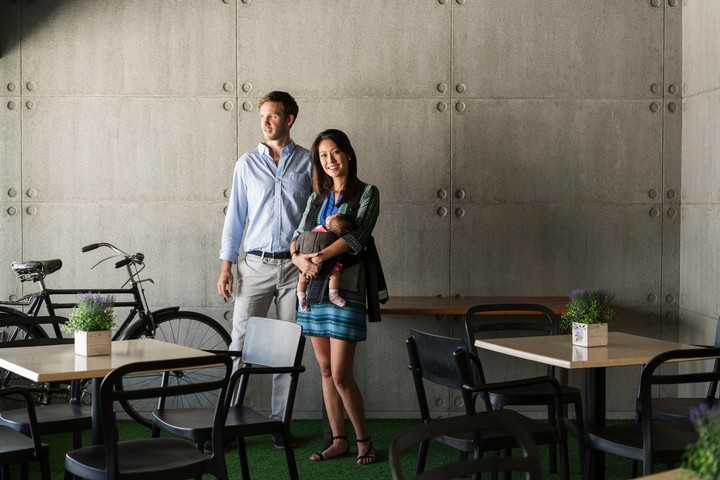 Clean and green
Caring for their employees is definitely big on the couple's agenda. Naturally, part of that extends to the fields of health and wellness.
Everything at Arch looks clean and shiny, with hand sanitizer dispensers placed in the common room and the reception area. Jamie and Carmen are adamant about keeping their workplace clean, as they used to work in an office building that wasn't very concerned about sanitation. "I think it's really important in shared offices because it's really easy to get sick, obviously," says Carmen. "If the space is not sanitized and one person has the flu, everyone will get the flu really quickly. So it's really important that that's maintained."
With regard to body wellness, they promote healthy eating and exercise. Aside from encouraging their employees to bike to work, the couple also jokingly say that their location on the 20th floor also helps in that department. The elevator of their building only serves until the 18th floor, which means that all employees have to climb up two flights of stairs to get to work.
Right now, they're working on a collaboration with the Salcedo-based fresh convenience store Sprout — whose owner, Erwan Heussaff, is one of their clients — to provide discounts for their employees.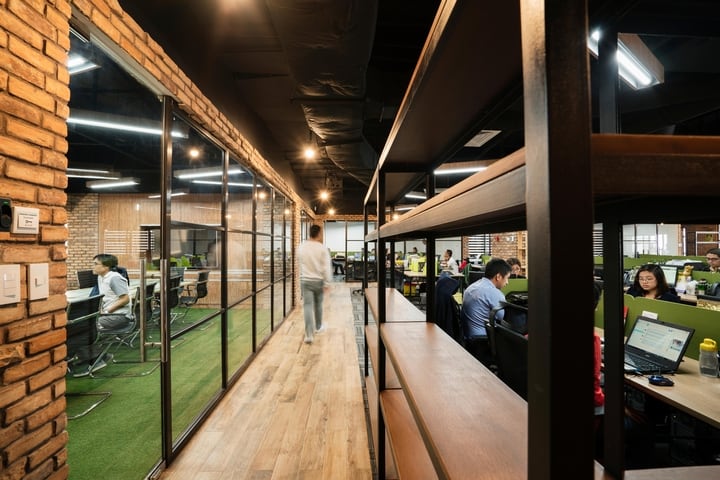 Community building
It's not all work with no play for the people at Arch. One of the advantages of being on the highest floor is that they have exclusive access to an open balcony that overlooks the Ayala Triangle and the rest of the Makati CBD. It's where they occasionally hold after-work socials complete with beers and house music.
Carmen and Jamie stress that this is just one way for them to let loose and foster a sense of community among their employees. "We wanted to encourage collaboration among our team members as well," says Carmen. "It's not like, 'Raise your hand,' 'I have a question for my manager.' It's, 'How can we collaborate with the teammates around us to solve problems,' etc."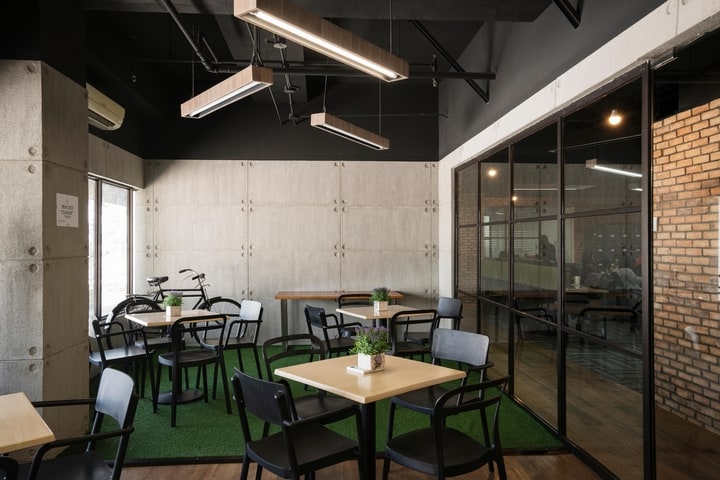 In fact, the Booths don't have their own office rooms. Instead, they work from the open floor's dedicated work spaces. "We like to feel like we're also clients of the office and not feel like we're running it, and like we're tucked away in some office away from everybody," says Jamie. "We want to feel like we're part of the community that we're trying to create."
The Booths are constantly trying to find room for growth for both their business and their clients. They're looking forward to expanding to their new branch that's currently in the works at Bonifacio Global City, Taguig. Set to open in the third quarter of this year, it's designed to have all the same amenities and the same flair as the original Arch — but with a few additions, including a space for standing desks and more meeting rooms to accommodate more clients.
Arch Offices is located on the 20th floor of Citibank Tower, 8741 Paseo De Roxas Ave., Makati City.
Discover more about outsourcing and
how you can maximize it for your
business success!
Get a copy of our E-book: Guide to Outsourcing.
DOWNLOAD NOW