What is Custom Office Buildout?
Leverage your
Workspace
Have you ever envisioned an office space specifically designed to optimize your business needs? We know how essential it is for businesses to have the right kind of office, especially now that employers are doing everything they can to compete for top talent and clients. The ideal office space and location speak volumes about the type of business you are running, so it is crucial to consider everything down to the very last detail as these will have a longstanding impact on your team and organization. This is where we come in.
Just tell us about your business and people, and we will build your own dream space to support your goals. With the help of our technology and design experts, we will transform your great ideas into a reality—quickly and efficiently. Now let's make it happen.
Well-designed Work Zones
Purposefully designed & furnished private offices, open workspaces, and conference rooms.
Concierge Support
Concierge service and onsite staff for your everyday assistance.
Common Areas
Complimentary member access to lounge areas, pantry, work booths, and meeting rooms.
Super-fast Internet
High-speed Wi-Fi connectivity and top-notch in-house IT support.
Unlimited Coffee
Unlimited bean-to-cup coffee and alkaline water.
Cleaning Services
Cleaning and maintenance service to ensure the entire office is in tip-top shape.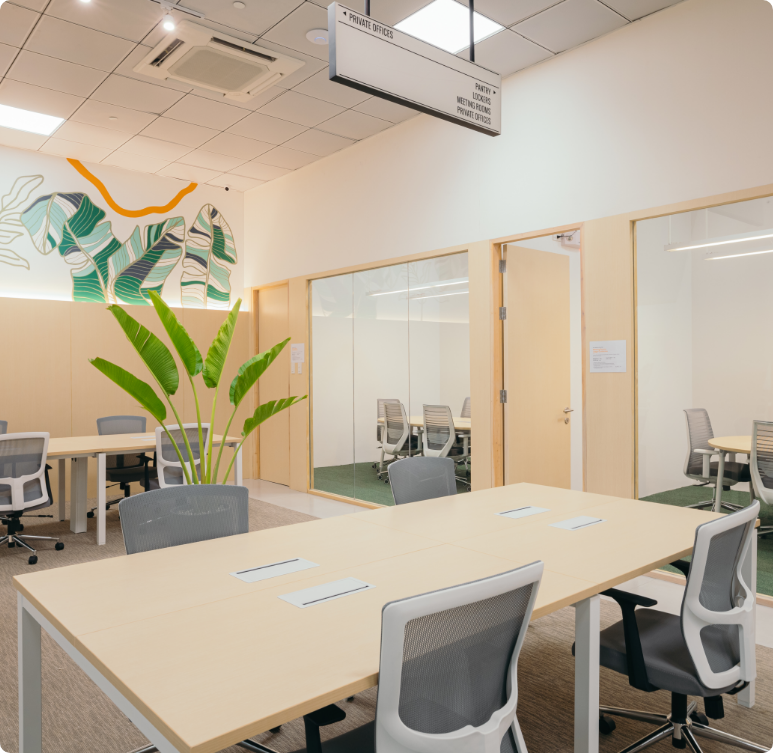 1
We Find the Ideal Space
We believe in the importance of location in the success of every business, and so we see to it that you set up your business in a place that reflects your brand and services as these can significantly affect your growth and success.
We go all-out when it comes to cultivating a healthy workplace that bolsters productivity, including smartly designed rooms and murals to your liking. Our fully integrated team of designers, architects, and construction experts will help you bring your vision to life.
3
We Take Care of the Day to Day
It is important for us to keep everything in tiptop shape—from front-desk service to freshly brewed coffee, spick-and-span facilities, and enhanced security. Just focus on your core business, and we will take care of the rest.
You Envision It,
We Make it
Our design experts always have new ideas to keep office designs fresh and follow the industry trends. From partition walls and glass doors to natural light and indoor plants, we believe modern furnishings and stylish interior designs can make all the difference in employee engagement, satisfaction, and retention.
Every office is meant to be a functional place so most of our planning goes into ensuring it is exactly that —functional. Through our research into different furniture, colors, and décor, you can make a scientifically informed decision that can inspire your team to be more productive.
Work with Us
Looking for your dream office space? Don't do it alone!