Best Employee Certifications to Boost Your Career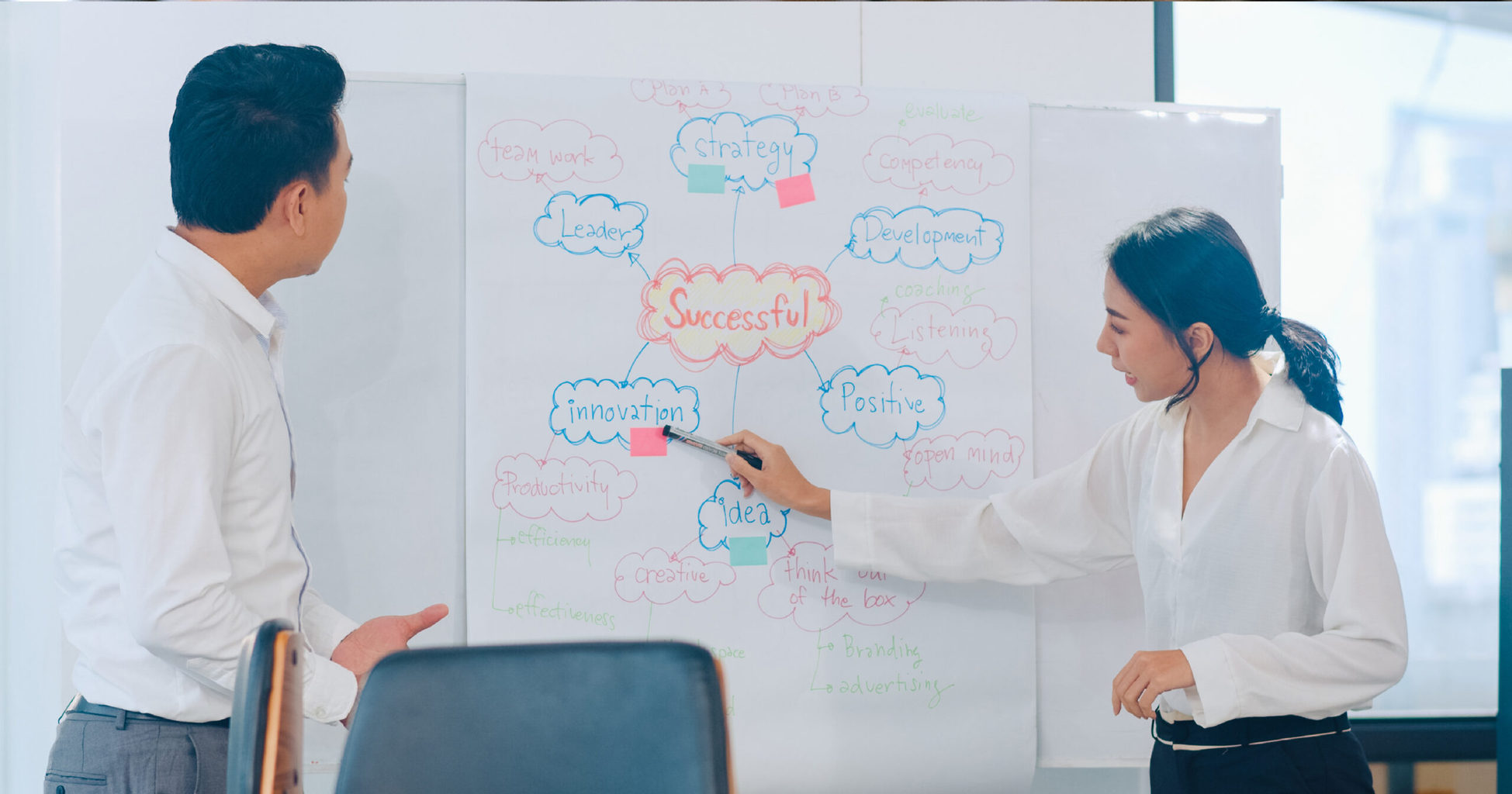 It pays to invest in learning and skills development, especially when it comes to employee certifications.
Employers use certifications as a sign that an applicant has the necessary knowledge and skills for the job and shows commitment to keeping their skills current.
Fresh graduates, on the other hand, get a higher chance of landing a good job in a good company.
Meanwhile, for seasoned employees, certifications bring in more opportunities for career advancements. The management can see it as a sign of their determination to succeed as well as their preparedness to handle bigger responsibilities.
To get you started, we shortlisted eight certifications that are not only appealing to the eyes of recruiters but can also fast-track your career growth in the corporate setting.
Certification Types
In the Philippines, skills-based employee certifications can be divided into three areas*:
Basic – Fundamental skills expected from an employee regardless of age, role, and position.
Examples: communication skills, time management, collaboration, work values, and other soft skills
Common – Skills relevant across the industry. In other words, the common denominator. These skills may be useful in various sectors.
Examples: leadership skills, data management, project management, sales, analysis, cloud computing
Core – Industry-specific skills. These are qualifications that are unique to the trade.
Examples: accounting, medicine, software development, engineering
*These three areas are based on the competency requirements of TESDA's training regulations. Source: OECD/ILO (2017), Better Use of Skills in the Workplace: Why It Matters for Productivity and Local Jobs,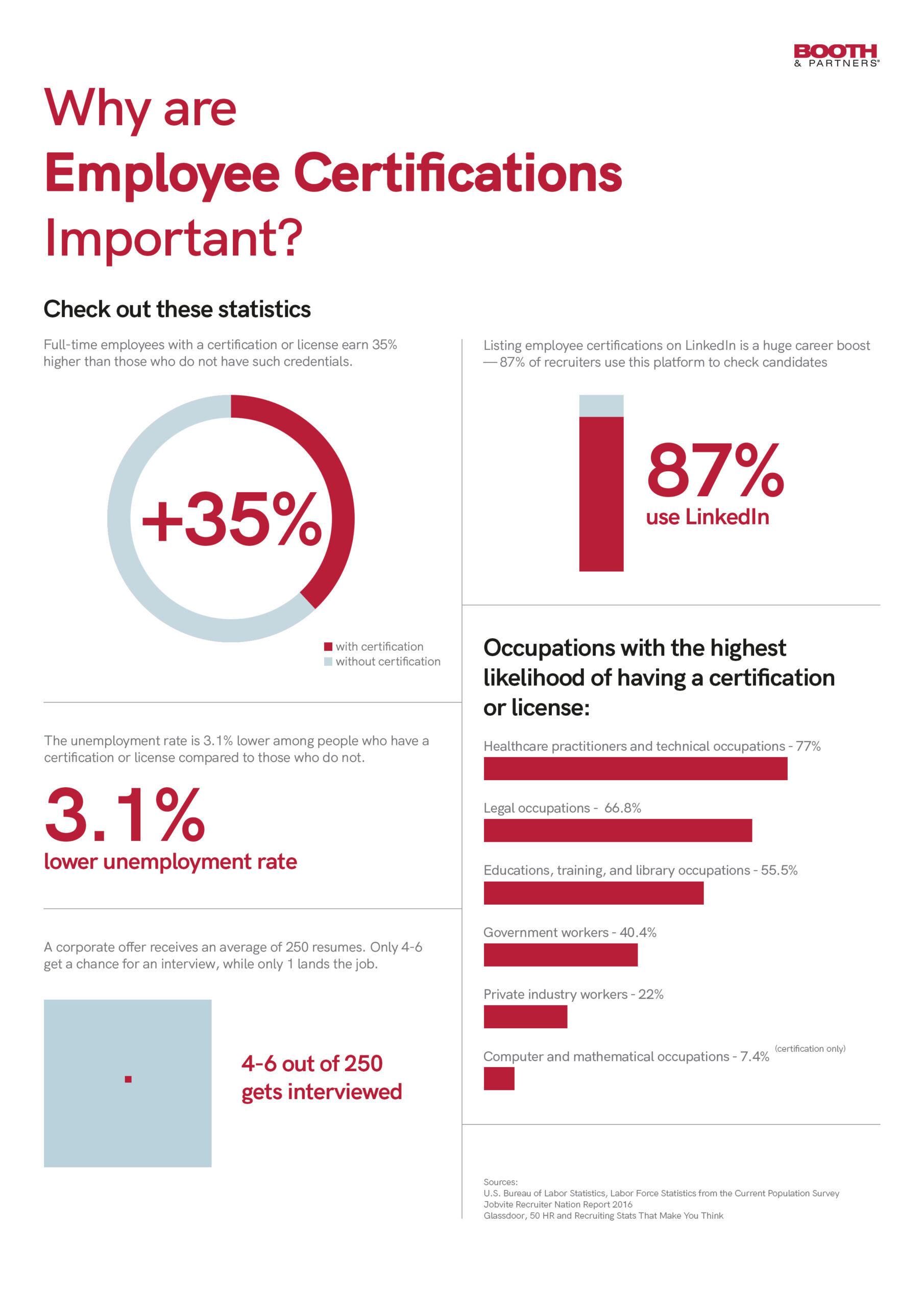 Employee Certifications for PH Professionals
For the first section, we will focus on employee certifications that cover both basic and common skills (see above). 
Take note that while these certifications can glitter up your resume, you still need to make sure you can apply what you've learned in practice. There's a possibility that recruiters will ask you how you've implemented such concepts or investigate your capability to implement it in the actual work setting.
1. Six Sigma
The American Society for Quality (ASQ), a global organization of quality professionals, defines Six Sigma as "a method that provides organizations tools to improve the capability of their business processes."
This certification has three tiers:
Certified Six Sigma Yellow Belt (CSSYB)

– For beginners (entry-level employees or those who are new to Six Sigma)

Certified Six Sigma Green Belt (CSSGB)

– For individuals with at least three years of work experience

Certified Six Sigma Black Belt (CSSBB)

– For team leaders, managers, and executives

As a tool for process improvement, Six Sigma uses the DMAIC (Define, Measure, Analyze, Improve, Control) strategy. It can help you improve in the following areas:
Devise efficient techniques to increase business performance while maintaining product quality.

Develop strategies to maximize capacity and resources for an improved rate.

Find ways to provide a better experience and higher level of customer satisfaction to customers.

The training lasts for around five days. Meanwhile, its cost differs from one training company to another. But based on estimates, fees from reputable companies can range from Php 7,0000 to Php 185,000 (yellow belt to black belt). 
Make sure to do your due diligence on training companies before you start taking certifications so you can learn and apply the correct competencies of Six Sigma.

2. Kaizen 
The Kaizen certification is all about continuous improvement. It aims to teach you how small but consistent positive changes can turn into significant breakthroughs. In addition, it also seeks inefficient processes or costly activities with no clear value, gets rid of them, and replaces them with value-adding initiatives.
Kaizen blitz — a process improvement exercise conducted by employees — can serve as a powerful way to achieve sustainable and positive changes within an organization. It can last for hours, days, or weeks. Like Six Sigma, it also uses the DMAIC approach.
Learning fees also vary. Just be wise enough on selecting an institute that can provide extensive Kaizen training so you can have a full grasp of its concepts and processes.

3. Project Management Professional (PMP) Certification
If you want to pursue a career in project management, getting a PMP Certification can increase your chances of landing a job. This certification is offered by the Project Management Institute (PMI), a global association for project managers.
This certification is the gold standard for project management. This means it is globally-recognized. At the same time, getting PMP-certified allows you to work virtually in any industry and in any location.
When you're job hunting, a PMP certification validates your project leadership skills. It also emphasizes your ability in the following areas:
People

: highlights your capacity to lead a team

Process

: showcases your knowledge about the technical aspects in managing projects

Business Environment:

ability to see the connection between projects the organization's strategy

If you're planning to get this certification, we recommend that you apply directly on PMI.
For alternative project management certifications, you can also check out the programs offered by Google, Cornell University, and other available courses on Coursera.

4. Business Communication
Effective communication is the foundation of trust, productivity, and collaboration in the workplace. At the individual level, it's an essential soft skill needed to advance on the corporate ladder.
Business communication is not only about your verbal communication skills. Rather, it also includes your written, non-verbal, active listening, and reading abilities. Being a good writer (emails, proposals, etc) is equal to being a good speaker. You must learn how to articulate your ideas so the management can easily see its value and potential to effect change in the company.
The good news is there's an abundance of business communication courses from credible organizations. You can either take it online or enroll at a university. You can also find free and paid business communication courses through a quick online search. 
Some of our recommendations include:
These are just some of the best. There are a lot more.
5. Data Management Certifications
Data is a powerful tool. But raw, unprocessed data is clutter.
To harness its potential, companies need someone who can process and make sense of data for them. If this job interests you, taking data management certifications can land you a lucrative job opportunity.
Here are our top five data management certification recommendations that can make your resume stand out:
Industry-Specific Certifications
Apart from the general list of certifications above, professionals working on certain fields may benefit from getting role-specific certifications. 
Accountants:

Cloud software certifications (QuickBooks, Xero, etc) 

Marketers: Google Analytics, Google Ads, HubSpot Certification courses, and other software-specific certifications


          (e.g., SEMrush)

HR:

CHRP, CHRMP, CPHR

Creatives:

Adobe Certified Associate, AIGA Certificates for Creatives

I.T. Professionals:

COBOL, Java, Microsoft, Oracle, and specific 'software language/s' used by a company, if there's any.
Work With Us
At Booth & Partners, we seek professionals with an unquenchable thirst for knowledge, training and development. Our goal is to provide vast employee growth opportunities by organizing training and development programs, such as Kaizen and Six Sigma.
If you're currently looking for a company where you can grow and thrive, join our tribe today!