Creating Better Business Processes with Lean Six Sigma Methodology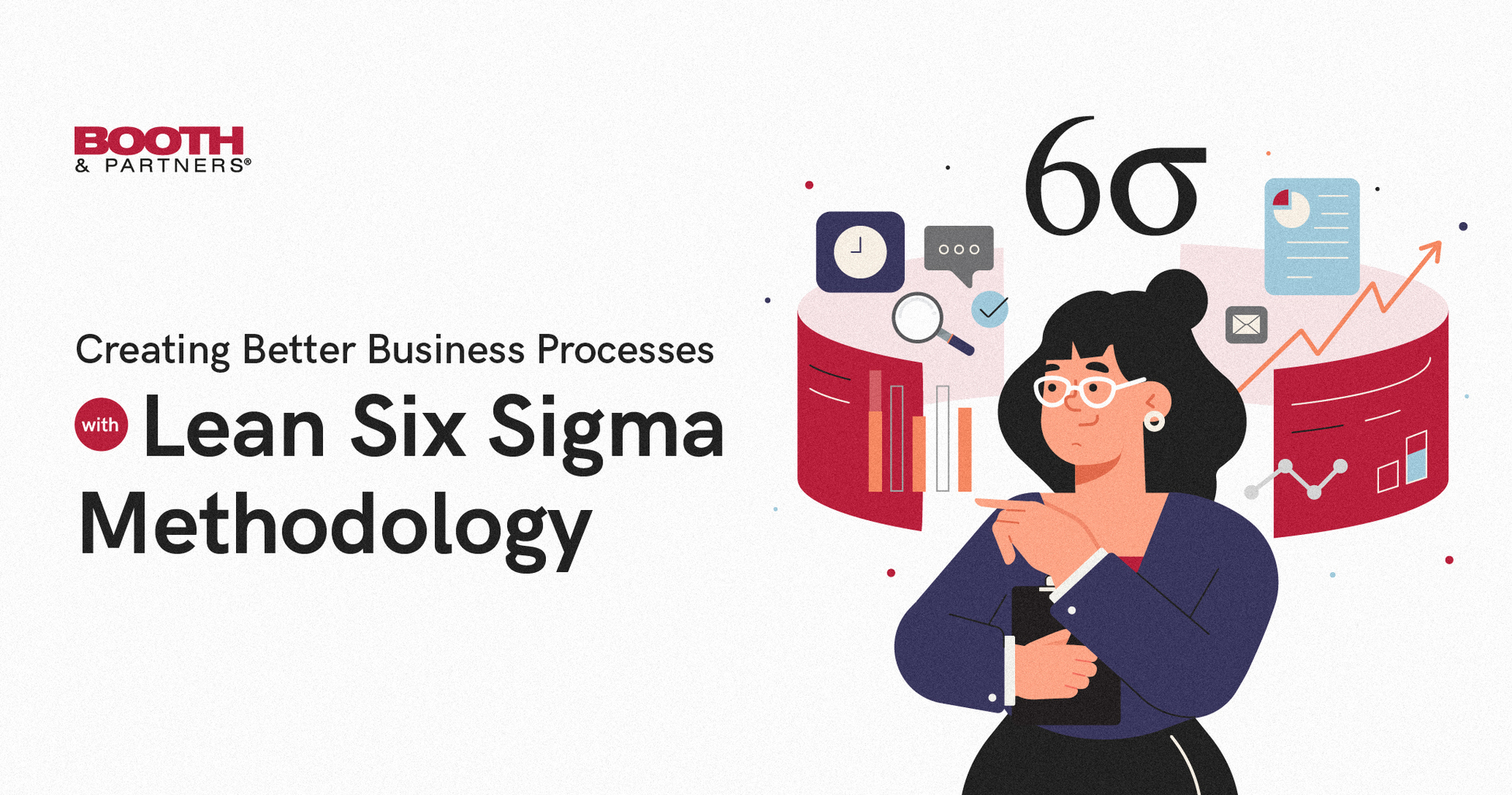 An efficient and well-structured training program like the Lean Six Sigma Certification allows you to improve quality and efficiency in processes, problem-solving, ideation, and innovation.
Many professionals have the goal to move up the career ladder, and there are ways to do so. 
Based on studies, 65% of employees say training and development opportunities positively affect their attitudes toward their jobs and it is also one of the top factors in employee performance. 
It is our goal at Booth & Partners to offer career development opportunities both within and outside the organization. We are aware that becoming leaders depend on the sustainable learning and development of our employees, and we make sure they are well-supported and are set up for success.
In this article, we will hear it from Syvelle Almanzor, our Training & Quality Manager at Booth & Partners, as she talks about her tips and strategies in acing the Lean Six Sigma Certification. Plus, how this program can help you grow your career, your team, and your organization, from process improvement to overall planning and decision-making. 
What is Lean Six Sigma Certification?
When Syvelle Almanzor, or "Sy" for short, was encouraged to take the Lean Six Sigma Certification, she instantly signed up. Taking this program has an array of benefits for professionals and it is globally recognized. Many employers these days consider some level of Six Sigma certification as a minimum consideration.
Lean Six Sigma is known to be a process that targets to improve methodology through a strategy known as DMAIC (Define, Measure, Analyze, Improve, Control). It is commonly applied in the manufacturing industry, but apart from it, it is also helpful across industry verticals such as Telecom, IT, Healthcare, Shipping, Banking, Financial, Human Resources, Marketing, and even in Outsourcing.
It aims to improve two things: the reduction of defects and processing time. If the goal is not under those two things, different approaches can be considered. 
The program consists of four steps:
               1. Complete the Training Course
               2. Pass the evaluation tests
               3. Successfully complete a project
               4. Present in a Certification Review and Submit Storyboard
It also focuses on improving these top 5 factors:
              ✓ Reduces Cycle Time
              ✓ Increases Capacity
              ✓ Enhances Quality
              ✓ Increases Productivity
              ✓ Delivers Better Customer Satisfaction
To know more about Lean Six Sigma Certification and how it can benefit employees and your organization, read "Why Having Six Sigma and Kaizen Certified Team Members is Important for Your Business".
Sy's Lean Six Sigma Experience
Being the person in charge of the training and development of the employees, Sy wanted to further her knowledge and skills for more efficient processes not only in her team, but in the entire organization. The Lean Six Sigma tools can help her improve the effectiveness of the team and the organization's programs. 
Since all businesses, whether service or product-based, are run through several processes, defects are inevitable. This is where Six Sigma methodology can greatly help you.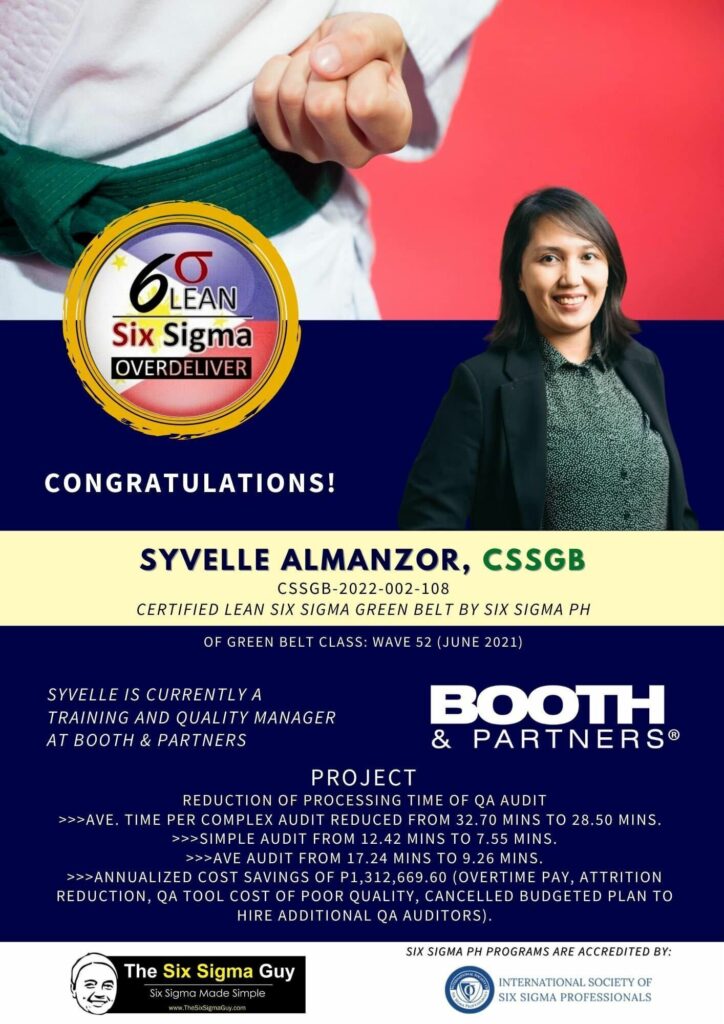 Image Source: Six Sigma PH
Acing the Program
Doing her role in the company while taking the program side-by-side was a real challenge. But she's determined to take her career, her team, and the company to greater heights by helping create a smoother and more efficient work process. With time and dedication, Sy managed to complete the program and achieve the Lean Six Sigma Green belt. This level states that she understands advanced analysis and can resolve problems that affect quality.
Her Tips when you plan to take the Six Sigma Certification:
               1. Take note of the best practices.
               2. Ask relevant questions.
               3. Commit to your timelines. Starting the project immediately can help you complete it within the timeline.
               4. Treat it as if your career depends on the project to inspire you more on completing it within the deadline no matter what.
After hitting some roadblocks, the methodology of Lean Six Sigma helped her understand which processes in the Training department needed improvement and gave her a very structured approach to problem-solving. The knowledge of LSS is a great tool for the Training and Quality team as they always deal with the process data and has ample opportunities to do the data analysis for problem-solving and process improvements.
"It is also a good thing that there's support from certified professionals, I was able to ask questions and clarifications," she mentioned.
Taking the Challenges
Learning to face and handle challenges is one of the lessons you'll get when you take Six Sigma. Some of the challenges she had during the program are:
               1. Dependencies vs. timeline – To complete a project, you are reliant on other departments who are also working on their
                    specific tasks. Pushing through and getting the buy-in of everyone to complete the project is crucial.
               2. In scope vs. out scope root causes – There is a high impact out of scope root causes that will not be fixed immediately.
               3. Data gathering (manual) – It is painful and time-consuming to do and measure things manually.
But her willingness to get things done and take the pains of growing didn't stop her. Combine these positive attributes with the help and guidance of other professionals and you'll surely ace it!
"During the training, we were guided accordingly. The structure of Lean Six Sigma was a tremendous help in fixing and completing the certification. I love that they offer various levels depending on your specific needs. It's as if we're ticking some boxes if it is all done or not. Also, it will give the knowledge and skills you need to streamline a process with little to no waste." she said.
Growing Career and Opportunity
Lean Six Sigma Certification has made an enormous impact in terms of how she plans and decides for the process improvement of her team and the whole organization. 
As a Training & Quality Manager, practicing Six Sigma helped her implement a clear overall quality strategy with a scalable process for her team. It also requires her to work across different functions and solve problems that are outside of the training and quality realm. This would involve interacting with the top management teams on their priorities for the entire organization and not just training and quality alone.
Truth is, there are multiple paths for a Six Sigma Certified professional including but not limited to the following:
               1. CSSGB (certification)
               2. CSSBB (certification)
               3. MBB (certification)
               4. PMP (certification)
               5. Operational Excellence Lead/Manager/Director (role)
               6. Project Manager (role)
               7. Performance Excellence Lead/Manager/Director (role)
               8. Quality Lead/Manager/Director (role)
               9. Business Process Analyst (role)
              10. Consultant (role); and many more.
With a lot of options you have on the list, your career definitely has no other way to go but up and forward when you're a Lean Six Sigma Certified professional like Sy. 
Also Read: 10 Best Free Google Certification Courses & Training in 2021
Application and Takeaways
It's no doubt that taking the Lean Six Sigma certification has helped her in her current role as a Training & Quality Manager. 
"Funny as it may sound, I see DMAIC in most of my discussions. Meetings became more streamlined and goal-oriented because we learned to create a list of discussion points. It helps us ensure that after the team huddle, we will have an action plan that will lead us to our goals. I never really thought that it could be applied," Sy mentioned.
Her biggest takeaways from the program:
               ✓ "Six Sigma helps me decide and plan projects based on the DMAIC structure, which in overall perspective
                      helps the company save more costs."
               ✓ "An overwhelming workload does not always mean you should hire more people. Before you make hiring decisions,
                      try looking at your team's internal processes first and see if any bottlenecks can be solved or can be improved."
               ✓ "Creating a structure to follow when solving a problem makes things a lot easier and quicker. It improves the process flow
                     and saves you, your team, and your organization time, effort, and costs. It's a plus if you're self-disciplined and dedicated."
So, if you're having a hard time balancing the workload of your team, want to revisit how you do the work, or you just want to save costs, Lean Six Sigma may help take your career, your team, or your organization to the next level.
But apart from her takeaways in the program, she learned how important it is to belong to a company that supports her growth and provides avenues to reach individual career goals while fulfilling the company's mission.
"Booth & Partners encouraged and sponsored me to take the program. It was no easy feat, but the support from my colleagues and management were invaluable to my LSS journey," she said.
Watch bits of her journey here.
Taking the Step Forward
Lean Six Sigma Certification is well-developed and flexible with available materials to ensure success. It changes the way you view your work environment, allowing you to quickly recognize the work behavior that needs to be changed or improved. Anyone can make their career, team, and organization better by applying the principles of the program. 
It is recommended for both employees and companies. For companies, it gives huge savings and ROI for the investment. In Sy's case, the ROI is about 4490% (cost of investment vs savings).
For employees, it will provide you with a positive outlier in the market. It gives you an edge over other candidates. By following her tips when you plan to take the Six Sigma Certification, you can surely ace the program.
If you are a professional looking for a company that can help you grow, check out our open job positions, and let's grow as a team! 
Are you an entrepreneur or a decision-maker looking for a reliable outsourcing partner? Contact us! We take priority to the need of our employees to provide our clients with the best outsourced team in the Philippines. We can also provide your staff with the support they need to get important certifications required for the job.