How Can Your Business Save Costs with Managed Services?

Managed services is an outsourcing delivery model where you transfer full control of a particular function to a service provider. It helps you save costs and time — giving you the ability to focus on what matters the most.
In this article, find out the cost of managed services, the amount you can save versus hiring an in-house team, and some tips to increase your potential cost savings.
What's a Managed Service?
A managed service is an outsourcing business delivery model that lets you transfer full control to a service provider. When you choose this model, the outsourced service provider will take care of everything — recruitment, training, employee management, quality assurance, reporting, and your team's KPIs.
Also known as the fully-managed or traditional end-to-end staffing solution, managed services are ideal for specialized, non-core tasks. Some examples are customer service, lead generation, data entry, and IT.
Opting for a managed service means fewer responsibilities on your end; it gives you more time to focus on your core business. You can also benefit from the existing equipment, industry knowledge, and operational structures and processes of your outsourced service provider. Just make sure to choose a specialized company with a proven track record in providing the service you need.
How Can a Managed Service Help Save Costs?
It's an open secret that outsourcing is an effective cost-cutting tool. But how can you exactly save money when you outsource?
First things first. If you want to achieve significant cost savings and get quality service at the same time, choose prime outsourcing destinations like the Philippines.
The Philippines, a popular outsourcing hotspot among Western countries, pledges quality services at an affordable cost.
High-end outsourcing providers in the country offer 50% lower costs compared to their Western counterparts, a leading news provider stated. It further elaborated that the average hourly rate of premium vendors ranges between $12 to $14. If a typical BPO employee works for eight hours a day, five days a week, the average weekly salary of an outsourced staff is around $480 to $560. At this amount, you can already work with a properly-trained staff.
In the United States, the median weekly earnings of full-time workers in the fourth quarter of 2021 is $1,010.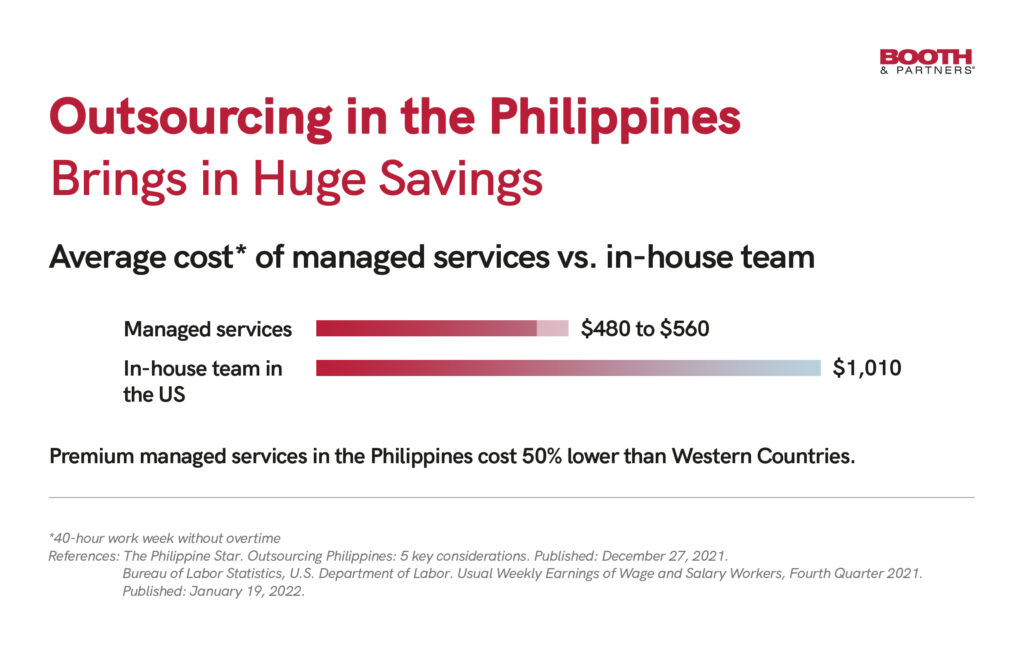 This means even if you're planning to hire someone with higher-level skills, you can still save more when you outsource to an offshore location due to the differences in labor market rate.
Let's further break down how outsourcing helps you save costs.
While it requires an upfront payment, which may be a huge investment for your business, outsourcing brings in more cost savings in the long run. Here's how.
1. Outsourcing Covers Recruitment Costs
The average cost-per-hire is $3,000 or less. To fill in a job vacancy, 52% of recruiters spend at least three weeks searching, shortlisting, interviewing, and signing talent. 
When you outsource, you don't need to worry about such things anymore. Rather than spending time and money cutting through the competitive talent marketplace, service providers will administer the entire hiring process for you.
2. Matches You With the Right Talent
Outsourcing managed services are more than filling the seats with people. Rather, it's about looking for the right fit: employees who can deliver value-added services and a positive return on investments.
This is the case with one of our clients. Before their engagement with us, they came from a 'broken' outsourcing relationship that negatively impacted their customer service ratings.
Our clients need to work with a provider who has the required expertise and cultural capability. To cater to this special request, we worked closely with our recruitment team in identifying skill sets and hiring requirements.
As a result,
"With our specialized customer support service and with a focus on process improvement, we have helped to significantly increase Spirit's Customer Satisfaction Score and NPS, while reducing their current backlogs on all customer tickets."
With our collaborative approach, our client feels they've got an extended team instead of an outsourced one.
Read more success stories here. 
3. Provides Readily-Available Equipment
There's no need for you to purchase new equipment and software when you outsource. Most of the tools your outsource team needs are already available in outsourcing companies.
Call centers, for example, have predictive dialers, automatic call distributors (ACDs), headsets, and other equipment that follows the industry standard. For other functions like IT, you can also rely on your service provider to update your software whenever necessary.
4. Increases Efficiency
Outsourcing can make your operations more efficient — whether your goal is to unload an entire function or to supplement your in-house team.
On your end, outsourcing helps you free up more time and spend it for value- and income-generating activities. For your in-house team, it lets them focus more on the strategic and development side of your business. 
5. Cuts Down on Payroll Costs
Payroll costs — which include employee salary, benefits, taxes, and paid leaves — are lower when you outsource to an offshore location. The labor market rate in top outsourcing countries is cheaper than their Western counterparts.
Outsourcing was not without its gray areas. While it's a proven cost-cutting strategy, you must still be wary of hidden costs implicitly described in contracts or SLAs.
Before signing any legal documents, conduct your due diligence on your chosen service provider. Make sure the latter is as transparent as possible. Ask for a breakdown of their service and keep an eye on unfamiliar items.
Ways to Maximize Your Outsourcing Cost Savings
If you want to achieve higher cost savings through outsourcing, take note of the following tips: 
1. Identify Factors that Affect Pricing
Knowing what you pay for is a good start to keep your managed services' price under control.
Some of the common factors to keep an eye for are:
Number of staff

Employees' level of knowledge and experience

Internet connectivity

Tools to use

Hours of operation

Request for additional equipment
Determine the level of support you need, including the intricacy of its operations.
For example, part-time support may be enough to cover your needs when you're still growing your business. It can even be more economical than full-time (eight-hour) support. You might also encounter instances when your niche requires unique equipment or software. In this case, it can also affect the total cost of managed services.
2. Work Closely with a Client Services Manager
A client services manager is your key contact person who will act as the mediator between you and the managed services company. Whenever you have a specific need to improve or upgrade your existing account, they will do the necessary research and compile all possible options. In addition, they may even have an existing solution to your problems, thanks to their experience in handling different clients. As a result, you can save more time and money than doing the aforementioned task by yourself.
3. Get on a Monthly Retainer with Your Chosen Provider
A monthly retainer is a fixed amount that you pay in advance to your managed services provider to ensure you get the service you need whenever you need it. It's the easiest way to save more money in the long term, thanks to the stability and consistency it provides. On the contrary, the hourly or pay-per-incident payment model gives you a vague idea of the future month's expenses, thereby increasing the risks of unexpected expenses.
 4. Keep an Inventory of Your Hardware and Software
To further reduce the cost of managed services, ask your chosen service provider to keep an inventory of your hardware and software. Record the end-of-life information of your assets so you can know when you need a replacement instead of scrambling to make a decision when something breaks. 
The same holds true for software updates and upgrades. Your service provider must be well-informed of the relevant update schedules to ensure the non-stop operations of your account.
Work with a Managed Services Provider in the Philippines
Booth and Partners is a premier managed services provider in the Philippines. Our nine years of industry experience have given us extensive knowledge in working with different industries. Thus, we're confident that we can deliver your needs through our people-centric and solution-focused approaches. 
Work with us today or learn more about our managed services.
Discover more about outsourcing and
how you can maximize it for your
business success!
Get a copy of our E-book: Guide to Outsourcing.
DOWNLOAD NOW