Career Guide: 5 Ways to Find Your Ideal Work-from-Home Job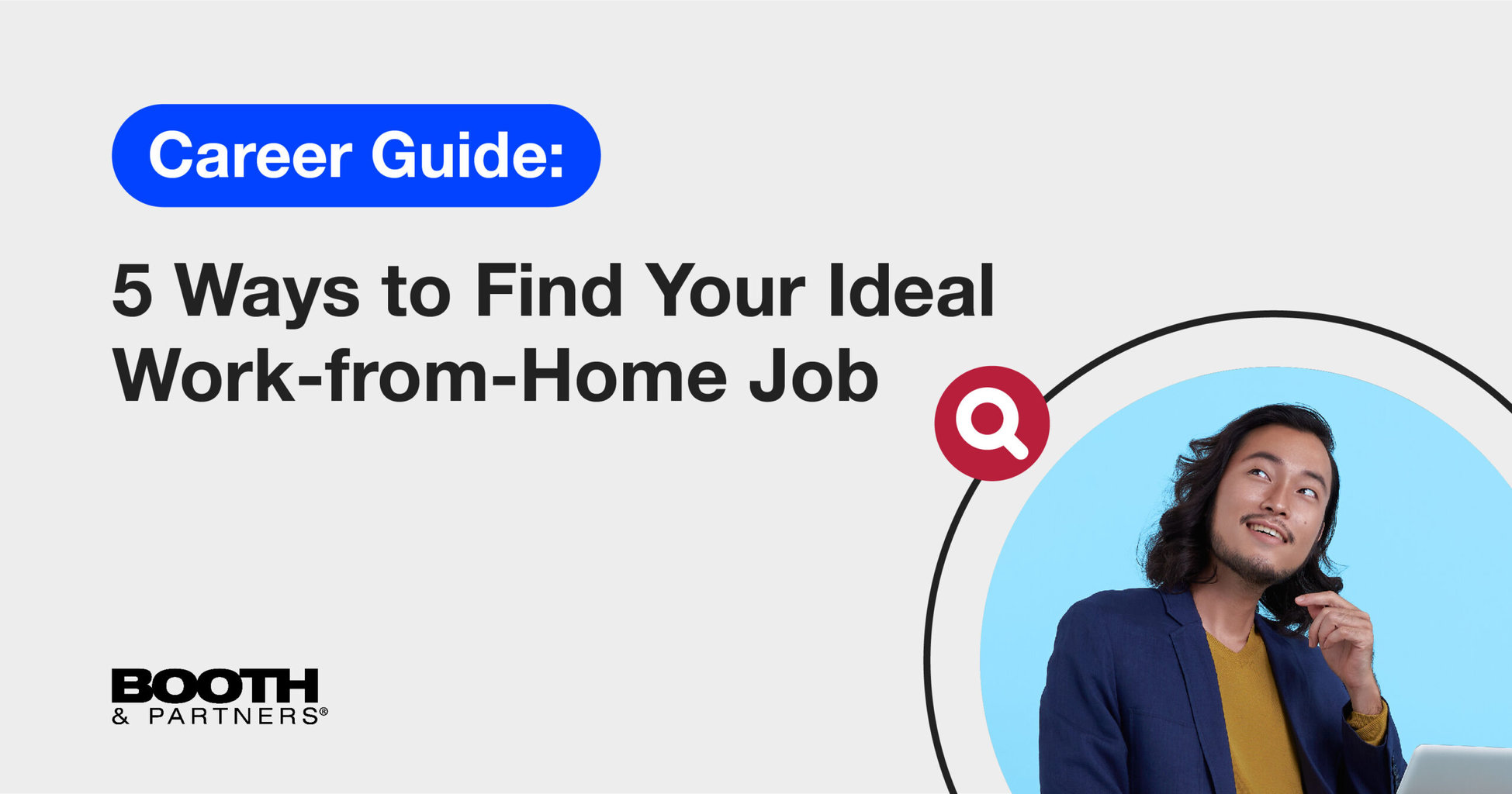 Work-from-home job allows us to reclaim our time. It also expands our career opportunities. Rather than limiting our choices to companies near us, we now have the option to find work outside the region and even the country.
To find legitimate and fair-paying jobs, this article will explain what working from home is and how to get a work-from-home job from good companies.
What Does Working from Home Mean?
Work-from-home (WFH), or remote work, is a type of work arrangement that allows you to do your job at home. The type of work may still be the same as those who go to the office. The only difference is the location where you get the job done. 
Work-from-home jobs can be divided into three main categories:
Full-time

where you need to work for 8 hours per day and 5 days a week or depending on the requirements of your employer. Full-time WFH jobs provide the same benefits you get from working in an office such as paid leaves, government contributions, insurance, allowances, etc.

Part-time

jobs are best to supplement your full-time income. The number of hours you need to render and the benefits you'll receive will depend on your agreement with your employer.

Freelance or project-based

is a more flexible work arrangement. It's also a good source of supplementary income. Freelance and project-based jobs allow you to work for different clients as opposed to working permanently for a single company. 
Working from home may sound ideal. However, it doesn't apply to everybody, especially when the job requires in-person interaction with people or work equipment. 
State of Remote Working in the Philippines
If given the chance, do Filipinos prefer to work from home?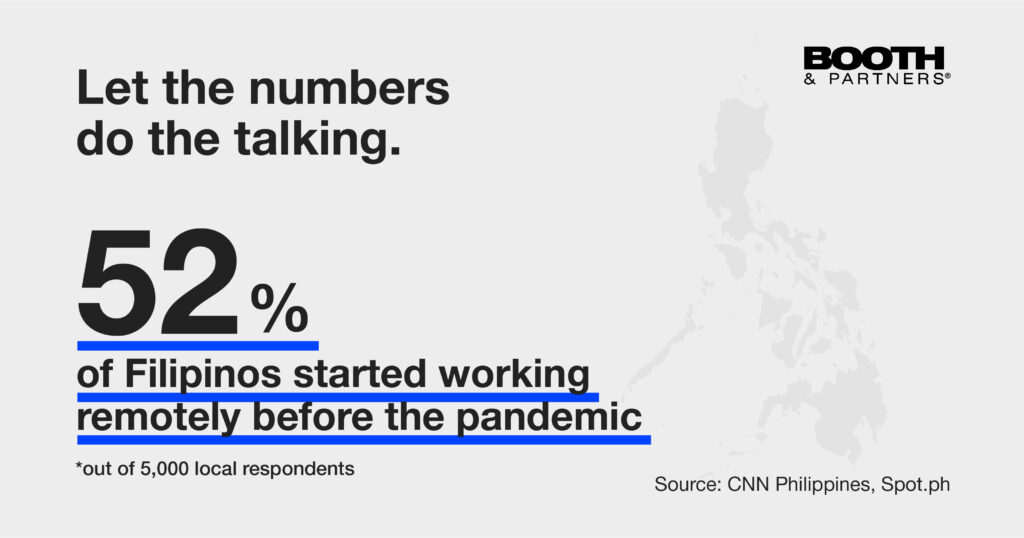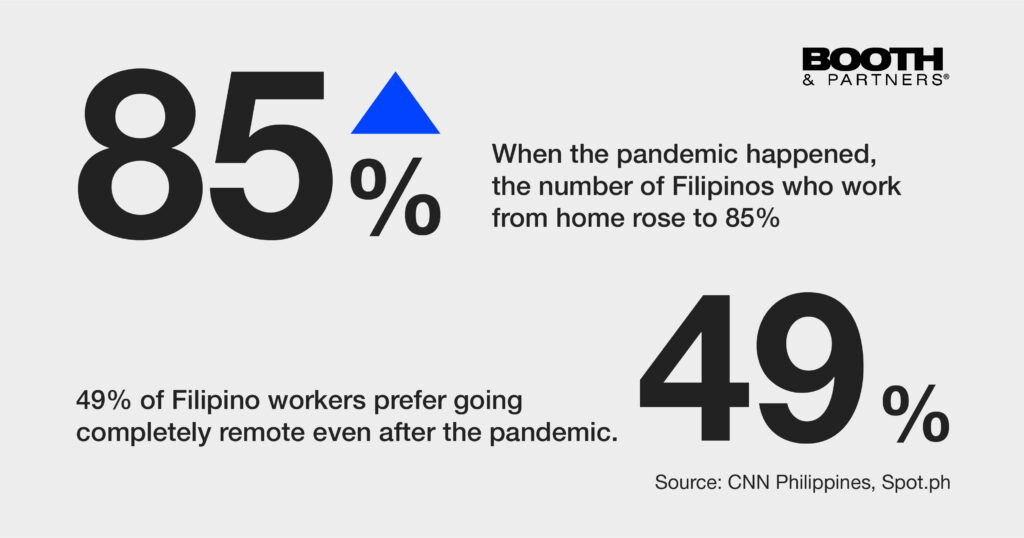 Here's a list of the common types of work-from-home jobs:
Customer service                                            8. Writing

Data entry                                                          9. Graphic editing

Telemarketing                                                  10. Social media management

Telesales                                                            11. Digital marketing consulting

Technical support                                           12. Accounting

Web development                                           13. Recruitment

Transcription                                                     14. Online tutorial

Writing                                                                 15. Virtual Assistant
In summary, digital and knowledge-based jobs offer the most opportunities for people who'd like to work fully remotely.
Benefits of Working from Home
What's in it for you when you work from home? A lot. Here are the main benefits you can get when you choose to work from home. 
Less travel time

More savings

Better work-life balance

Ability to work anywhere

Better employment opportunities
Higher productivity can be one of the key benefits of this work arrangement. However, it still depends on a case-to-case basis. While WFH lessens chitchats with officemates, there can be distractions at home, especially when you have several house responsibilities. In other words, your productivity still depends on you and not on your current work arrangement.
How to Get a Work-from-Home Job?
Scoring a work-from-home job has become easier over time. Many companies have realized the feasibility of this arrangement and have started offering fully remote work to their employees.
Here's how you can get a work-from-home job.
1. Visit job listing sites
A job listing site serves as the marketplace for job opportunities. It allows companies to post —or advertise — their job openings, making it a good place to find and apply for jobs. You can also filter the types of jobs you can see in job listing sites by:
Position

Salary

Industry

Location 

Type of work arrangement (remote, on-site, hybrid)
Filtering jobs streamlines the entire process and helps you find a suitable company easier. 
See the image below for the top job listing sites in the Philippines where you can find legitimate work opportunities.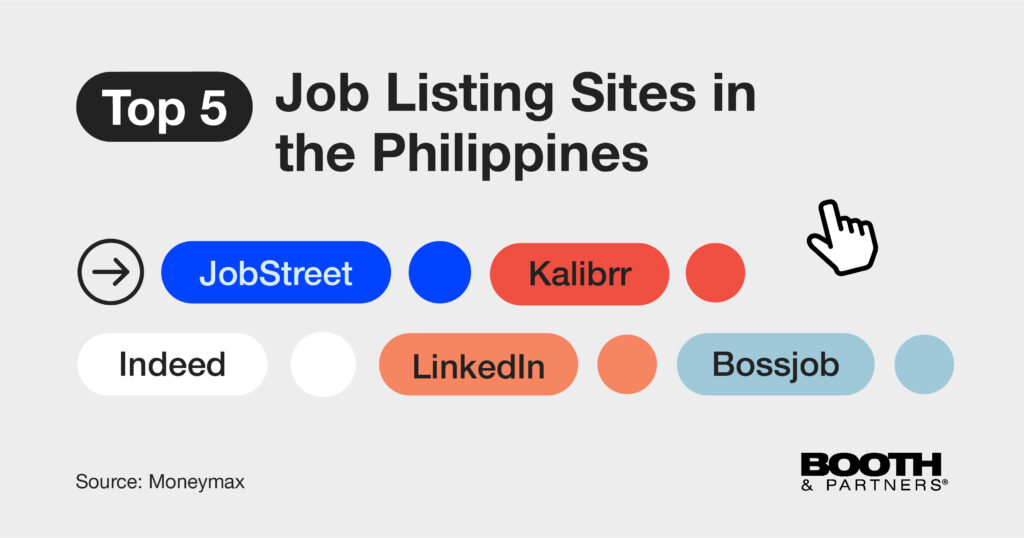 2. Check out company websites
If there's a specific company and position you're eyeing, visit its company website to find out if they have an opening. Head straight to their careers page to see if there's a role for you.
Interested to work with Booth and Partners? We're happy to have you onboard! Visit our careers page to see if we have openings for you.
3. Find jobs in social media
Facebook, in particular, is one of the modern places to connect with legitimate recruiters. Companies often post job vacancies on their social media pages to reach more interested applicants. Others even have a dedicated social media page for recruitment.
In addition, other employers, specifically those who are looking for freelancers, part-timers, and project-based workers, post on Facebook groups. 
Here's a word of caution: Make sure to do your research about the company and the contact person when taking a job from social media. Doing so can help you avoid scams.
4. Tap your network
Your existing network can be a gold mine. Friends, family, fellow alumni, and former colleagues can know of remote work opportunities that you can apply for. They can also provide you with background information about the company and the job.
When connecting with your networks, you can take a direct approach and ask them for job leads. You can also follow a casual approach when asking for information and advice.
5. Virtual career fairs
A virtual career fair is an event where recruiters from various companies gather and meet with potential talents. During the event, you can learn about the background of participating companies, job opportunities, and other career advice to help you find a suitable employer. In the Philippines, it's usually hosted by a job listing site or a media organization.
Unlike the first four options, it doesn't happen regularly. It's best to do a quick Google search or tune in to announcements on your social media to learn about any upcoming virtual career fairs.
Job Hunting Tips
So you already know where to look for remote work. To increase your chances of getting noticed amid the other applicants for the same position, check out these tips:
Always do your research about the company and the position. It will not only help you during the interview process but will also give you an idea if the company is a good place to work for or if it's legitimate.

Update your resume, cover letter, and portfolio.

Take

online certification courses

related to the position you plan to apply for.

Read the listing carefully to ensure you're applying for a work-from-home position.

Prepare for the remote interview. Make sure your internet connection, microphone, and camera are all working well before your scheduled interview.

Avoid get-rich-quick and other 'too good to be true' job advertisements as they're most likely to be scams.

Never send money to recruiters. Legitimate companies will never ask you for payment to get a job.

If the salary being offered is within the industry standards. Not because you're working from home doesn't mean you should accept the bare minimum. Always see to it that you'll receive fair pay for the work you do.
Here's a Great Place to Work
Are you excited to find a great work-from-home opportunity? You're in the right place!
Booth and Partners a Great Place to Work Certified (GPWC) company. We are committed to providing a holistic and sustainable employee experience to everyone in our family. And we're excited to have you here!
If you'd like to explore opportunities with us, browse our Careers page to find a role that suits you best. We have tons of job openings for customer service representatives, digital marketing specialists, software developers, virtual assistants, and more!
For more questions, feel free to contact us. Our friendly team is always ready to assist you.