Staff Leasing vs. Managed Services vs. EOR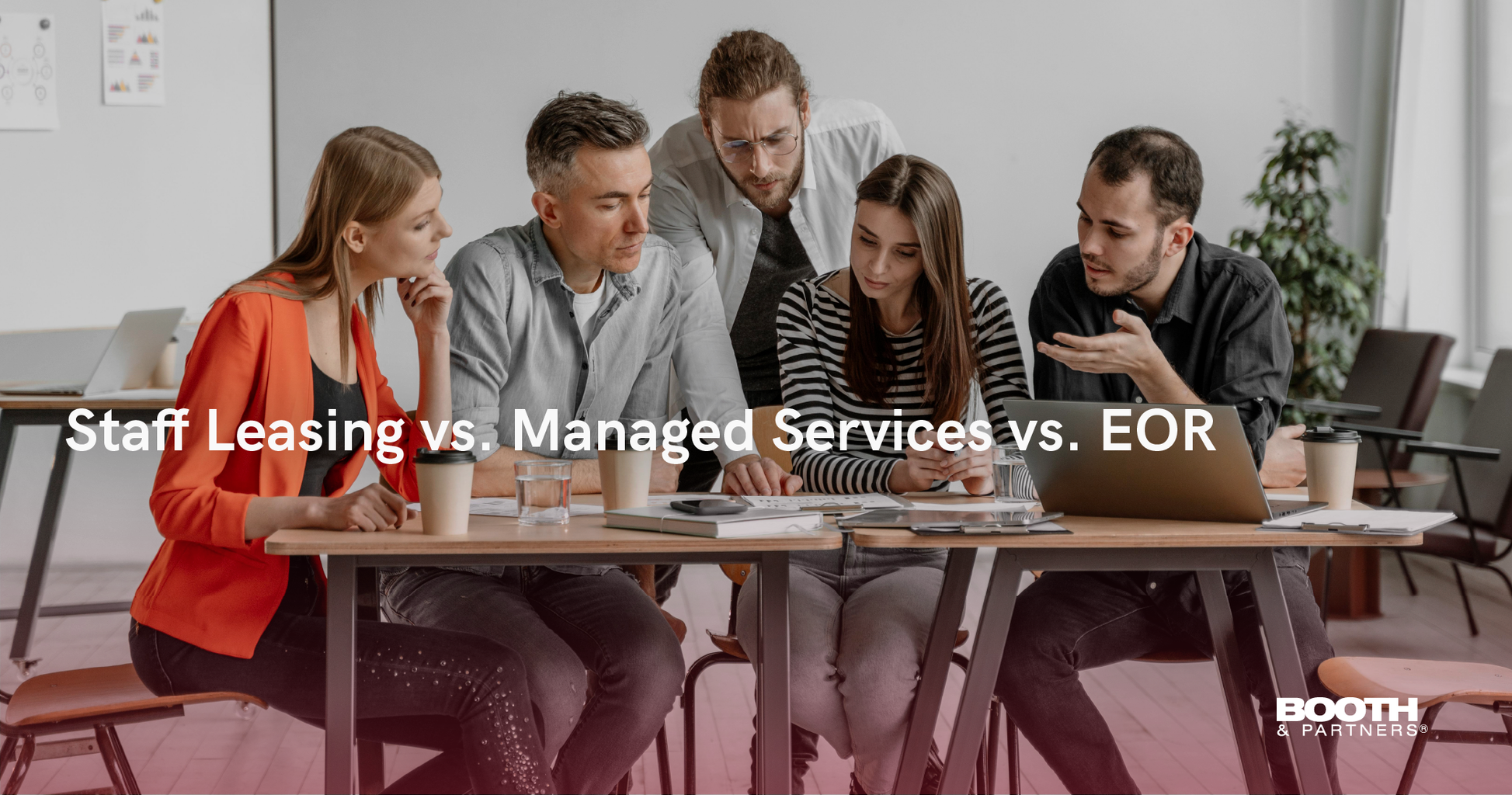 So, you've heard success stories of companies outsourcing tasks to remote workers. You've heard about the benefits of remote work including increased efficiency of workers, cost savings, and a reduction in employee turnover. And now, you want to dive into the world of outsourcing but you're not sure about what type of outsourcing service suits your needs the most.
If this explains your current situation, this article is for you. In this article, you'll learn about:
The 3 most sought-after types of outsourcing solutions that companies opt for

The differences between each of the 3 types of services

Which solution is best suited for your business
What is Staff Leasing?
Staff leasing is an outsourcing model where there is a contractual agreement for acquiring talent with an outsourcing company. This service lets you maintain a level of control when it comes to maintaining your team's productivity and performance. This is most suitable for companies that aim to scale their teams or improve their efficiency cost-effectively while being able to remain in control.  
In this case, the service provider first curates the talents from a pool of professionals before the client gets to handpick people to be included in the team. The entire hiring process is about providing tailored recruitment for clients to ensure that they find not only the best talent for their market/business needs but also fits their culture. The third-party company handles various business functions, such as administrative tasks, IT infrastructure, and human resources.
Staff Leasing is best for:
1. When you want to easily scale your business
Businesses can share the responsibility of handling the offshore team together with the service provider. Employers will also have access to top-tier talents in whatever industry they're in. This in turn can provide a crucial opportunity to scale your business through easily manageable and affordably offshored teams.
2. When you want to create the best employee experience
Employees get to enjoy better benefits and incentives for their employment. In order to create the best employee experience, service providers offer the best utilities, environment, culture, and benefits that not all in-house businesses can offer, thus further improving the company's employee retention.
3. If you want a level of control over your team but still gain an outside perspective
Businesses directly control the day-to-day operations including setting the staff's KPI and managing their productivity. The local partner, however, will provide HR support and handle your team's payroll and staff engagement. By having a remote team that is seamlessly integrated into your in-house team, you free up more time to focus on your core processes.
Staff Leasing is NOT best for:
1. If you want to promote equal wages across all of your employees
Partnering with a third-party provider internationally can provide certain advantages, and that usually comes in the form of monetary savings. To most businesses, saving up to 70% on costs is a no-brainer and should be explored. But there are some businesses, especially small to medium enterprises who are advocates of providing equal wages to all of their employees. These are the businesses that are most likely not inclined or open to using outsourcing services.
2. If you want your business to be independent
For a company that wants to eventually be 100% independent, the benefits supplied by the staff leasing provider aren't as beneficial as having supplied benefits independently. One major downside of the staff leasing process is that most of the companies develop a dependency on the service. In such circumstances, if the provider stops working for the company, then it can generate huge trouble for the business.
Read more about this offshoring option in our Complete Guide to Staff Leasing.
What is Managed Services?
Fully Managed Services completely integrates any enterprise function of a company to an external service provider. Because the service provider handles every aspect of the outsourced activity, clients can allocate more time and attention towards their core business processes and profit generation. But fully managed services is an end-to-end solution, this means that the service provider takes care of everything and you will have little to worry about when it comes to your staff as clients will have someone from the service provider to oversee on-ground operations.
Outsourcing an entire operation to another company can take a lot of time to prepare, so it is not an ideal option for a company that needs to have a short-term and fast solution for their staff immediately.
Managed Services is best for:
1. If you prefer a more hands-off approach to have more time & energy to focus on your core objectives
Companies can have lower operation risks since the outsourcing provider gets to manage all of the functions their business process would need. Businesses can provide their expectations, KPIs, and other quality control standards, it is the outsourcing provider's top priority to meet or exceed them as they have full control over what goes on with the offshored team.
2. If you don't have the right expertise, tools, and technology necessary for a business function
Receive the tools, software, and expertise you need to keep the business function you need going. The professionals you outsource will also know how to use the tech without any training. Plus, if they ever do need training, you can expect the service provider to take care of it.
3. When you don't have enough resources to start or maintain a business function
Through these outsourcing services, you may be able to rent a smaller office or you may never even need to rent an office at all when you go with a fully managed service. For instance, you find that you need a team of Chat Support talents but don't have the resources, knowledge, and expertise to do this in-house. You can easily scale your team by outsourcing this function to a Fully Managed service provider. Thus, saving you plenty of resources when you offshore a whole business function.
Managed Services is NOT best for:
1. When you want to personally oversee/manage your team
The process of building a fully managed team is an end-to-end solution. This means that the service provider takes care of the day-to-day operation and management while the client can only provide expectations and performance indicators you would want from your team. This is why companies should be prepared when deciding to go for managed services.
2. Businesses that scale/scale on a per-project basis
Once employees are put into a fully managed team, they are now covered by the company's long-term retention program. This is not ideal for dynamic teams/companies that would be scaled down or scaled up depending on demand and the business' projects. 
To know more about this outsourcing model, read our guide in Everything You Need to Know About Fully Managed Services. 
What is EOR (Employer of Record)
EOR (Employer of Record) is the outsourcing service referring to partnering with a service provider that handles HR & Labor Relations, Payroll Processing, and Record-Keeping. This is a strategic service for businesses that do not have a legal entity present in another country but would want to hire staff in that location either for business development or strategic opportunities.
Employer of Record is best for:
1. When you want to easily expand to a global market
Starting a market presence in another country without the risk of dealing with labor relations and laws can help any business expand its reach internationally. Operating costs are especially low when you just pay for the services you need. Things like benefits or equipment.
2. If you want full control over what goes on with your offshored team
You're not restricted to just measuring and providing KPIs to your team — with an EOR service, the client manages every aspect of the team while the service provider is there to provide any other service or utilities you may need.
3. When you need legal compliance and experts to handle your HR operations in an international market
EOR providers take care of onboarding, payroll and benefits, HR, and the legal and compliance side of employing resources in the Philippines, so you can focus on getting results for your business.
Employer of Record is NOT best for:
1. Companies who do not have the time or resources to oversee every aspect of the offshored team
There are certain limitations the businesses can reach in terms of managing a team overseas and one of these are time and resources. If businesses ever run into an emergency, they may not be able to get immediate attention if it's the middle of the night overseas. Before hiring a remote employee, put together a plan for emergencies as a contingency plan. 
2. Companies who would want to officially place their brand in an international market
As an EOR service provider only gives an easy means for a business to operate in a different country, it cannot legally place an entity in the said country. Businesses like retail and food companies who would usually be inclined to establish a physical entity in the market and other such businesses would not be the best fit for an EOR service.
Get to know more about this outsourcing option in our Guide to Employer of Record.
Choosing the Best Service for Your Business
While Fully Managed Services can completely manage an aspect of a company's operations, and Employer of Record (EOR) can allow your business to easily expand your market reach, Staff Leasing strikes the perfect balance between the two extremes. Fully managed services can take away non-critical business activities from your company, but at the highest outsourcing cost model. EOR services can be the cheapest method of outsourcing but only because it provides the simplest service to enable your business to expand in a different market. Finally, Staff leasing provides fewer risks, added control, and at an affordable price as well.
In conclusion, it is always more practical to analyze what you need the most in order to scale your business fully. Find out what type of service offers more value for you and your budget to start getting your feet wet in outsourcing. Either way, completing tasks for your company will always be more affordable and beneficial when you use outsourcing services.
Find out today the most ideal outsourcing solution for your business needs. Contact us and we will guide you through your outsourcing journey.
Discover more about outsourcing and
how you can maximize it for your
business success!
Get a copy of our E-book: Guide to Outsourcing.
DOWNLOAD NOW