Why Having Six Sigma & Kaizen Certified Team Members is Important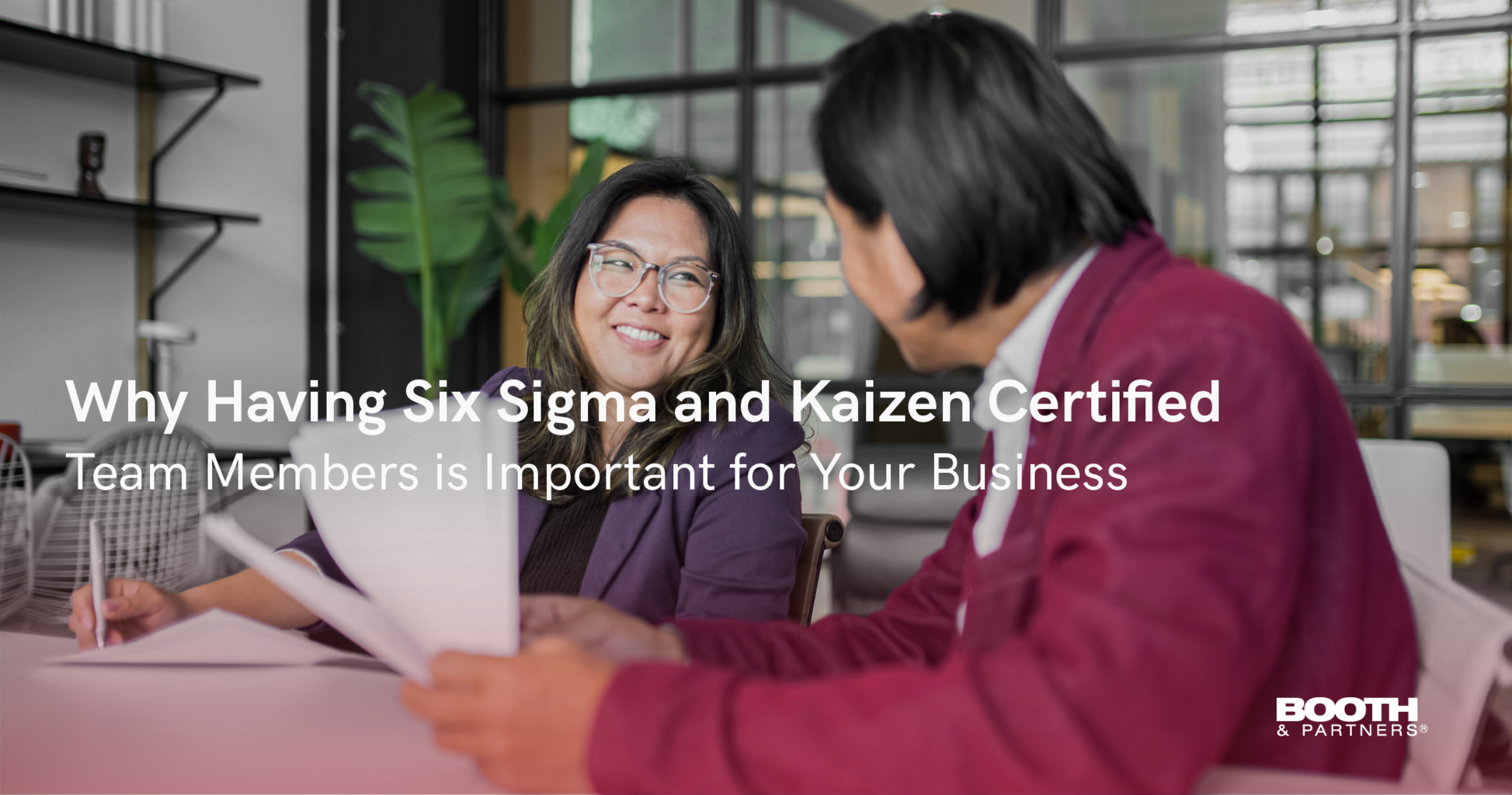 Getting well-trained and certified employees who have the right set of knowledge and skills for your business requirements is one way to scale up your business. 
Training and development programs provide many benefits not only to the employees, but to employers as well. They enhance performance, give new knowledge and skills, boost productivity, reduce employee turnover, improve your company culture, and get you more ready to deal with challenges at work. 
At  Booth & Partners, it is our goal to create a learning organization and supply our employees with continuous improvement. We are aware that becoming leaders in our industry depends on sustainable learning and development.
We organize training programs for the purpose of developing our employees in line with the corporate strategy, target, mission, and principles of service quality. The training programs addressing all employees are intended to provide the employees with the competencies and skills required for the professional performance of the job. Some of which are the Six Sigma and Kaizen training and certification programs. 
Let's discover more about these programs and their importance to your business. But first, let's define each of them.
What is Six Sigma?
It is a scientific, data-driven, process improvement methodology that uses DMAIC (Define, Measure, Analyze, Improve, Control) strategy. Its ultimate goal is to have a process that produces no more than 3.4 defects per million opportunities based on the needs of the customer.
It is approximately 5 days of training going through the process of DMAIC. The certification has four steps:
Complete the Training Course

Pass the evaluation tests

Successfully complete a project

Present in a Certification Review & Submit Storyboard
Six Sigma Training and Certification is being offered by different companies worldwide. B&P has always been big with developing people from within, so as part of the Individual Development Plan for the company's leaders, we invest in their training. 
What is Kaizen?
The term "Kaizen" is composed of two Japanese words: 'Kai', which means continuous, and 'Zen', which means improvement. It utilizes individual imagination and inventiveness to recognize issues and create and execute solutions. 
Kaizen states that everything can be improved and performed better or all the more effectively. It helps identify 3 MU's — Muda (wastes), Mura (variation/ inconsistency), and Muri (strain/burden on people & machines). 
Six Sigma Vs. Kaizen
All training and certification programs are beneficial. Each provides its unique set of knowledge and skills you can learn and get. Here's a closer look at what made each of them different from the other:
Kaizen is rooted in the idea that making small and continuous positive changes can lead to significant improvements while Six Sigma process improvement focuses on getting rid of defects and inefficiency in business workflows. It breaks down each process into components and then uses statistics to find weaknesses and areas where an organization can eliminate waste. 
You may take any of the two depending on your needs, but it's still best to take both programs for better quality results for businesses. 
What Can Employees Learn from these Training Programs?
Completing a training program and achieving certification is more than just being a certified professional. There are a lot of things that employees can learn from these training sessions. Let's explore the most important areas that are definitely business-impacting.
Six Sigma Training
Here are what your team members can learn from Six Sigma:
Efficient techniques to make the business processes faster while maintaining high-quality results.

Strategies to maximize capacity and resources for an improved productivity rate.

Ways to provide a better customer experience for a higher level of customer satisfaction, and many more.
The aim of Six Sigma is to fix 2 things: the reduction of defects and the reduction of processing time. If the goal is not under those two things, different approaches can be considered such as Waterfall, Kanban, Scrum, Lean Development, Change Management, Design Sprint, Process Design, and Extreme Programming.
Kaizen Certification
There are two key features of Kaizen that practitioners will learn from this training program:
Incremental and continuous improvement

Involvement of the entire workforce in the process
Apart from these two, Kaizen also holds a list of principles that helps create better and positive thinking for its practitioners such as the following:
No idea is too small

Continually improve

Identify individual problems, then report them and solve them

Do not focus on major innovations, rather focus change on common sense, low‐cost, and low‐risk improvements

To enact change, collect, verify, and analyze data

Decrease waste

Problems in the process are a major source of quality defects

To improve quality, decrease variability in the process

Every interaction is between a customer and a supplier

Non‐value added steps should be identified and decreased

Workers should be empowered to enact change

All ideas are addressed and responded to in some way

The workplace should enact good housekeeping discipline
Benefits of Having Certified Team Members
When you hire employees who have the right training and certification needed for your operations, your business can get a lot of benefits from it. Here are some of the reasons why Six Sigma and Kaizen certified team members are beneficial to your organization.
Six Sigma Certified Team Members
The top 5 factors on your business that will surely improve when you hire Six Sigma certified employees are the following:
          ✓ Reduces Cycle Time – The training helps streamline the business processes by simplifying the steps and reducing non-value-                           added activities.
          ✓ Increases Capacity – This is the process of developing strength and sustainability. The Six Sigma strategy you pick will determine                     the focus of your capacity-building efforts. Your goal on this is to ensure you identify all the gaps of an organization and address                        them efficiently.
          ✓ Enhances Quality – Six Sigma improves the quality of the final products by finding and removing the causes of errors and                                 reducing variance in manufacturing processes.
          ✓ Increases Productivity – It helps eliminate the errors and other factors that can sometimes affect the processes to help you                              achieve a higher productivity rate.
          ✓ Delivers Better Customer Satisfaction – It allows you to create better quality products and improve customer loyalty, especially                     in the long run. A product-focused approach benchmark the product of a business against the products of its competitors to match                   the level or even exceed them.
When you have successfully achieved these factors with the help of your employees who are properly trained, your business can save up to Millions per project annually. Imagine the cost savings you can get from simply hiring team members who are Six Sigma certified. You can already use these funds for other high-level business projects you have. 
Kaizen Certified Team Members
In line with our company's core values, "Make it Happen" and "Dare to Think Differently", having Kaizen Certified Practitioners with Booth & Partner means there are experts encouraging the Kaizen principles. They have a culture of identifying the 3 MUs to continuously adapt and improve our current practices and processes to better service our clients. 
A Kaizen certified team member will not only demonstrate the ability to lead projects and deliver business results in safety, quality, delivery cost, cash, and employee engagement, they will also become "viral agents" within the organization to spread Continuous Improvement as trainers, coaches, and cross-functional Kaizen event leaders. The learning on Kaizen capabilities never ends. When done correctly, the certified Kaizen Practitioner humanizes the workplace, eliminates overly hard work, and teaches people how to spot and eliminate waste in business processes.
Key Takeaways
Indeed, learning is a life-long process. If you want to truly be successful in your leadership career or in your business, expanding your set of knowledge and skills is a vital part of it. With the continuous advancement of technology and a lot of things innovating every day, having employees who have up-to-date training and development might be your key to scaling up your business.
If you're looking to outsource a team of professionals who can be your support arm with some of your business operations, Booth & Partners has the ideal staffing solution for you. We have well-trained and certified talent that can create high-quality results that matter for your business. Build your offshore team with us today. Contact us.