Staff Leasing in the Philippines: Here's Why Filipinos are the Best Employees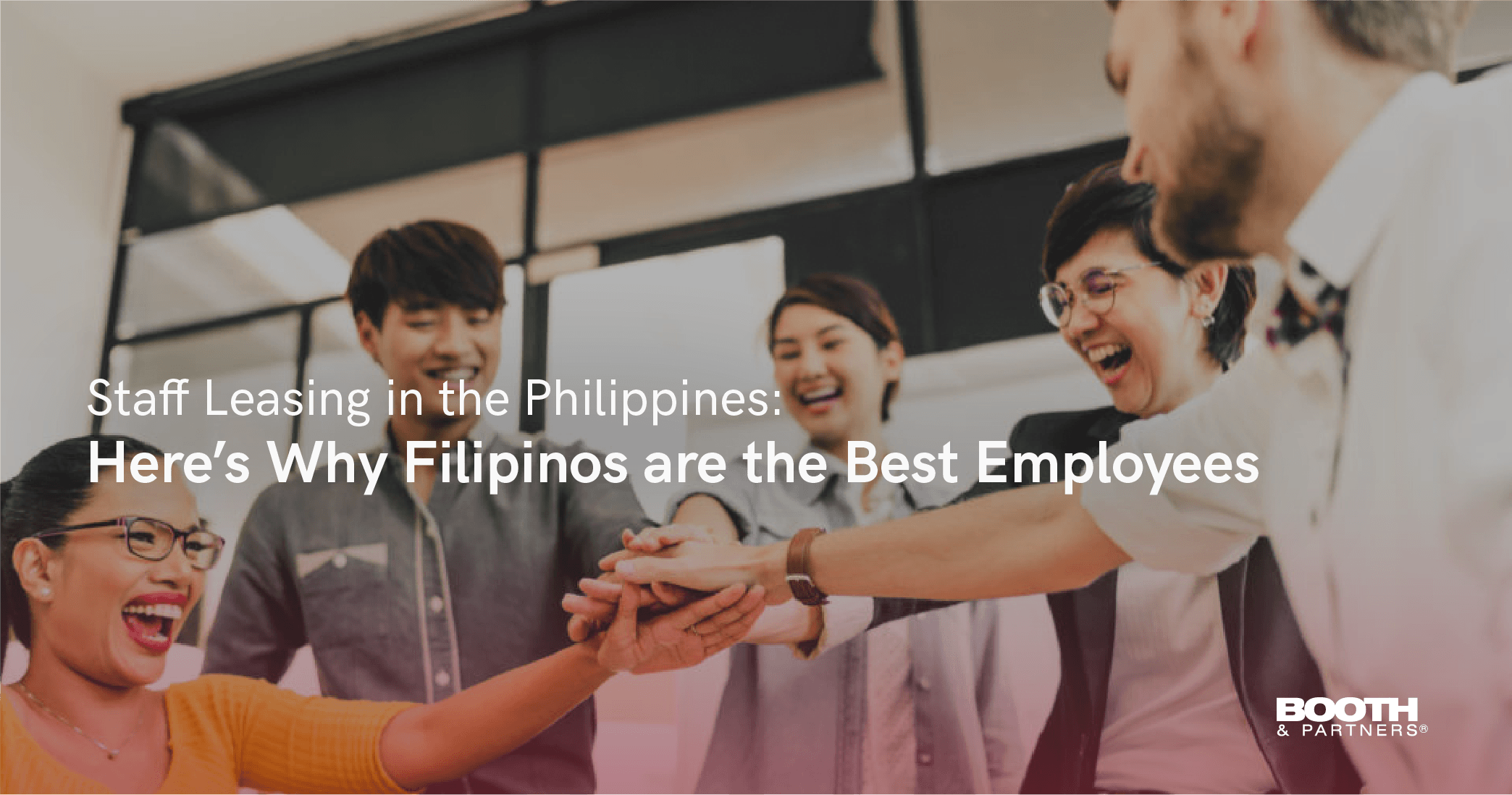 There is an apparent rapid growth in outsourcing back office support and technical job roles and the Philippines is currently high up on the list of countries providing quality service to its global clients. The Philippine economy has been making swift progress in recent years with its low labor costs, highly skilled workforce, and language diversity. The country boasts a vast talent pool, filling job vacancies, and helping foreign businesses based mainly in the United States, Canada, Australia, Singapore, and the United Kingdom, to fully optimize their operations while concurrently reducing costs.
The upsurge of the Business Process Outsourcing (BPO) industry in the Philippines can be associated with the significant rise in staff leasing services, as well as the employment of call center agents, virtual assistants, web developers, data encoders, programmers, SEO specialists, etc.
For startups and small businesses, not only can the process of hiring be a bit arduous, it can also result in an increase in their existing budget. Time spent in recruitment is always valuable as it helps establish the company's rising reputation. Business expansion entails more manpower needed, prompting the company to seek support from entities that outsource staffing solutions—and that is where staff leasing comes in.
Staff leasing is a hassle-free hiring solution that benefits mostly foreign companies doing business in the Philippines. The local service provider is in charge of recruitment, sourcing top-notch Filipino talent who have the right skills, attitude, and culture fit for the organization, as well as administrative duties including HR management and payroll. This staffing solution has been turning heads recently from a global standpoint as more and more countries are taking advantage of the service offered in the country. And one of the factors that contribute to the influx of foreign businesses is how Filipino employees manage to finish their job on time and always adapt to changes in a fast-paced environment.
1. They are highly proficient and fluent in English
The Philippines currently ranks 3rd in Asia and 14th in the world in terms of English proficiency. It is one of the official languages in the country with over 76% of the adult population capable of understanding spoken English. In Metropolitan Manila alone,  82% of its residents can speak and understand the language. This has been an important asset which attracts foreign visitors and investors alike from other countries.
2. They are empathetic
A research shows that empathy is a "critical drive of overall employee performance." Since Filipinos are fond of listening, they are able to engage others into sharing their emotions and thoughts. Listening and responding with empathy is considered highly connected with overall performance as well as fundamental management skills like mentoring and making wise and informed decisions. They tend to be able to talk the same language as their colleagues since more often than not, they have already experienced the same struggles when they were starting.
3. Every colleague is a partner to success
Filipinos have strong family ties, which reflects on how they treat their colleagues as something as close to a family. They would often go out for lunch or dinner and share a meal together. Even team leaders do not treat their colleagues as mere chess pieces for them to boss around and control for personal gain. Everyone is treated equally and not according to their social status or skills.
4. They are hardworking
Not many Filipinos come from a well-off family. Most of them have been struggling since childhood, and this huge endeavor to escape poverty gave them the determination to achieve their dreams. As a result, they display a growth mindset in the workplace that their colleagues could learn a lot from. And despite having a lot on their plate, Filipinos tend to offer a hand to others.
5. They build each other's confidence
A Filipino work environment mainly comprises confidence and accountability. Without such, sustainable success will not be possible. That is why Filipinos grow the passion and self-reliance from within their colleagues for them to carry on with their tasks with such vigor and enthusiasm, resulting in favorable outcomes that could benefit not only the company, but also the individuals.
6. They are generous and thoughtful
Filipinos love to celebrate little wins. They believe that doing so can boost morale and increase productivity in the workplace. When someone gets a promotion or does a great job, leaders would give out incentives and bonuses to show their appreciation and encourage people to always reach their fullest potential. Moreover, they also love to hand out pasalubong or trinkets after they come back from a trip.
7. They motivate each other
Long-term motivators that inspire employees to strive to become better versions of themselves are of utmost importance in today's dynamic and complex work environment. An employee's overall well-being is crucial to his productivity, so it stands to reason that they are now driven more than ever to enrich and reinforce each other's welfare. Filipinos believe that a healthy workplace thrives on talent, and so they pull out all the stops to spur productivity and yield fruitful results through wellness projects and team buildings.
8. They help shape their company culture
Filipinos exude a spirit of positivity and they provide examples worth emulating. They transform their own values into company-wide ones. Company culture consists of key elements such as work environment, values, ethics, and the company mission. These components matter most to employees as they become more productive when they fit in with the culture of the company they are working for. With top-notch skills and a crystal-clear vision, a Filipino employee can help frame a culture that will stand the test of time.
Discover more about outsourcing and
how you can maximize it for your
business success!
Get a copy of our E-book: Guide to Outsourcing.
DOWNLOAD NOW