Everything You Need to Know About Fully Managed Services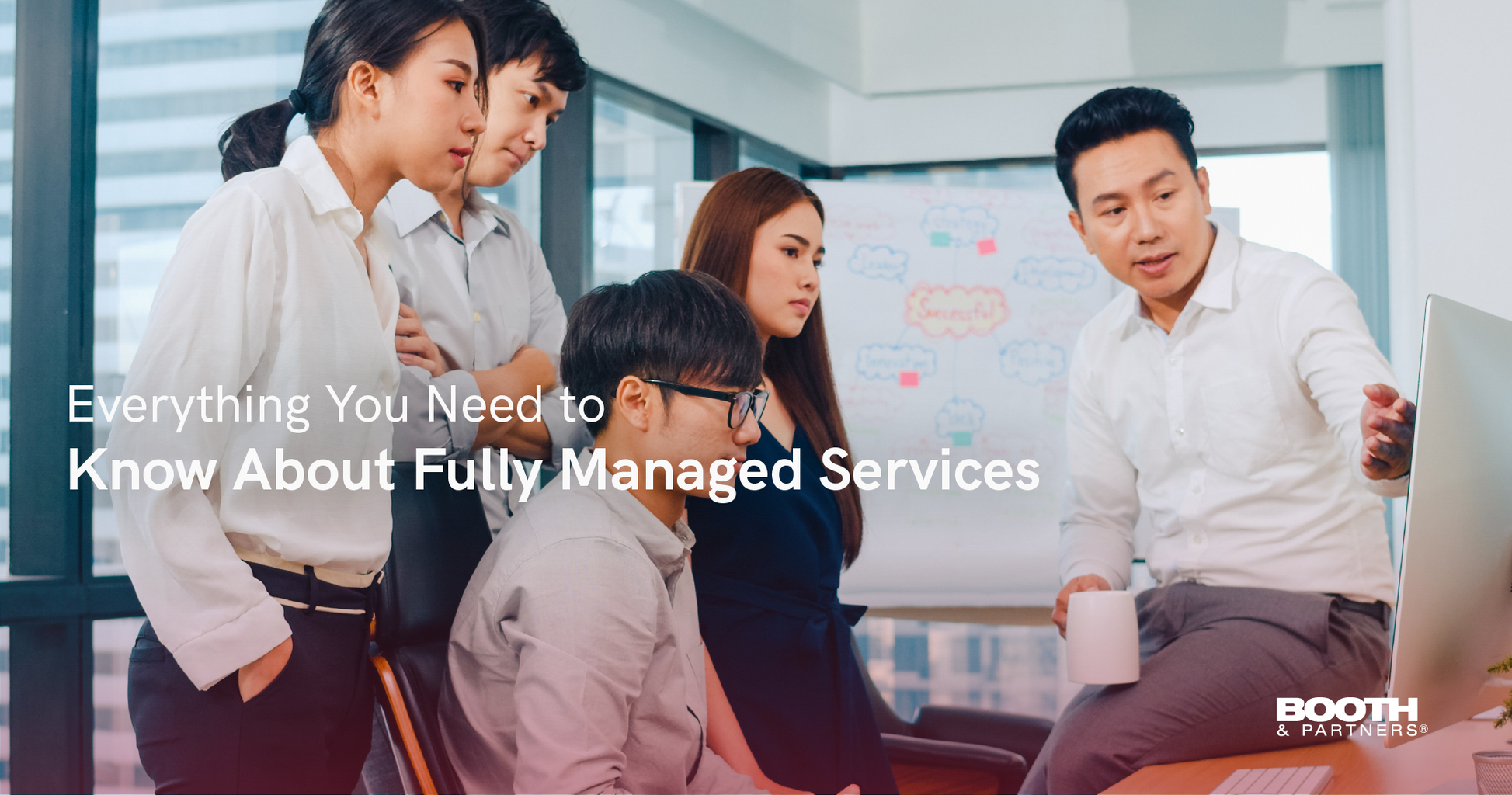 Not all outsourcing models are created equal. If your business requirements greatly focus on getting more time on your hands by outsourcing a more hands-off service delivery, then Fully Managed Services is the right solution for your business.
Focus on what matters most for your business and outsource the non-core processes. With Fully Managed Services, let your service provider take charge of your team's day-to-day operations as well as all the administrative tasks it entails. 
In this complete guide to fully managed services, let's find out if it is the right staffing solution for your business needs. Here's what you can expect to learn:
What is Fully Managed Service?

What Makes Fully Managed Different from Staff Leasing?

How Does It Work?

When Do You Need Fully Managed Services?

Benefits of Fully Managed Services for Your Business

Potential Risks You Should Watch Out For

Why Should You Consider Fully Managed Services in the Philippines?

What to Look for in a Fully Managed Service Provider?
What is Fully Managed Service?
Fully Managed Service is the traditional end-to-end staffing solution. It is when a company pays a third-party service provider to be their local staffing partner to build their curated offshore team and manage a specific business process.
In this business delivery model, there will be a contract between two parties: the Fully Managed Service provider and the Client company. It allows you to transfer an entire function to the service provider to ensure work efficiency and performance. 
Since this is an end-to-end outsourcing solution, you don't outsource a team, but a business function. You will be the one to identify the KPIs and SLAs while the service provider will take full responsibility for your on-ground local operations here including your team and your outsourced business function. They will ensure to meet your requirements to help achieve your business goals. They are also responsible for the following tasks: 
Manage and oversee your team's day-to-day operations

Talent recruitment, onboarding, and management
The payroll of your team and tax administration

Benefits and insurances of your employees

Regulatory compliance and employee engagement

Technology and other resources to manage HR and employee services
As you can see in this staffing model, more than the recruitment, HR, IT, payroll, and other administrative tasks, a fully managed service provider also takes charge of the team and business function itself. You don't have to worry about that specific business process as they will be your support arm for continuous operations. 
Managed Service is not limited to IT. Other business processes you can outsource under this outsourcing model include the following:
Lead Generation

Customer Service

Chat Support

Accounting and Finance

HR and Recruitment

Legal Services

eCommerce

Marketing

Telesales

Data Entry, and many more
Additionally, given that it is offshore outsourcing, it means your team will be working from a different location remotely, and not in your office. 
What Makes Fully Managed Service Different from Staff Leasing?
If you still can't decide on what to choose between Fully Managed and Staff Leasing, take note that both staffing models are efficient and can help scale up your business. However, the level of success you can get depends on your decision. If you're aiming for specific business goals and requirements, choosing the right one can lead you towards it. To help you decide, we have listed some important points to take into consideration. 
Fully Managed Outsourcing
If you're looking for an outsourcing solution that is more hands-off and will allow you to have more time for vital business processes that need your attention, Fully Managed Outsourcing is for you. To explain it simply, it is an end-to-end staffing solution. Meaning, the service provider will take care of it from start to finish without needing much of your time, effort, and attention. You can go back to doing high-level business functions while they take charge of your outsourced business process and all its administrative tasks. 
In this service delivery, you will be given a dedicated Operations Manager who can be your support arm in leading your project. This person will oversee your team's daily tasks and performance and make sure that the service quality is at its best. Your partner company is also assigned to provide you with success measures and results you can regularly check.
Staff Leasing Service
If you want to retain full control over your outsourced team but without having to deal with all the administrative tasks it entails, Staff Leasing service is what you need. Here, your offshore team will directly report to you as you are in charge of the day-to-day operations such as giving them a list of to-dos and feedback while your outsourcing partner will do the payroll, HR, recruitment, and other administrative tasks for you. 
To determine which staffing model will work best for your business, create a list of your requirements, budget, and other important points to note. It will help you land on the best service delivery fit for your needs. Keep in mind that each of them caters to different end goals and evaluating your business will definitely help you decide.
How Does It Work?
When starting your outsourcing journey on Managed Services, the first step is finding the right Managed Service provider for your business. Once you have achieved it, here's a step-by-step guide for you to help you understand how Managed Services work: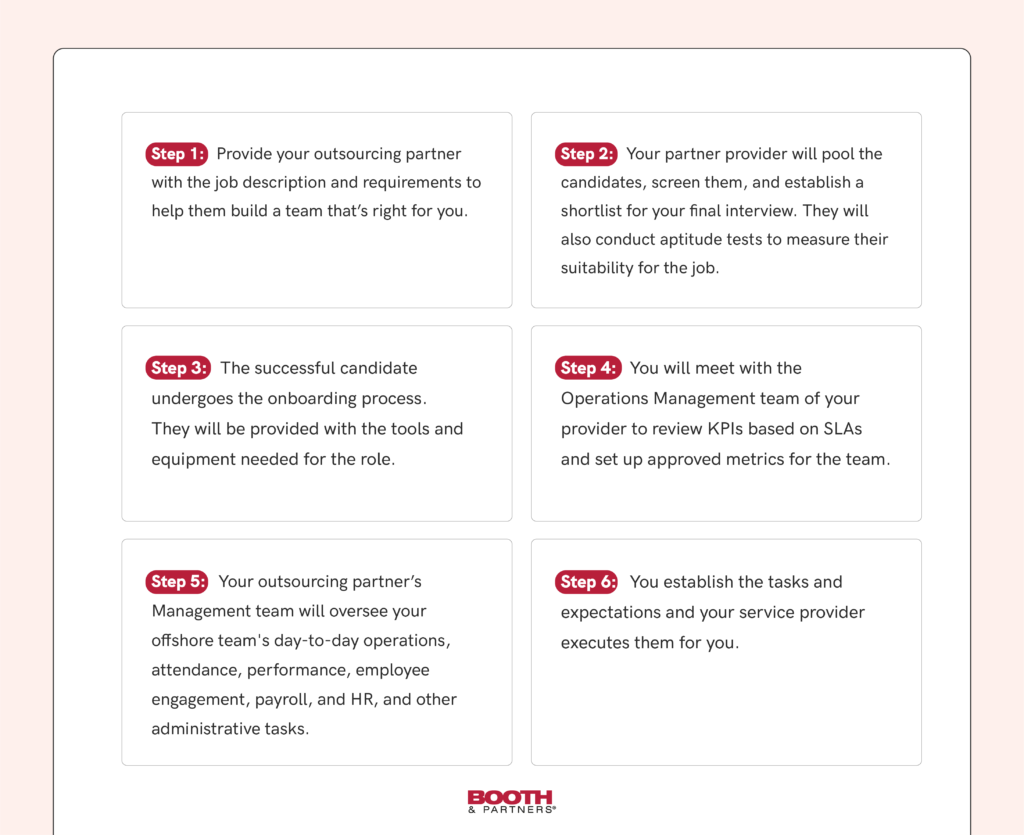 Pretty easy, right? In just a few steps, you can have your specific business function up and running and continuously operating well. 
When Do You Need Fully Managed Services?
We know making decisions is challenging, but at one point in your business journey, you will have to deal with whether or not to go with Fully Managed Service as your outsourcing model. To help you, here are some factors indicating you need a Fully Managed service: 
               ✓ If you prefer a more hands-off approach
               ✓ if you want more time and energy to focus on your core objectives
               ✓ When you want to start your business operations immediately
               ✓ If you want to get the expertise you need
               ✓ When you are targeting to keep costs low
               ✓ When you want to create the best employee experience
               ✓ If you are expanding to a global market
               ✓ Don't have the resources to start the operations
If you are positive with more than half of this checklist, then it's time you consider outsourcing fully managed service to a reliable service provider.
Benefits of Fully Managed Services for Your Business
With Managed Services, you can have all the business support you need to keep your operations up and running. It doesn't just take away the stress of handling a business function and all the administrative tasks, it also provides you with a lot of benefits that could help scale up your business.
1. You don't have to worry about day-to-day operations
Since Managed Service is a relatively hands-off approach, it reduces your stress and helps you focus on your core objectives. You don't have to worry about your team's daily processes as your outsourcing partner will have full accountability over your specific business function and your team. They will monitor and achieve your targets, which allows you to focus on more critical growth-driving activities
2. Ensures high-quality standards for your clients
When you partner with a reliable managed services provider, you can achieve a high level of customer satisfaction. They ensure that your offshore team maintains the quality of service your company is known for. 
3. Reduces your operational time and costs
Outsourcing an offshore team gives you the benefit of saving time and money. It frees you up from all the to-dos of operating a business function. And since offshoring means hiring a highly skilled team from another country, you have the liberty to choose as to which country to outsource. If you prefer one of the top outsourcing destinations in the world with low labor costs like the Philippines, you can save up to 70% on your operational costs. 
4. Get the expertise you need
One of the reasons why companies outsource is to fill staff shortages. When you choose Managed Services, you can build an offshore team immediately within your target start date. The service provider will curate a team of experts according to your requirements. They will take care of both the team and the business function.
5. Provide a business continuity plan
Some businesses don't have a solid business continuity plan. If you're one of them, then partnering with a trusted Managed Services provider can help you keep your business up and running. They have backup locations. systems, equipment, and materials to make sure your operations will continue 24/7 even amidst circumstances.
Also, because having an offshore team means having a remote team from another country, your business operation is safe even when your main office experiences challenges.
These are just some of the benefits you can expect from getting Managed Services. There are many more you may experience when you start your own journey with it.
Potential Risk You Should Watch Out For
The major concern of many companies around the world with Managed Services is losing their control over the specific business function they outsourced. When this happens, your process can end up a failure. 
There are indeed some instances where this situation happened because of two reasons: 
First, you partnered with an unreliable service provider that is not fit for your business.

Second, you let it happen by not overseeing what your service provider is doing. 
But this is not always the case. There are techniques you can do to avoid this from happening to your business:
Partner with a reliable managed service provider that is fit to your business culture and requirements.

Although Managed Service is an end-to-end solution, you still have to check in every now and then to make sure that everything is working properly.

Always take a closer look at the reports provided by your outsourcing partner and adjust the areas that need improvement.

Make sure you have a clear understanding together with your service provider and that everything is stated in your contract agreement. This will future-proof your business.
Why Should You Consider Fully Managed Services in the Philippines?
Nowadays, considering the Philippines as your business' outsourcing destination is a no-brainer. Apart from the benefits you can get from fully managed services, there are even more advantages you can expect when you outsource your business function to the Philippines. Here are the top reasons why:
1. Strong Government Support for the BPO Industry
The Philippine government takes the BPO industry as one of its priority business industries. It is one of the biggest economic pillars and revenue generators in the country, which is why the national government is in full support. 
Being the top contributor to the country's GDP, they ensure continuous business operations for companies under this industry even amidst challenges. They even created some programs to help grow and gain more clients by preparing the future workforce through free education focused on the call center processes as well as having tax and non-tax incentives.
2. Time Zone Flexibility and Cultural Compatibility
No matter what timezone you're in, Filipinos can accommodate. They are flexible and are willing to work on rotating shifts, which is one of the reasons why the Philippines is a lucrative outsourcing hotspot for businesses.
When it comes to cultural compatibility, you surely won't get issues. The rich culture of the Philippines includes being colonized by foreign countries such as the US, Japan, Spain, and many more. It resulted in the diverse culture of the country as the values and traditions were influenced. This allows Filipinos to easily adjust to other cultures. Another thing is communication. Filipinos are proficient in the English language, which is the global language. It helps them communicate, connect, and work with people from different parts of the world.
3. Filipinos are Hardworking, Flexible, & Have a High Literacy Rate
The work ethics of Filipinos are exceptional. They are hardworking and flexible which are beneficial for your business. They are always on the bright side of life that can help build a great team culture. Apart from these, the country's literacy rate is 98.18% and they are highly proficient and fluent in English that has driven them 27th place in global English proficiency.
4. Value-for-Money Managed Services
If you're eyeing high-quality yet cost-efficient managed services, then outsourcing to the Philippines is right for you. 
At an affordable price, you can get Filipinos to work and deliver high-quality results that matter to your business. You get to save money as the labor cost in the country is comparatively lower than in other outsourcing countries. Since this takes up the biggest portion of the operational cost, your expenses will reduce significantly. 
For instance, the average monthly salary of a full-time employee in the US is about $984, which is equivalent to Php47,672. The latest data shows that the average monthly salary in the Philippines is Php45,000 or $929. That's already a lot of savings, which you can use in other areas of your business. 
What to Look for in a Fully Managed Service Provider?
To help you find the right outsourcing partner for your business' Managed Services, here is a checklist of what you should look for in an ideal service provider: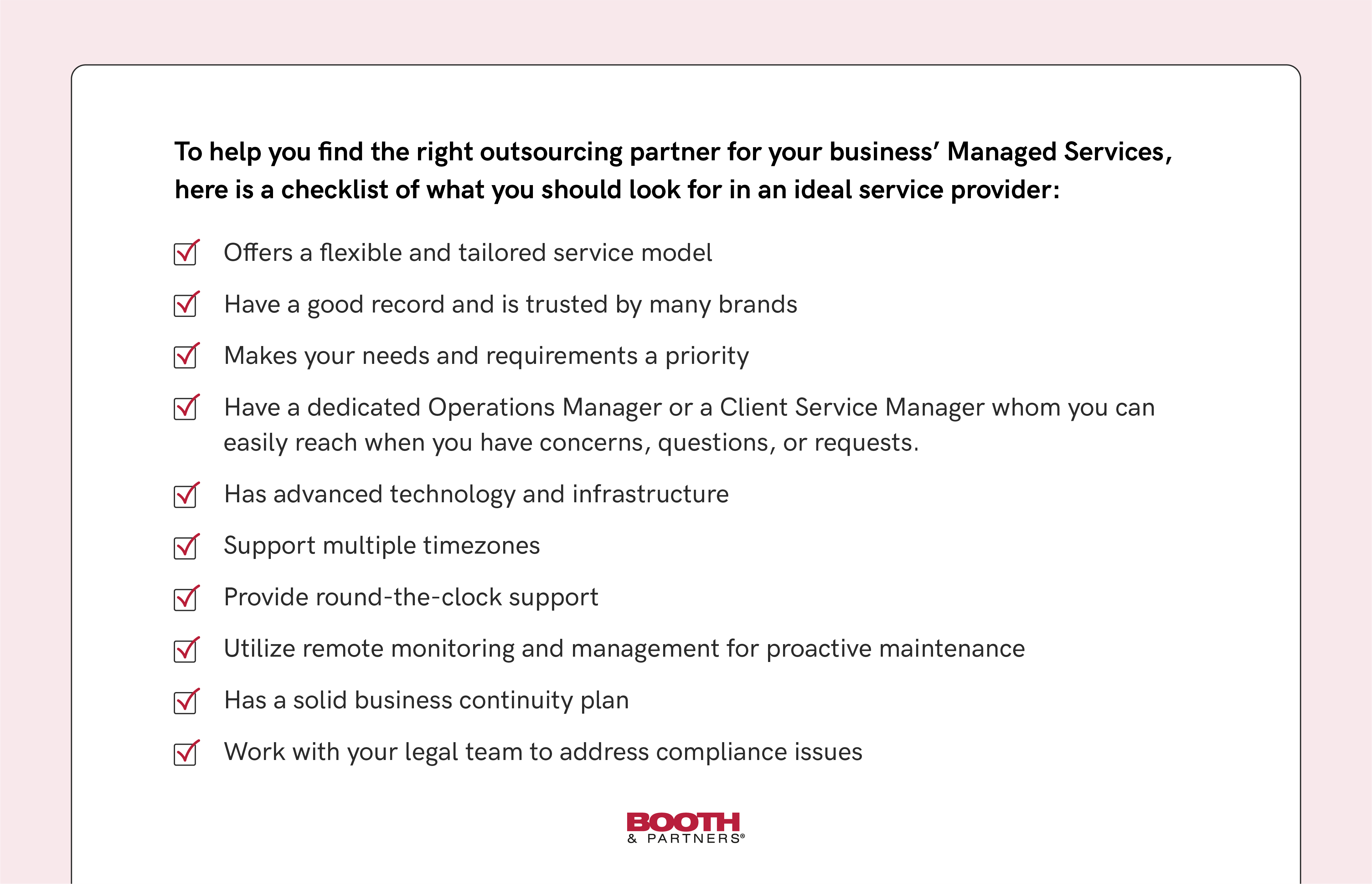 If the Managed Services provider you are eyeing is meeting all or at least 75% of these qualifications, you can assure that your business function is in good hands.
Key Takeaways
When you want to get more time on your hands to do the critical growth-driving areas of your business, an end-to-end staffing solution is the most ideal outsourcing model for you. Let your service provider handle the non-core business processes from managing the team to taking care of the administrative tasks through Managed Services while you create results that greatly matter to your business. 
Looking for a reliable outsourcing provider you can partner with to start your Managed Services journey? Build a highly skilled team of professionals with Booth & Partners! We will guide you throughout the process and make sure you get a smooth transition. Get in touch with us and let's discuss how we can help scale up your business through our fully Managed Services. 
Discover more about outsourcing and
how you can maximize it for your
business success!
Get a copy of our E-book: Guide to Outsourcing.
DOWNLOAD NOW