21 Questions with your B&P Buddy: Maricel Delalamon-Dacuno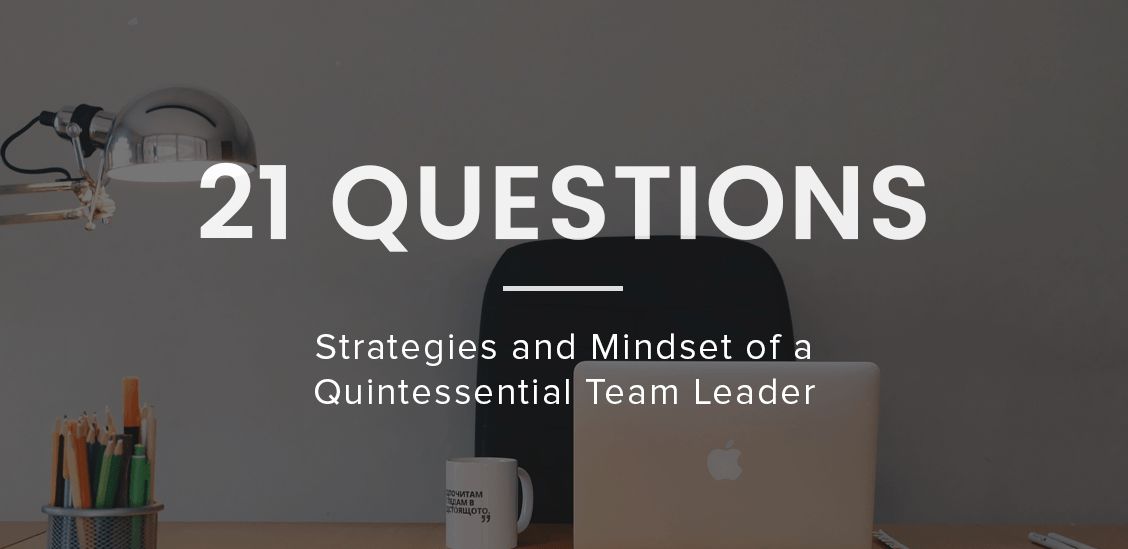 Stern yet bubbly, sprightly passionate and strong-minded, get to know Maricel Delalamon-Dacuno, Data Entry Team Leader  Extraordinaire.
The business world is getting more dynamic and advanced. Gone are the days when companies had to store large amounts of information on paper, a taxing and time-consuming office ordeal. Now, companies are no longer worried about how to effectively handle voluminous data, all thanks to outsourcing. Outsourcing helps companies to process their growing information on a productive rate while saving on costs as well.
Although all kinds of information such as forms, bills, advice, memos and meeting minutes, are now stored electronically, behind the data entry process exists a human element – the data entry specialist. Let's get to meet one in Maricel Delalamon-Dacuno, Team Leader of an International Account at Booth and Partners. When she isn't mentoring her team, you can see her glued to the monitor of her personal computer dedicating her time on ensuring her team's quality of work.
Here are 21 questions with your B&P Buddy Maricel Delalamon-Dacuno: 
1. Tell us something about yourself.
Hi I'm Cel. Measuring 36-26-36! From the land of Pines — Las Pinas! Just kidding. Lol. I am the Data Entry Team Leader MP Team Manila. I have been in the BPO industry for more than 14 years now. I am one of the hippest Titas of Manila. I spend my spare time with my nephews and watch a bunch of series in Netflix.  I love to travel, seahabilitate to beaches, go hiking, drive out of town, explore coffee shops and just have any kind of adventure.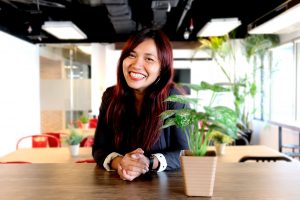 2. How long have you been a data entry team leader? Is this your first job choice or did certain events lead you to it?
I've been a data entry team leader for over a year now. I think it was destiny that led me to B&P.
3. What made you decide to apply to Booth and Partners?
It was exactly my birthday when I had a quick chat with Pearl. She asked if I wanted to apply as a Data Entry Team Leader and since the business I ventured into didn't work out the way I expected, I decided to grab the opportunity. It was the perfect birthday gift!
4. Describe how you manage your team and the workload.
I must admit that managing the workload is a challenging ordeal. With the recent launch of the Hongkong Project plus the Australia-New Zealand markets that I am handling, each day gets tougher yet more exciting, but this is what I've been waiting for. There's that adrenaline rush brought about by the circumstances that happen every day; the pressure and challenges make me more alive and ready to step up my game a notch. I am also blessed that I was given a bunch of crazy yet hardworking team. Their consistent dedication and commitment is the lifeline of this account.
And most of all, the signing up of MP won't be possible without our Senior Associate, Vanessa Montaus.  We were together in this since Day 1. If not for her, my extremely supportive Operations Manager, Pearl, and the big bosses, this will not be possible at all.
5. What's a typical work week like?
Work Hard. Have Fun. Repeat.
6. Data entry can be a very repetitive job. How do you keep from getting bored or distracted while working?
I rarely get bored but when boredom does strike, I jokingly pester my team. LOL! My team and I take our jobs seriously but sometimes we need to lighten up the mood of the workplace too.  When I'm by myself and I need to take a break from it all,  I get a couple of ice cubes and munch on them.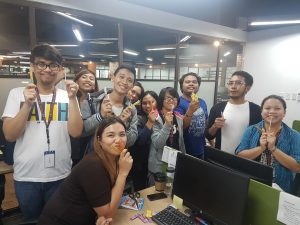 7. So far, what's the greatest challenge you've encountered as a TL? How did you overcome it?
Not to brag (and thankfully), I have never encountered any challenge or task I didn't overcome. Work is easier when you love what you do and have a superb team behind you. Everyone is on board in not only meeting expectations but exceeding them as well.
8. What improvements would you like to see with data entry work in the coming years?
I would like to see improvements in ways to reduce data redundancy and automation. I believe these will improve the quality, accuracy, and timeliness of the data entry process.
9. How do you see yourself in 5 years?
Hopefully, a mom of 2 perhaps living in our own house, and a part of the team who made B&P possible – the Mancom.
10. From a scale of 1-10, with 10 being the highest, how would you rate your career happiness at this very moment?
I believe I'm at 7.
Now that let's head to the fun part of the interview.
11. What's the coolest thing about you?
I'm cool because I'm MaCOOLet.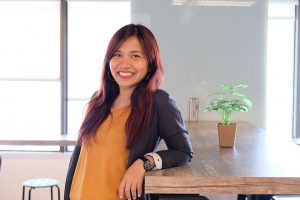 12. How did you start your day today?
With a good cup of coffee.
13. What's your favorite movie?
I have a handful – The Pursuit of Happyness, The Secret Life of Walter Mitty, The Odd life of Benjamin Button, Meet Joe Black and Limitless.
14. What was the last movie that made you cry? laugh?
Kita Kita.
15. What's the one item in your bag that you can't leave home without?
My umbrella.
16. What item in your bedroom would surprise people the most if they knew you had one?
My collection of stationeries I had in High School.
17. Which celebrity, local or foreign, do you think you look like?
Rachelle Ann Go and Sophia Bush.
18. What's your best memory in high school? college?
In High School – Representing the school several times for Oratorical Speech and Balagtasan.
In College – Being invited in a convent in Legaspi City, Albay.
19. What's your go-to-food?
Rice? Haha! Coffee Milk Tea!!!
20.Pick up line that will work on you?
Kung patuloy mong binabalikan ang nakaraan, Eh di sana nag Major in History ka na lang. LOL. 😛
21.Choose: Hugot line or Best advice to your 18-year-old self?
Do something today that your future self will thank you for.
The arrival of advanced data processing technology has helped a lot of companies to organize valuable corporate information. But keep in mind that what makes it work are the people. It's people like Maricel, whose combination of skill, hard work and dedication are a rare find, that makes the whole process fall into place. Booth and Partners is truly glad and fortunate to have such an asset in Maricel.
Want to ensure the success of your business? You can, with highly-skilled and passionate employees. Contact us now to learn how Booth and Partners can support your staffing and data entry needs.
Discover more about outsourcing and
how you can maximize it for your
business success!
Get a copy of our E-book: Guide to Outsourcing.
DOWNLOAD NOW