The 5 Major Benefits of Data Entry for Small Businesses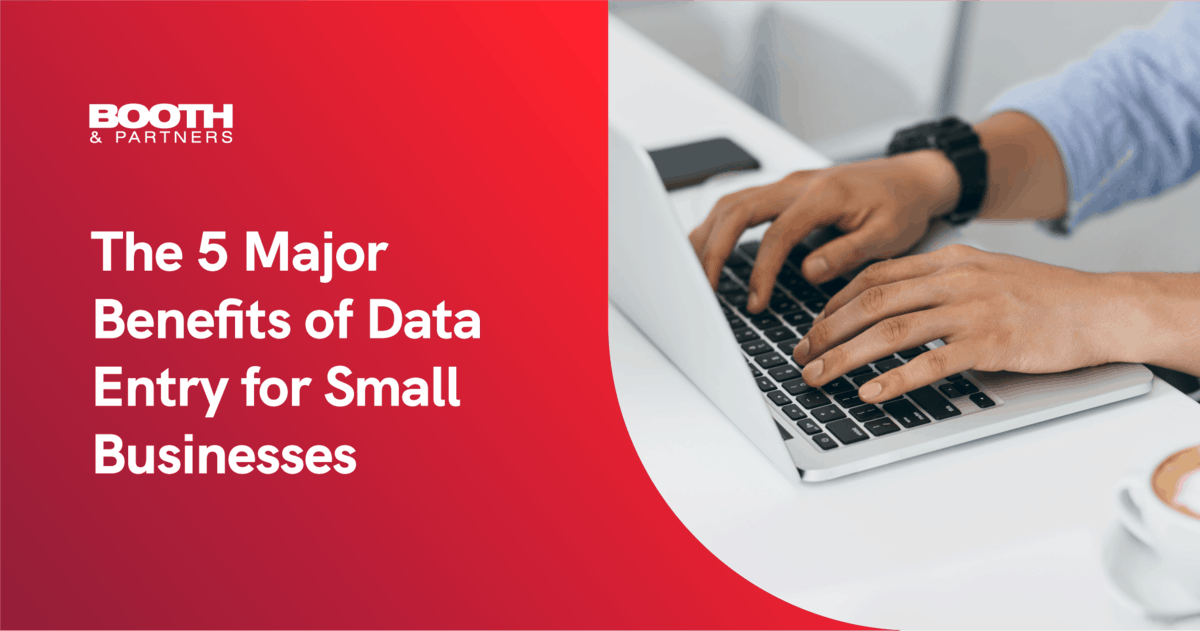 Data is a powerful resource. It shapes how you do business — from making crucial business decisions to identifying future trends. But data can also be destructive. Erroneous, misleading, incomplete, and incorrectly formatted data can lead to lower productivity, loss in revenue, delivery errors, failed marketing initiatives, and misinformed decisions, among others. Maintaining the accuracy and integrity of your database can keep these threats at bay. And it all starts from the initial point of entry — data entry. Let's explore more about what it is and the benefits of data entry for small businesses.
What is Data Entry?
As the term suggests, data entry is the process of entering raw data into your computer system. It transfers physical documents or printed pieces of information into an electronic database that can be accessed by any authorized person anytime.
However, data entry doesn't end there. To guarantee its precision, you also need to validate the recorded information. It is also necessary to update your data regularly to keep your business communications relevant.
The 5 Benefits of Accurate Data Entry for Small Businesses
Data is now considered as one of the primary factors of production. Indeed, the most powerful companies we know today have the most data. They utilize information not only to figure out what their customers want but also to influence human behavior — how we think, decide, act, consume, and many more.
As a small business owner, you can also use data to your advantage. Not on the level of those multinational companies yet but in a way that would improve your business operations and take you closer to your goals.
In the list below, you can see the major benefits of data entry to your small business:
1. It is an integral component of information management
You can't manage your information well if your database is filled with errors. Accurate data entry prevents this from happening. It helps you in collecting, managing, storing, and delivering correct information to the right system. Gaining access to a consistent source of business information breaks down organizational silos, promotes good communication, and encourages teamwork.
2. Your business operations will significantly improve
One of the important benefits of data entry is that it lets you build your data analytics platform containing information relevant to your business. In a survey, analytics enables 49% of businesses in creating better decisions. Meanwhile, about 16% say it improves their implementation of key strategic initiatives.
3. Develop better customer relationships
Collecting your customers' feedback allows you to assess their strengths and weaknesses. When you have access to reliable information that contains their inquiries or complaints, you can take the appropriate action to improve their experience with your business. At the same time, knowing which of your products are the most interesting to your customers lets you pinpoint where you need to focus more.
4. Improve your sales and marketing efforts
A clean database contains valuable customer information that your sales and marketing teams can use in crafting messages targeted at various customer segments. For your email campaigns, your marketing department can send appropriate messages to the right person. For your cold calling and lead generation efforts, your sales department can call active phone numbers instead of outdated ones. By giving importance to your data entry right at the beginning, you'll not only make the process faster for your team but also make them more productive.
5. Maintain and improve your company's value
Faulty data can negatively affect your company's full value. Keeping accurate records of your transactions and updating them regularly is necessary to maintain your company's value, especially in the eyes of potential investors.
Should You Perform It In-House?
Data entry is essential to ensure the accuracy and integrity of your database. However, it's not a core function. It can also get repetitive and time-consuming. You won't want your employees spending a huge chunk of their time entering and verifying data, will you?
To assess if it's ideal to have an in-house data entry team, try to answer these questions:
Do you have an existing data entry team?

If yes, how much time and money do you spend on this function? Is it worth it?

Do you have an existing technology to support your in-house data entry team?

Do your employees have enough knowledge and skills in performing data entry tasks?
If you answered no to most questions, then it's ideal to look for an alternative way.
Data entry outsourcing can be the ideal solution for you. It gets the job done without compromising your data quality. Let's explore the benefits of data entry outsourcing in the next section.
Why Should You Outsource Your Data Entry?
If you're not familiar with outsourcing yet, it's a business activity where you can delegate any function to another specialized company. This practice has been around for years and has helped thousands of businesses worldwide in bridging the gaps in their operations.
It's a good deal since you can transfer the workload to a company that's good with data entry and, at the same time, you can also save more in the long run.
Read this list to know the benefits of data entry outsourcing to your business.
1. It helps in keeping your database well-organized
Partnering with a data entry company can give you the confidence that your database is always organized and updated. This is one of the importance of data entry that should never be overlooked.
2. Specialists will work for you
During the hiring process, data entry outsourcing companies test their applicants' language skills, typing speed, computer skills, attention to detail, and interpersonal skills. This is to make sure that only qualified professionals are working on your data entry projects.
3. A quality assurance team reviews the accuracy of entered data
The key to an accurate data entry is to have another pair of eyes review your data. There are mistakes we can't point out simply because our eyes have been used to seeing it, tricking the brain that it belongs there. Outsourcing companies normally have a quality assurance team to address this concern.
4. Get your projects done at a faster rate
Having a dedicated data entry clerk allows faster completion of your data entry tasks.
5. Take advantage of your outsourcing partner's advanced technology
Reliable data entry companies use advanced technology systems and top-notch infrastructure to ensure that you'll only receive quality outputs within a shorter time frame. Rather than investing in in-house technology, you can spend the money you save on other core business activities.
6. Outsourcing enables risk-sharing
When you outsource your data entry, you're also transferring some of the risks associated with it to your chosen service provider. That said, they are also responsible for developing risk mitigation strategies regarding your data security and use of infrastructure.
7. You're confident that your data is secure
Data entry companies follow strict data safety protocols in keeping your business information secure and confidential. There are also tight security systems in place like antivirus software and firewall.
8. Reduce your operational costs
Outsourcing your data entry tasks may seem like another expense at first but one of the importance of data entry is it can save you more money in the long run. You won't have to spend any more on expenses related to recruitment, equipment, utilities, and benefits. It's a good investment, especially if you're after quality service.
9. Outsourcing offers smart partnership
You have the option to choose the best solution that fits your needs. Data entry outsourcing companies can customize their service offerings and the flexibility to scale up or down to meet your requirements.
10. You and your in-house staff can focus more on growing your business
You'll have more time to focus on your value-generating activities like business development, product research, marketing, and sales.
Data Entry in the Philippines
Data entry is a task you shouldn't ignore. It may look like a boring and unimportant role but its impact on your overall data management is enormous.
Let the experts do this tedious task for you so you and your employees can focus more on your core expertise.
Booth and Partners deliver smart and secure data entry services using advanced technology and infrastructure. Our goal is to help you develop a clean database with accurate and valuable information that you can use to support the growth of your business.
Are you looking for a reliable data entry service provider in the Philippines? Get in touch with us today to know more about our tailored services. 
Discover more about outsourcing and
how you can maximize it for your
business success!
Get a copy of our E-book: Guide to Outsourcing.
DOWNLOAD NOW