5 Desk Stretches for Remote Workers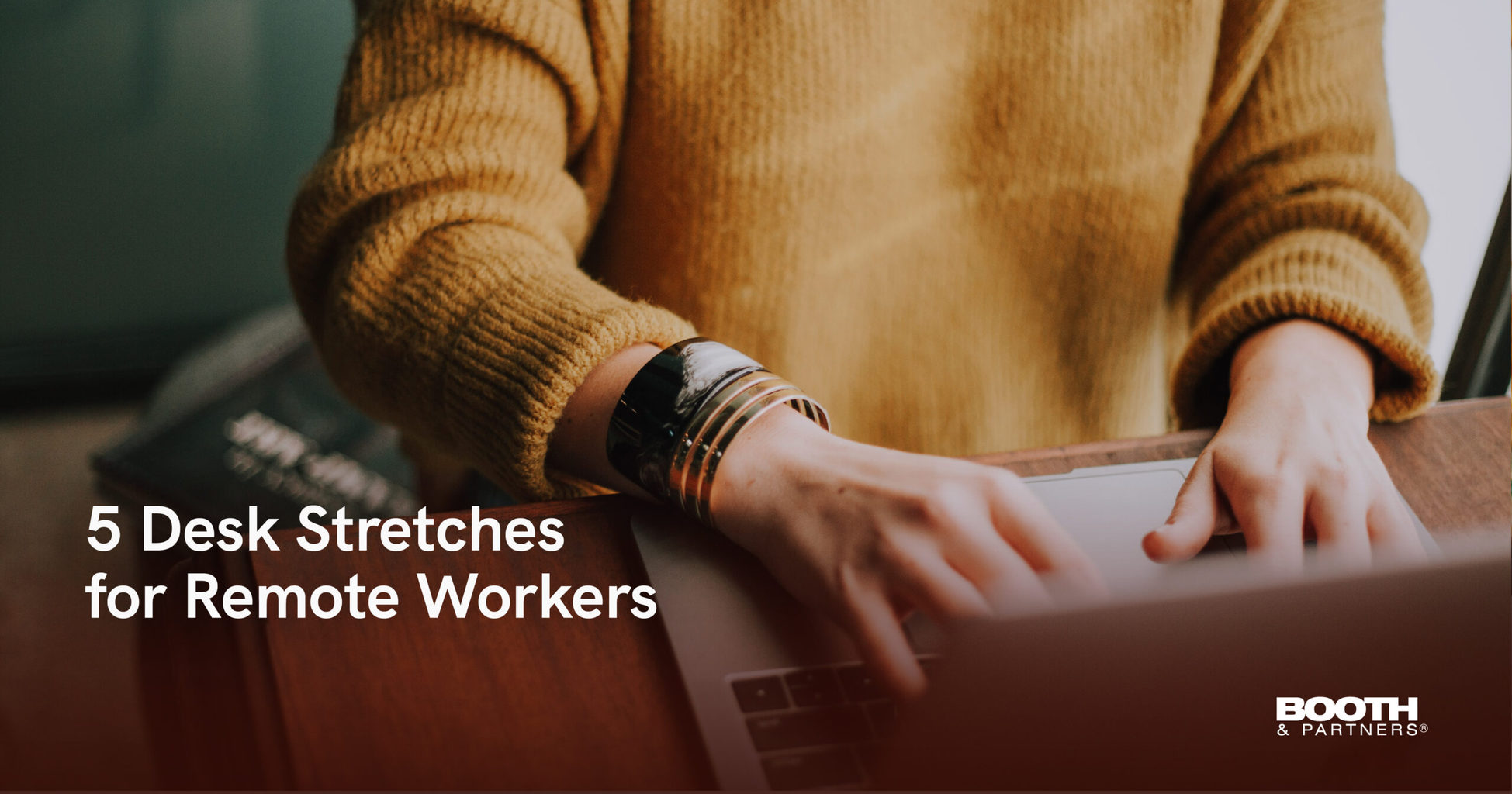 Since the advent of the COVID-19 Pandemic, it's become clear that remote work is here to stay. There is a multitude of benefits to having a remote work team, but you also want to make sure that your employees are physically healthy.
When you work remotely, it's all too common to experience posture issues that result in back pain and stiffness. While it might be tempting to power through it, the discomfort caused by sitting for elongated periods of time can have negative effects on your health and your ability to focus.
For that reason, it's important for remote workers to get their stretches in. Using the desk stretches below, your remote working team will be able to put their best foot forward throughout the day, preventing discomfort and thereby increasing productivity.
Desk Stretches
When you're sitting at a desk all day, stretches are a must. They are a great way to reinvigorate your body and get your blood flowing. After all, when you are in a static position for long periods of time, it can result in health risks and back discomfort.
Below are some of the best stretches you can do from a seated position. That said, remember to be mindful of how your body reacts to each posture. If you feel any pain or severe discomfort, you'll want to avoid that stretch and consider contacting a medical professional.
Shoulder Rotations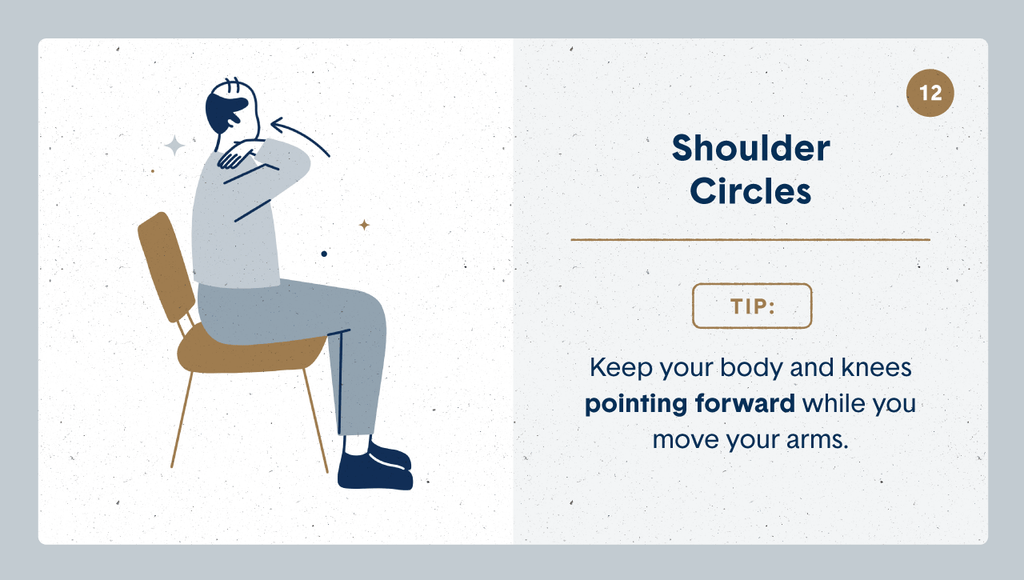 Shoulder rotations are a great way to combat any tension building in the tops of your shoulders and upper back. 
To perform this exercise, sit upright in your chair, keeping your feet flat on the floor and leaning forward. From there, place your fingertips on the tops of your shoulders. Finally, circle your shoulders forward for 10-15 rotations, then circle them backward for the same number of reps. 
When you perform this exercise, be slow and deliberate with each rotation. The more mindful you are about each stretch, the more beneficial they will be. 
Reach Back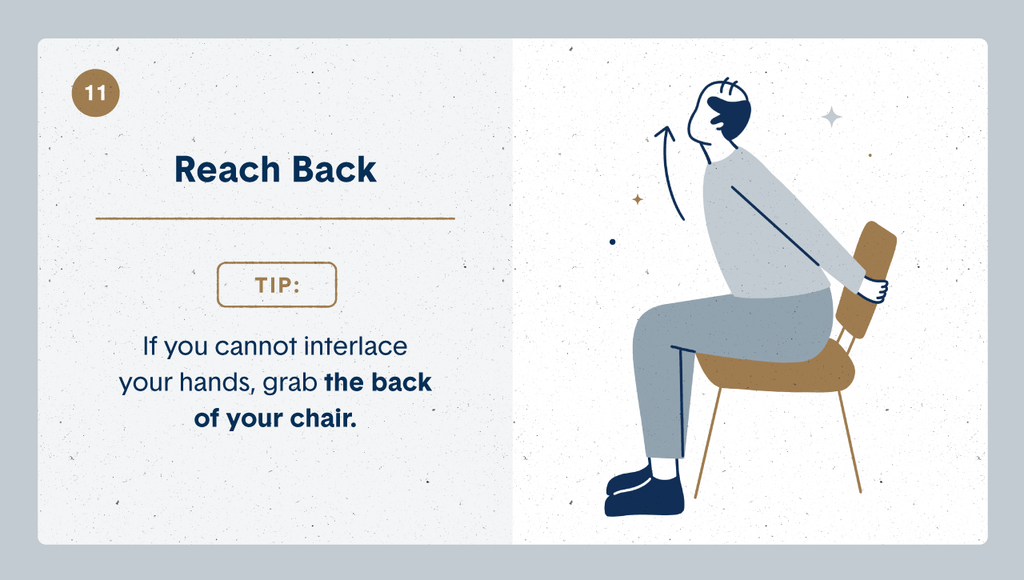 When you hunch forward in your chair for too long, you end up creating unnecessary tension in your chest. To relieve this tension, the Reach Back makes for a great chest opener that simultaneously improves shoulder flexibility.
For this exercise, sit in your chair with your feet firmly planted on the floor. After inhaling deeply, exhale and wrap your arms around the back of your chair, interlacing your fingers if possible. On your next deep inhale, sit up taller, moving in sync with your breath. Lift your shoulders up and back on your inhale, then as you exhale, straighten your arms with your hands still interlaced. After three more breaths, let go of your arms and return to a normal seated position. 
If you're unable to properly interlace your fingers, not to worry. Just grab the sides of your chair and do this exercise to the best of your ability. While it might not be as deep of a stretch, if you practice it regularly it can work wonders. 
Seated Cat-Cow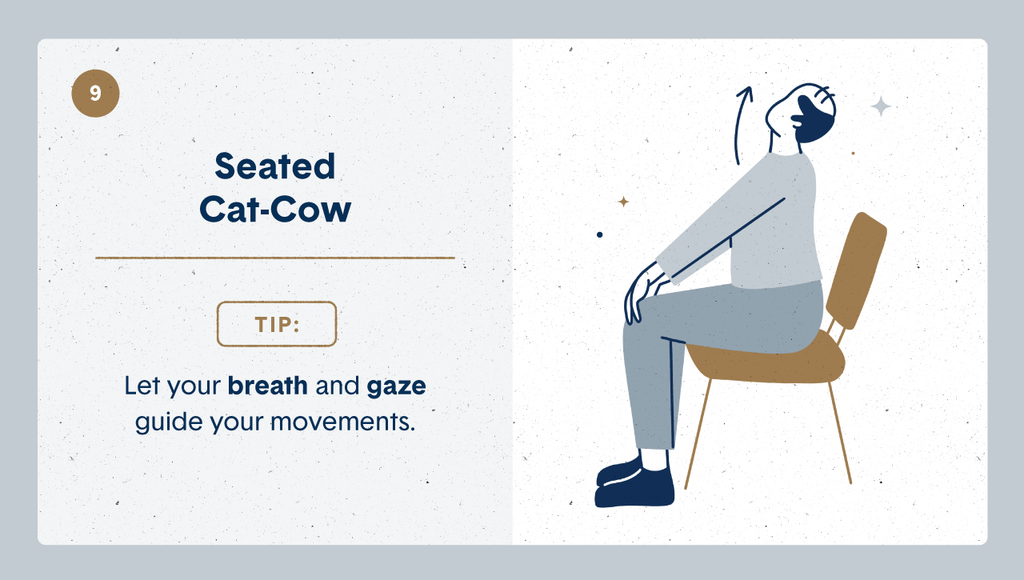 One of the best exercises for lower back pain is the Cat-Cow position. While, in yoga, this stretch is typically performed on the ground or with your legs criss-crossed, seated Cat-Cows are still effective. 
For this stretch, keep your knees at a 90-degree angle with your feet flat on the floor and your hands on your knees. As you inhale slowly and deeply, reach your chest forward, arching your back with your chin up and your head tilted toward the ceiling. On your exhale, reverse the posture, rounding your spine with your chin tucked to your chest. Repeat these motions for 5 to 6 repetitions before returning to neutral.
Seated Wrist Stretch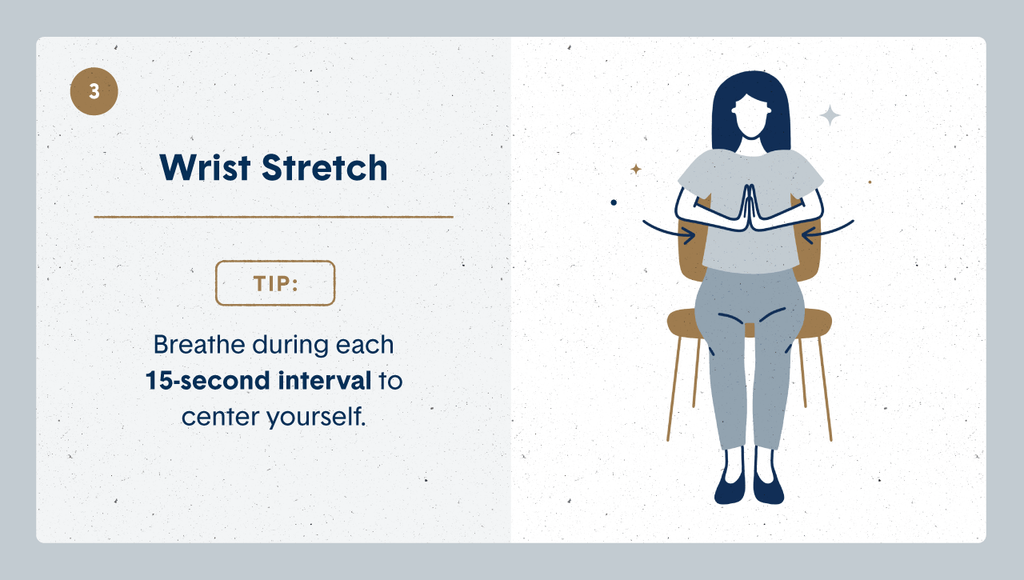 Sometimes, remote work and constant time spent with your hands hovering over your keyboard can result in wrist discomfort. In fact, according to the CDC, carpal tunnel syndrome is a wrist injury that impacts 7.8% of American workers. In cases such as these, it's particularly important to properly stretch your wrists.
To perform this exercise, simply press your palms together in front of your chest. Maintain the tension between your palms for 15 to 20 seconds, then reverse the posture by pressing the backs of your hands together in the same position. Alternate between these two postures for a total of five times. 
Reach Up Stretch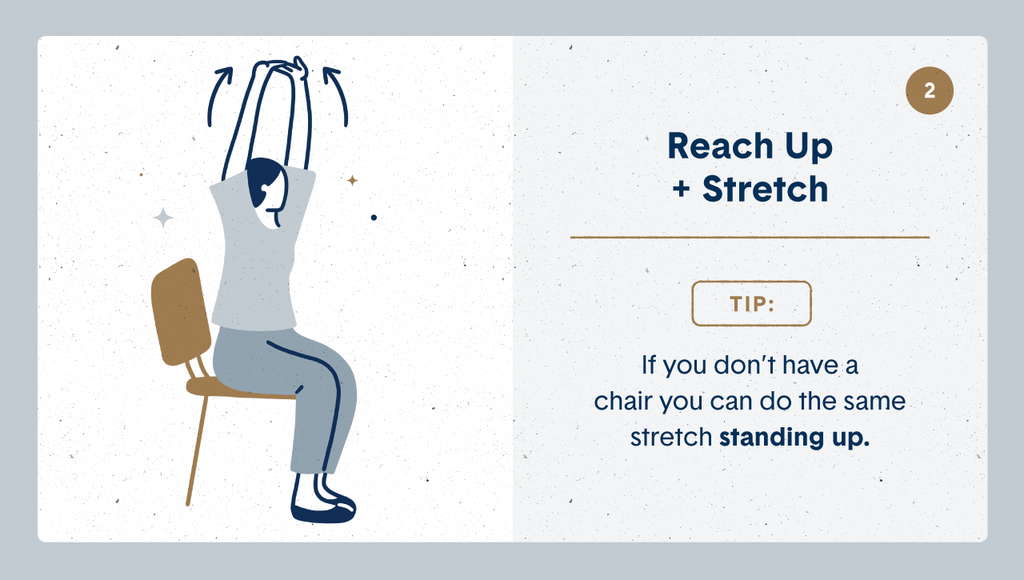 Performing the Reach Up Stretch is one of the simplest ways to get the blood flowing in your back. This is an intuitive exercise that can be done a number of times throughout the day whenever you have 10 seconds to spare.
For this exercise, you'll want to lift each of your hands above your head and interlock your fingers with your palms facing the ceiling. Straighten your back and press your palms upward while arching your spine, sitting as tall as (comfortably) possible. Hold that position for about 10 seconds and you're finished. For optimal results, repeat this exercise a total of five times.
Conclusion
With remote work becoming more and more common, it's important to encourage your remote teams to stay healthy. With the above techniques, WFH employees can get their blood flowing and relieve bodily discomfort and stiffness. Whether you're on your lunch break or taking a moment between meetings, these exercises are a great way to introduce healthy habits into your day. For more helpful desk stretches for remote workers, check out the infographic below. 
Discover more about outsourcing and
how you can maximize it for your
business success!
Get a copy of our E-book: Guide to Outsourcing.
DOWNLOAD NOW