Why Your Business Will Benefit from Having a Remote Team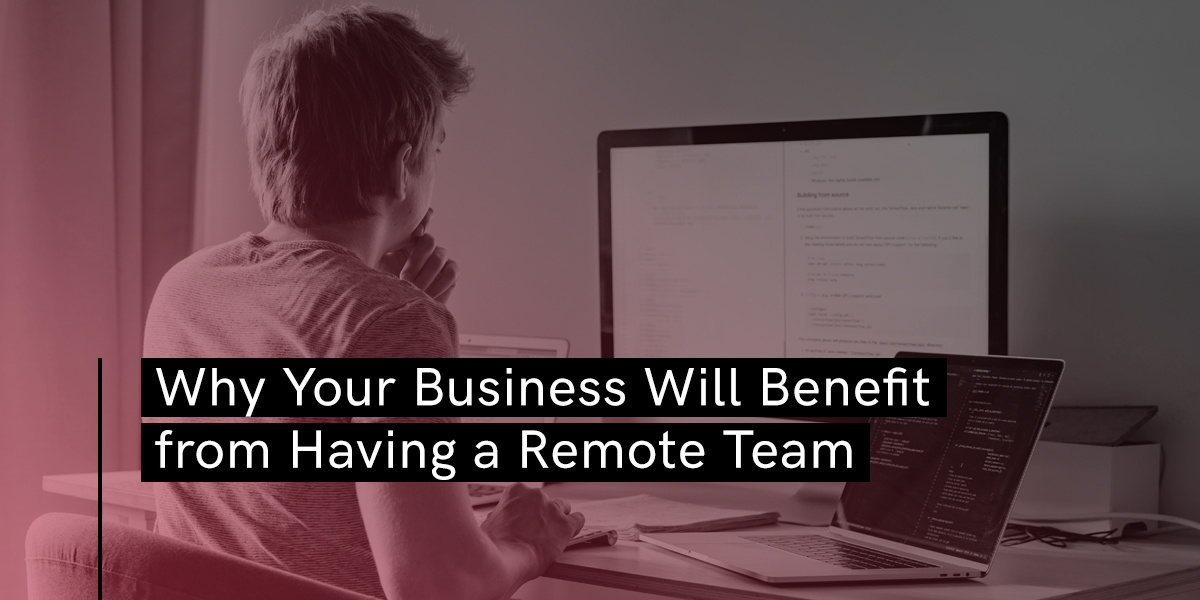 Before the outbreak, there was already a lot of buzz on the implications of technology for the future of work specifically what the benefits of a remote team are. However, that future has arrived sooner than anticipated as many companies and workers from all over the world shifted to remote working to adapt to the single biggest disruption of a generation: COVID-19. 
This has resulted in many employers and employees scrambling to adjust. While this adjustment may be difficult for some, others have taken advantage of the work from home setup, reaping many benefits for both employees and employers alike. 
Is this a good thing? What are the benefits of having a remote team?  
Whilst we have adjusted and shaped the future of work in just a few months and supported business continuity,  we cannot forget that many people have lost their jobs or gone out of business. But what is the upside? 
The benefits of remote work are obvious for employees: now that most businesses are operating and recruiting remotely, there are more job opportunities online and they no longer have to face a grueling daily commute and can work on a schedule that fits them, as well as enjoy a better work-life balance. Fortunately, these benefits go both ways — the advantages of having a remote team for employers are just as compelling. 
Here are just five of the benefits of remote work for businesses:
1. Access to top talent worldwide.
With remote work, location is no longer an issue. You can ensure that you're hiring the best person for the job, not just the nearest person. When you are open to employing remote workers, you open your company up to the opportunity to have the most talented and the brightest join your team more cost-effectively than you would spend to hire an in-house team. 
You can build a virtual team of highly-skilled, home-based staff quickly and easily by partnering with an Outsourcing company that provides Staff Leasing services. This is an outsourcing model in which the client utilizes the payroll, HR, recruitment, and office facilities of a Staff leasing company. The Staff leasing company sources the talent, supervises onboarding, and manages HR & Payroll. Ultimately, the client still has the authority to make final hiring decisions, and the employees will directly report to them.  For example, employers in the US can have a remote team in the Philippines who have the right skills, attitude, and are culture fit for your organization. 
2. Increased Savings 
With no need for office space, businesses with virtual teams simply have less overhead. You would no longer have to pay for rent, office maintenance, facilities, utilities, or any other costs that come with managing an in-house team for a specific business function. 
Furthermore, one of the advantages of having your own remote team is that you can save on the purchase and maintenance of technology.  Many Staff Leasing companies also provide IT support to make sure your remote team is well supported with the right tools, programs, and equipment necessary to do the job. 
3. Improved Productivity
Employees can now work when they are most productive and are no longer stuck to a nine-to-five schedule. A Harvard Business Review study shows that remote employees complete almost an entire day's work more every week than in-house employees.  Virtual teams are more motivated, more engaged, and more active in doing their work.  A lot of companies are also discovering that their remote teams are not only more productive but they are inclined to go above and beyond in exchange for the benefit of working from anywhere. The success in managing remote teams lies in setting up an efficient, collaborative, and cost-effective workforce by leveraging remote teams and offshore resources.
4. Less distraction 
With remote work, meetings have to be beholden to a schedule — there are no more impromptu brainstorming sessions or non-essential meetings that take up employees' productive time. With fewer distractions, your employees get more work done, especially since they no longer have to commute. Without having to face traffic, remote employees can achieve more in less time. 
5. Less stressed, more fulfilled employees 
As remote work is becoming a more attractive option for job seekers, companies are using remote work options as a desirable perk that helps them to retain top talent. Without having to deal with a grueling commute daily, among other things, employees save more time and money and have a better work-life balance. With the ease of working in the conditions that are favorable to them, they are bound to stay more focused, making them happier and less stressed, as well as more fulfilled. More fulfilled employees reduces turnover rates and helps employers retain top talent.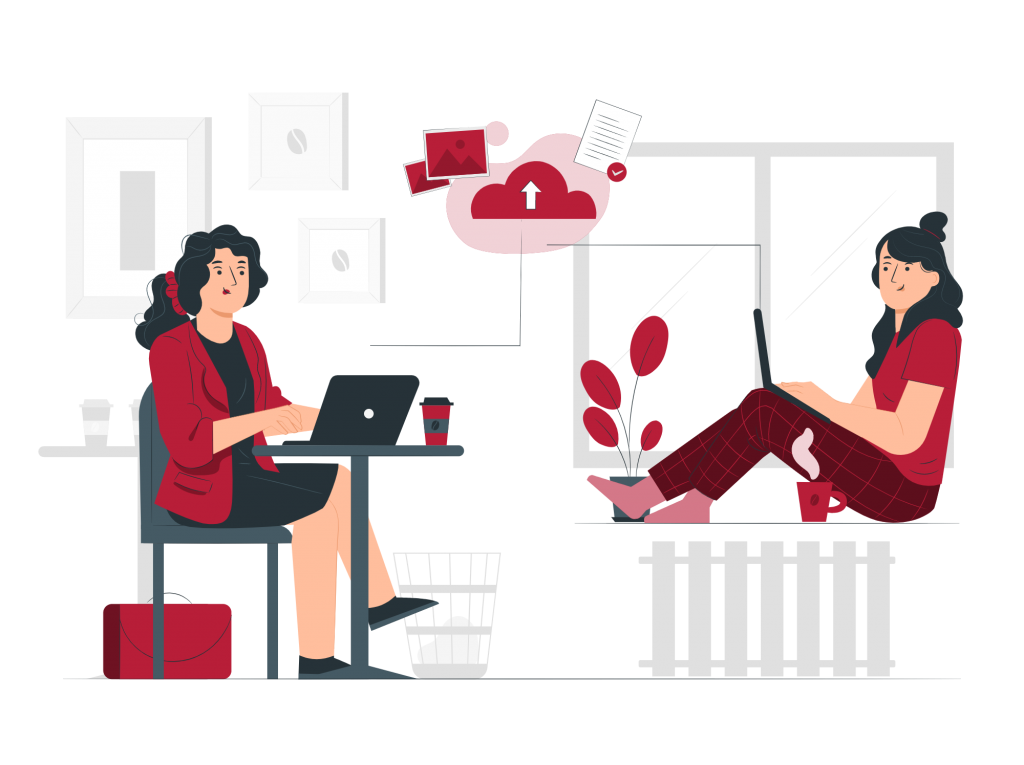 Image by Freepik
Tips on Building your Remote Team 
So now that you know the benefits of having a remote team, how do you make having a virtual team a reality for your business? Don't just jump headfirst into the telecommuting pool — take note of these tips first.
1. Find an outsourcing partner
Since remote work isn't limited by geographical location, you can truly pick and employ the cream of the crop, no matter where they are. However, building a remote team takes time and energy.  If you want a remote team but don't have the time to manage all the nitty-gritty details, you should take advantage of partnering with an outsourcing company who have an excellent track record in knowledge process outsourcing. 
Outsourcing, in the Philippines, especially, will give you access to a wider talent pool and a local partner who can help with the day-to-day particulars. For example, Booth and Partners's Staff Leasing service will help your business by taking care of everything for you, from outsourcing top talent and managing payroll to HR.  You also have an option to have a dedicated, full-time team with a highly-skilled offshore manager to oversee your team and business processes to ensure positive results. They will also reap the benefits of the external and internal training programs provided by your partner outsourcing company. 
2. Company Culture Alignment
Fostering a remote team to imbibe important aspects of your company culture isn't something that you do overnight; it requires days, if not months, of cultivation. Trusting your team to do the job is one thing, but fostering a culture of ownership and accountability is something else. Culture is key when it comes to an outsourcing partnership.
When looking for a partner outsourcing company to build your remote team, you must take into account company culture & core value alignment. As a client, this may even prove to be tantamount to other factors.  Only an outsourcing partner who resonates a similar company culture and understands the needs of their client will be able to effectively fulfil their expectations. 
3. Communication is Key 
Once you have established your remote team in the Philippines, figure out how you'll be staying in touch with your team and invest in top tools and software that can help you talk with your team effectively.  Good communication is the key to a successful remote working setup.
Aside from communication software, project management and video conferencing tools are also important. Project management applications and websites help you manage your virtual team's workload and keep tabs on what your team has going on, while video conferencing mimics having face-to-face meetings.  Communication tools are a simple way to keep everyone engaged. Tools like Slack, Google Meet, Zoom are far better suited for collaboration and communication. A lot of these collaboration tools are even available for free right now.
4. Manage expectations 
Once you have your team settled,  you must let them know what you expect of them. Set these expectations early, so that your remote employees know the particulars of their workload. Make sure your team understands how you will measure their success. This would mean, you would need to define the scope, deadlines, and deliverables for each task or project. When managing a remote team, make sure to establish structured daily check-ins, this could either be a one-on-one call or a team call. Having regular and predictable check-ins will create a platform for you and your team to ideate and share questions and concerns, at the same time avoid confusion and frustration resulting in team synergy and improved workflows.  
Remote work is changing the way we work, and companies are catching onto the trend especially during this time of pandemic. While this work set-up may not be for everyone, employers can definitely cut operational expenses, save costs, and tap people beyond their talent pool. 
Looking to build your own remote team? Schedule a call with us and let us start discussing your options.
Discover more about outsourcing and
how you can maximize it for your
business success!
Get a copy of our E-book: Guide to Outsourcing.
DOWNLOAD NOW