7 Ways to Ensure Business Continuity During a Pandemic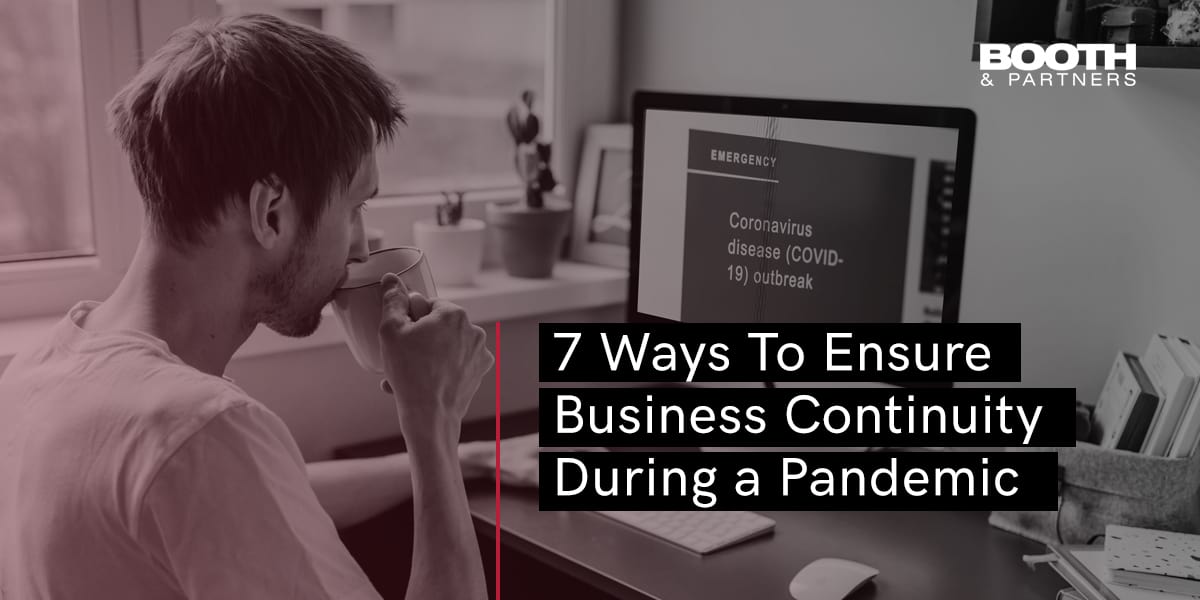 Businesses across the world have been reacting to the COVID-19 pandemic in a number of ways, from adopting work-from-home policies to restricting nonessential employee travel. Given the unknown variables surrounding this health crisis, many organizations were caught off-guard which gave rise to several changes in strategy and how they operate, including its effects on employees' health and welfare.
A healthy workforce is any organization's most valuable asset. But when a pandemic hits, it could spread rapidly across an entire population, thus disrupting business operations left and right and affecting everything from your team to your customers and suppliers. The full impact of COVID-19 on the global economy is still unknown. Although nothing can be done yet to stop the rise of a pandemic, unless scientists and experts come up with an effective vaccine, you can mitigate its impact on your organization.
Source: Probability of Default Model Market Signals, S&P Global Market Intelligence, March 31, 2020
Here are ways to help you steer your company through a pandemic:
Prioritize Employee Safety and Engagement
The best way to make sure that your business carries on as well as possible is to ensure your employees' safety and well-being. Clearly, people would look to their employers and leaders for guidance, and addressing their concerns in a transparent way will go a long way to keeping them engaged and reassuring business continuity. In line with this, employers must draw up regular communications that align with the health authorities and the government's policies to support employees as they navigate through a crisis management process alongside the organization.
In the event that businesses may be allowed to operate or a modified community quarantine is implemented, employers should make hand soaps and sanitizers readily available to employees and maintenance people who will work on business premises. The importance of practicing good hygiene and social distancing must be stressed as well at all times. After these reminders, you should also enact frequent company-wide communications covering sick leave policies and remote work plans. State sick leave, paid-time-off, and remote work policies explicitly to avoid any confusion and concerns among employees.
Form a Management Response Team
By establishing a management/emergency response team, you will be able to assess the risks and create strategies after conducting a solid scenario planning, which will then improve crisis management and response mechanisms. This team will serve as your central information center—managing risks and responses and aligning internal stakeholders by coordinating all projects and initiatives—where members discuss emergency-related matters and create action plans to disseminate to employees.
Rank your Most Critical Business Functions
Your management response team will also help you identify your most critical business functions for continuity, including all resources needed in terms of performing those duties. Conducting a business impact analysis is crucial, and then rank the functions in order of importance. Ask yourself the following questions to help you determine your priorities and recognize the consequences, allowing you to establish risk mitigation policies and techniques:
How would these functions be impacted if one stops operating?
How much do our customers depend on the products and services?
Are there any alternate methods of completing these functions?
Communicate with Other Relevant Stakeholders
Clear and straightforward communications are pivotal in creating a platform to reshape the business and to ensure continued support from customers, clients, suppliers, and investors.
Customers and Clients – Keep your customers and clients posted of any potential impacts on product or service delivery. It is important to always maintain open lines of communication to revisit timelines in the case that contractual obligations cannot be met due to the crisis. Taking such proactive measures will help alleviate corrective damages or liabilities associated with disrupted customer obligations.
Suppliers – Maintain regular contact with suppliers in terms of their capacity to deliver goods and services, as well as their recovery plans, so that your organization can opt for alternative supply chain options ahead of time.
Creditors and Investors – Identify sensitive debts and steer clear of technical debt breaches by reviewing terms and conditions on loan contracts. This will give you the opportunity to proactively manage the dialogue with creditors concerning any necessary amendments to existing terms or refinancing arrangements.
Adopt Remote Work Policies
During these circumstances, remote work might just be the new normal. That is why the readiness of all components of infrastructure in order to support the higher load of work-from-home employees is imperative. Check with your IT Department if you have the right tools and technology in place to support a large remote workforce. But first, you need to identify which part of the service can be done by employees from their homes. Pinpoint any process changes or resources required to allow for the service to be delivered by your remote team.
Although many businesses may be equipped to fully adopt a remote work strategy, far fewer have the proper cybersecurity protocols in place. See to it that you have the necessary security measures to safeguard your data, networks, and infrastructure. Information technology will be extremely critical to your organization's capacity to outlast a pandemic and providing the capabilities for remote work should be its overarching principle.
Cross-train Employees for Different Roles
Cross-training employees can be a very cost-effective way for any organization to be able to coach and prepare other people to step into a unique role in case the previously assigned person may not be able to fulfill his or her duties anymore. During a pandemic where a lot of people might get laid off or have a hard time adjusting to a work-from-home set-up, a helpful way to mitigate the risk of losing a critical function is to cross-train your team for different roles. Uncovering a certain business function that is unique to just one person would be a high risk to the organization.
Plan for Recovery Immediately
A pandemic cannot be completely predicted with forecasting tools. But there will always be tons of lessons to learn and carry forward once a crisis has passed. Businesses should be making decisions and taking actions with a recovery plan in mind. In the future, you will need to reconsider how robust your business, management/emergency response team, and initiatives are during crisis management. Once the situation is controlled, break down options to become more adaptable to future disruptions. Remember: a healthy business continuity plan should focus on business resilience.
Ensuring an organization's survival during and immediately after a pandemic involves setting up the infrastructure needed to respond as early as the onset of the contagion. As with any other business continuity plan, planning must be done in advance and your team should be made aware of the potential changes in terms of operations and organizational structures in the case of a disruption. Early planning could help reduce the transmission of the virus and decrease the number of cases, as well as alleviate a pandemic's economic, financial, and social impact if it were to occur. Some may be skeptical about the resources and time needed to prepare their workforce for something that may never happen, but it will never hurt to be fully equipped when that time comes.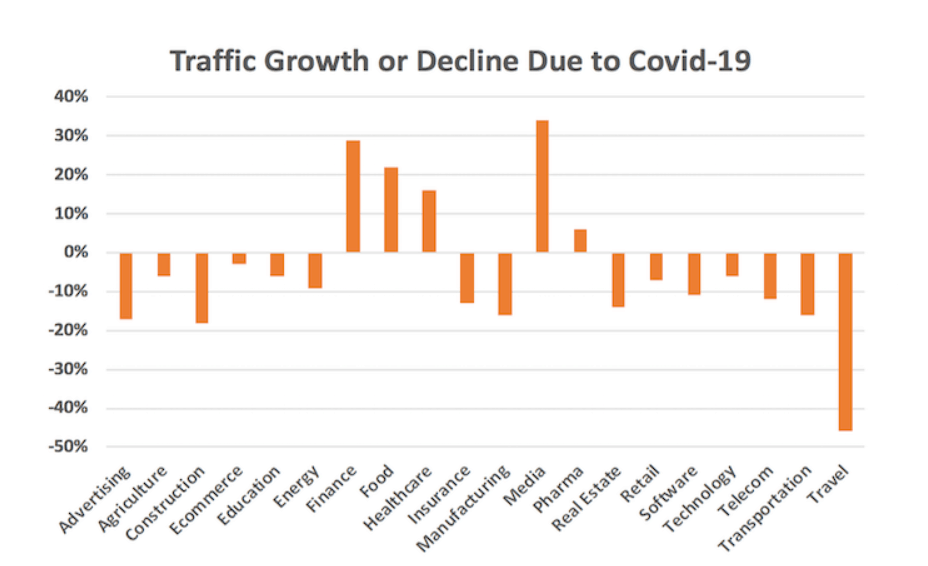 Source: What the Coronavirus (COVID-19) Means for Marketers, Neil Patel
How are we dealing with the COVID-19 pandemic?
While this pandemic continues to cause uncertainties, our priority is crystal clear—the health of our Tribe and the continuity of our operations. We have made several decisions to steer our clients and customers through the professional challenges that this unfortunate situation poses in our businesses.
We managed to set clear priorities and translated them into a detailed and agile response strategy for a sturdier business continuity management.
Telecommuting
The number of organizations that offer flexible or completely remote work options increased by 40% over the past five years. The process of working remotely may seem as simple, but if not managed properly can result in inefficiency. Fortunately, we have a very dedicated IT Team who was able to pull out all the stops to allow 80-90% of our Tribe to work from home with configured laptops and the tools needed in place.
Virtual Meetings
Since the implementation of the enhanced community quarantine last March 16, our teams have been meeting continuously through channels such as Zoom and Skype to assess and respond accordingly to the situation as it evolves. We have extensive online communication and technological capabilities on hand to help ensure better business continuity management, all the while making sure that everyone stays safe as we strive to deliver positive results while working remotely.
We continue to look for more ways to replicate our in-office culture in a remote environment to make sure that our meetings run as efficiently and productively as possible.
Online Training and Webinars
We continuously strive to provide support to our Tribe's development, and so we have launched the B&P Academy—our very own learning program which houses all development projects, materials, and resources. We will also be holding online training and webinars that create an opportunity for learning for our Tribe and can be a motivating factor for everyone during these troubling times.
Virtual Recruitment and Onboarding
Businesses around the world are facing an unprecedented challenge because of the pandemic, and one of these is recruitment. We have risen to the occasion and immediately adjusted our recruitment strategies in the wake of COVID-19. Video interviews are conducted via Zoho Meeting, conference client interviews and virtual job offer via Zoom, digitalized employment contract signing via Zoho Sign, and virtual onboarding via Zoom.
Our virtual recruitment and onboarding plan in place protects both our Tribe and candidates by eliminating risk of exposure while continuing to drive hiring efforts and attract top talent. Technology is readily available and video interview software has never been more necessary.
As in every period of adversity, changes in the market bring a lot of risks, but they can also create new business opportunities. Not all businesses have the capacity to carry out remotely, but we were able to do so by setting clear goals and expectations. We want to make sure that we can easily adjust to the changing needs of our Tribe and partners, while navigating the financial and operational challenges. Although the risks are considerable, a major business setback such as the COVID-19 pandemic also reveals areas where organizations like us can build resilience and reshape ourselves for a post-crisis world.
Discover more about outsourcing and
how you can maximize it for your
business success!
Get a copy of our E-book: Guide to Outsourcing.
DOWNLOAD NOW