Creating Better Outsourcing Service Options: Booth & Partners Launches Operations in Colombia

We are thrilled to announce that as part of our global expansion and commitment to providing our clients with the best outsourcing solutions, we have officially expanded to Bogotá, Colombia bringing the talent and expertise of the region to our global customer base. 
Colombia is a country with a wealth of talent, with a strong focus on technology, innovation, and creativity, which makes it an ideal location for us to expand our operations. We celebrate the beginning of our operations, which will stimulate economic growth in Bogotá and provide beneficial options to our clients and better job opportunities for many professionals all over Colombia.
Leading our B&P Colombia operations is Suselle Mueller, a seasoned executive from Honduras. Her experience running several successful organizations, working with multicultural teams, and knowledge of culture and business in Latin America add tremendous value to our first international expansion.
Why Colombia for Our Additional Operations Location?
When most people hear the term "outsourcing," they immediately think of offshore places like the Philippines or India. For US corporations wishing to minimize costs while expanding resources, offshore outsourcing has been the dominant alternative. It means outsourcing your business operations to a service provider many time zones away from your headquarters.

However, some businesses prefer having their outsourced operations closer to home. This is why Nearshoring emerged. It is a type of outsourcing strategy where you transfer particular business operations to an external service provider from a nation close to your main headquarters. For nearby countries, including the US and Canada, Colombia is a hotspot for nearshoring.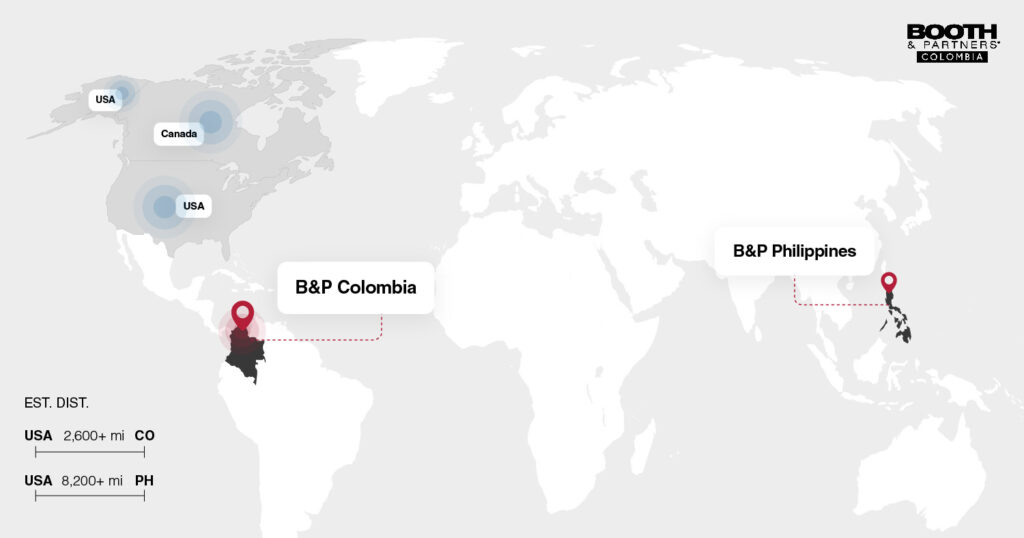 Booth & Partners launched our operations in Bogotá, Colombia to cater to clients in the US and Canada who prefer nearshoring over offshoring. We want to expand our reach and provide better outsourcing options to companies that need a support arm for their operations. 
Outsourcing Industry in Colombia
Colombia's fast-growing BPO sector has piqued many US corporations' interest due to its attractive value proposition. Nearshoring to the country is an excellent way to address talent shortages, rising expenses, and other economic challenges facing US companies today.
We've listed down some statistics and essential points you should know about the country and the outsourcing industry in Colombia.
Colombia has a stable economic condition. It is projected to grow up to

3.1% in 2023

.

They produce about 13,000 tech graduates per year.

The World Bank has recognized Colombia as the most investment-friendly country in Latin America.

They share the same time zone as the US, making communications and collaboration easier. 

Colombia has the 3rd highest labor force participation rate in Latin America at nearly 60%, with experts predicting that this will rise to 63% in 2024. The BPO sector employs around 500,000 people in the country. 

BPO companies in Colombia offer cost-competitive outsourcing solutions to businesses, mainly due to the low cost of living, which is 71% less expensive than in the US.

According to the

2020 census

, the overall population of Hispanic origin reaches 60 million individuals, making Hispanics 18.7% of the entire population.

There is a huge potential for businesses to reach new market niches with bilingual talent. There are almost 57 million Spanish speakers in the entire North American territory. 41.7 million of them have Spanish as their native language. 
For years, we have been looking at launching operations in Colombia. We have seen strong government support for the BPO industry and a well-prepared population. The central strategic location, market size, and the availability of bilingual and multilingual talent in Colombia are additional factors why we at Booth & Partners chose the country for our expansion in Latin America.
Booth & Partner's First Global Expansion
At Booth & Partners, we specialize in providing the right people, right solution to businesses, even in challenging labor markets. Our expansion into Colombia is a critical part of our strategy to maintain and develop that capability. With the caliber of talent in this country, we will be able to build high-performing teams that can help us scale the businesses of our existing and future clients.
Interested in outsourcing? You're at the right place. Learn everything you need to know about nearshoring by reading our blog. Get in touch with us.
Are you a professional from anywhere in Colombia looking to expand your skill set and build your career in a thriving work environment? Let's set you up for success in a Great Place to Work-certified company! Apply now.
Discover more about outsourcing and
how you can maximize it for your
business success!
Get a copy of our E-book: Guide to Outsourcing.
DOWNLOAD NOW