Off to Cebu: Expanding Our Operations to the Queen City of the South & Meeting Our Cebu-based Employees!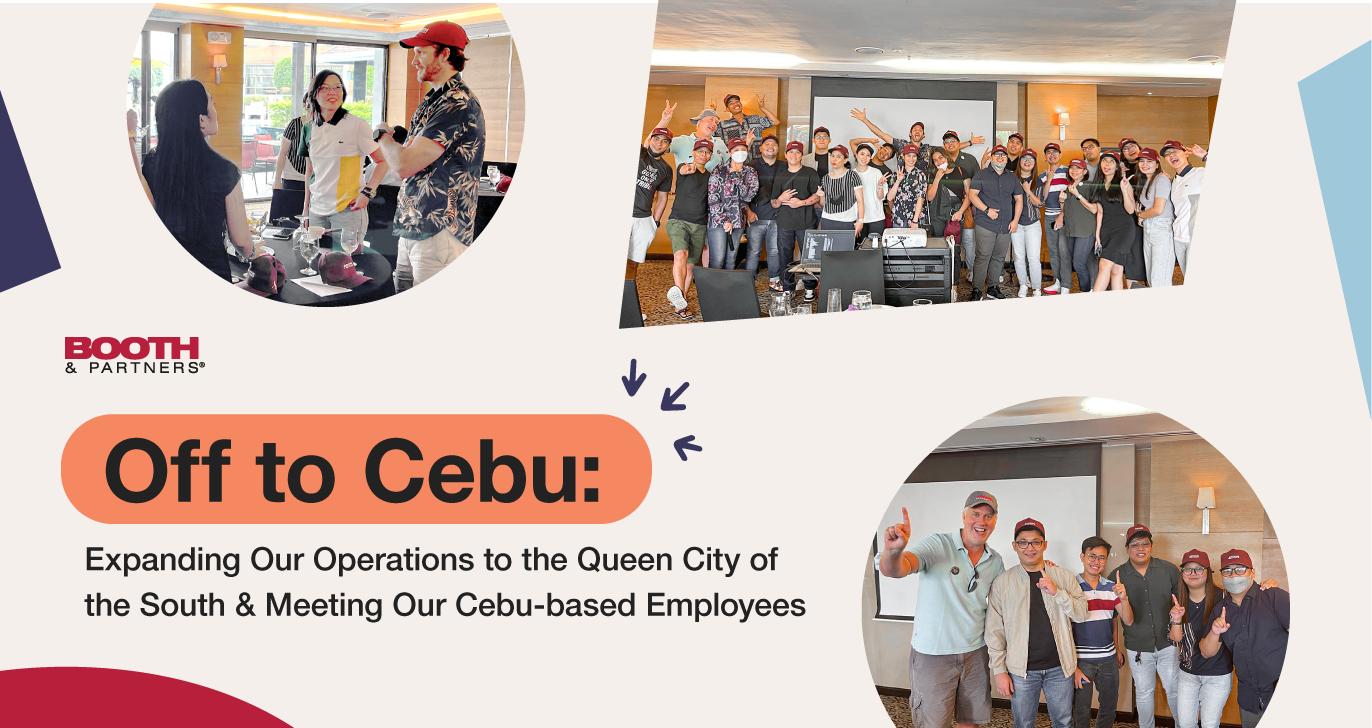 We've got exciting things happening at Booth & Partners. This has been a great year (and it's not over yet!). We've continued growing and as a result, we're now expanding the scope of our operations in Cebu and will soon be opening a satellite office for our Cebu-based employees.  
Many companies now are seeking to grow their business beyond their current capacity. Expanding reach into new regions or cities can offer new opportunities. This opportunity came at the perfect time for us as we were looking for key opportunities that would allow us to expand our reach and tap new talent. 
Why Cebu?
Apart from Metro Manila, Booth & Partners has many great remote talent in different parts of the Philippines, including Cebu.
More than being one of the top tourism havens in the Philippines, Cebu is also known to be a strategic business location. Because of its advanced infrastructure and home to many top talent, Cebu has great potential for economic growth. In fact, many multinational and local companies are establishing their business in the area and many of them are thriving especially business process outsourcing industry. They even built the Cebu IT Park, the pinnacle IT-BPO hub in the city. In 2017, it has over 70 IT-BPO providers with more than 14,000 local talent and is continuously growing.
Closer to Our People
There has been so much growth this year, with so many new faces from various parts of the Philippines joining our tribe. While remote work has truly been beneficial to the workforce, working with employees in different cities across the country has its own set of challenges. But we are truly thankful for the team that we have. Not only are they able to overcome remote work challenges, but are able to produce stellar work. We had 4 employees to start with and now our Cebu-based employees have grown to 38, each making a significant contribution to the company.
We looked forward to getting to know our new Cebu-based employees and ​last May 5, 2022, we finally flew to Cebu to meet them and start to get to know them better.
Chris Meuller, our Head of Sales, with our Cebu-based employees
It was just amazing to see the people behind the slack and email conversations in-person for the first time. 
Meet and Greet session with our Cebu-based employees
at Quest Hotel Cebu
After their morning coffee, many handshakes, and introductions, the teams were instantly caught in friendly huddles, the old mixing in with the new. During the engagement activities, it was amazing to see how easily our tribe built relationships and became one community. 
Jamie Booth, our Managing Director, with our Cebu-based employees.
We did some fun team-building activities with Team Balut as the winner.
It was the first time for our Cebu-based employees to meet our management team face to face so we also prepared a Q&A segment for them to be able to easily address their ideas and concerns. It was a fruitful exchange and we were able to gain a lot of insights from our remote employees in Cebu. Jamie Booth, our Managing Director, also took this opportunity to talk about B&P's vision and future plans.  
John Gallegos, our remote data analyst from Mindanao received
a certificate of Appreciation and Commendation
One of the highlights of the event was giving an award to our Data Analyst, John Gallegos. His amazing dedication at work literally goes the extra mile as he traveled all the way from Mindanao to Cebu to be a part of our meet and greet session and to receive a well-deserved certificate of appreciation. He also took the spotlight to share his remote work experience.
Our idea of establishing a satellite office in Cebu is already in motion. We want to provide our employees with a safe place where they can easily meet with the team, access and use the facilities, and go whenever they need a workspace as a business continuity plan.
Noel Maralit, Country Manager, answering questions from the Q&A session
We really had a great time with all our Cebu-based employees and we're hoping we could get together again with them soon. Getting to know everyone in person always feels wonderful. Thank you to all of you who came. See you all soon! 
We had an amazing time! Getting to know everyone in person always
feels wonderful. Thank you to all of you who came. See you all soon!
Just imagine how awesome it feels like to take some time off the computer and just enjoy the moment with our employees. An amazing and memorable time! To meet the new faces and be able to give them a genuine feel of what being a part of Booth & Partners is really like is important to us. 
As we continue to grow, we hope to do more meet-and-greet sessions with our employees in all parts of the country to establish a good relationship and truly hear their thoughts in person. 
Let us know where you want our next destination to be and watch out for more additional locations as we continuously expand our reach! 
Discover more about outsourcing and
how you can maximize it for your
business success!
Get a copy of our E-book: Guide to Outsourcing.
DOWNLOAD NOW