Top 5 Industries that can Benefit from Chat Support Services

Customer service is the cornerstone of any business. It plays a vital role in growing a sustainable customer base and allows companies to thrive. Many e-commerce businesses have been supplementing their websites with live chat support to provide real-time answers and quickly address customer concerns, and by doing so, this also keeps customers from leaving their websites. Real-time chatting with an expert agent also builds customers' confidence during their purchasing experience and more importantly, helps boost your conversion rates.
In today's digital age, live chat support proves to be an integral part of a successful customer service toolkit. Data shows that over 41% of customers expect live chat on websites in case they want to clarify something or ask questions. Not offering such service is as good as ignoring your customers, and that could be the fastest way to lose your business.
Source: Live Chat Agent, 2020
As a startup or small business owner, you might be wondering about the benefits live chat support can bring to your business. If you are part of the following industries, then it seems only fitting that you take advantage of one of the best service channels for communication.
Real Estate
The Internet has dramatically revolutionized many different fields, and one of these is real estate. Having a live chat support is crucial to reaching and engaging potential clients. While people do not buy their house directly over the website, they can still make comparisons between houses and inquire about financing. Your chat support representative could send more images and descriptions of properties through discussions via chat, giving potential clients the luxury of making an informed decision before purchasing. Your agents can also recommend relevant properties, set appointments, expand your audience, generate leads, negotiate and more. Furthermore, the costs of a chat support service are minimal compared to the value of a sale.
Travel and Accommodation
All travelers love convenience. Nowadays, they could just browse through hotels and book flights online in a jiffy. This is where live chat comes in. Chat support services provide an efficient back-and-forth between airlines, hotels, and customers. Agents get to talk to customers directly, eliminating the process of sending emails and even making calls. Not only can this tool be used for pre-booking, chat support can also be utilized in getting feedback and even checking up on clients during their stay. Keep your customers engaged, build satisfaction, and cut costs. Chat support services also enable you to further improve your online direct sales with your agents manning the website 24/7.
Healthcare
Before setting an appointment, many patients are now doing extensive research and looking through reviews about doctors, clinics, and hospitals. Consequently, healthcare providers must be competitive in catering to the needs of their patients online. Having a chat option in your website can facilitate better and faster communication including answering inquiries and giving referrals. Aside from treating patients, doctors must also regularly check on their patient's recovery and ensure constant communication. Having a chat support service will assist healthcare providers in terms of conversing seamlessly, improving clinic consultations, and keeping patients updated on out-patient care.
Automotive
Much like the real estate industry, the value of earned sales is important when compared to the low cost of having a chat support service, with huge advantages to the car sales business. Even with your showroom closed because of the COVID-19 pandemic, you can still generate leads and offer potential customers your best deals. Customers who are planning on purchasing a car are fond of having welcoming and approachable agents who can explain to them every single detail about the vehicle. Your website could be your virtual showrooms and live chat would be your agent ready to attend to potential clients. You can make your customers happier and easily be one step ahead of your direct competitors.
E-Commerce
Growing businesses nowadays are under the e-commerce industry. If you regularly surf the Internet for your shopping fix, you will notice that big retailers have an online presence. These major brands took advantage of this platform and can now reach a wider audience through live chat. More so than being an effective and convenient channel for interacting with customers, live chat also allows you to build a relationship with them and increase your conversion rates. It also assures customers can get immediate responses to their queries, thus, building their confidence in your product and brand.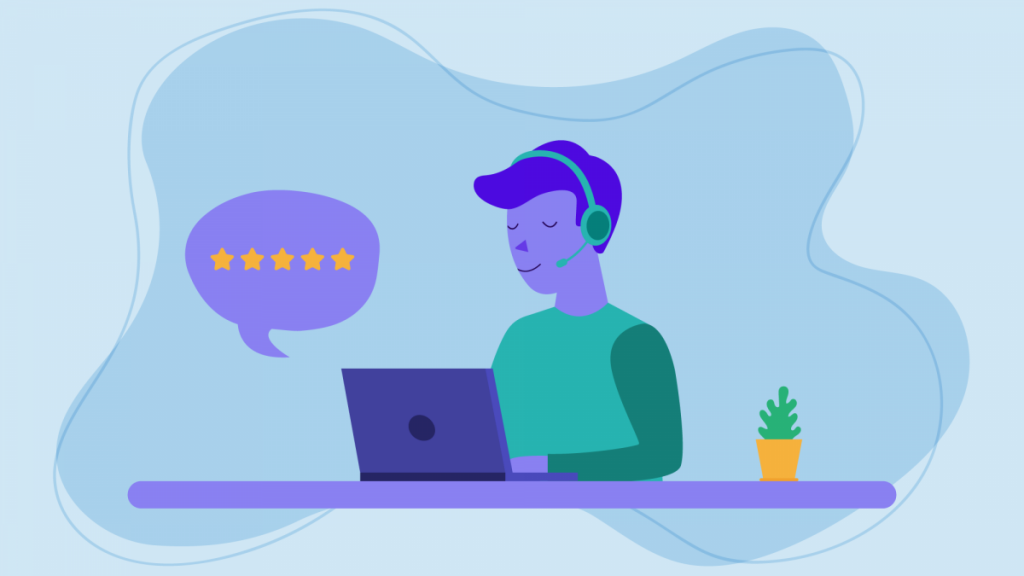 Source: Nextiva
A study by Forrester Research found that 44% of online consumers say that having questions answered by someone in real-time while in the middle of an online purchase is one of the most important features a website can offer. Live chat adds a human touch to a usually stiff and direct website. Having this feature on your website gives customers the chance to talk to someone who can provide them with detailed answers and recommendations, humanizing their shopping experience. Many people prefer this platform because of the immediacy it offers, with response times as low as five minutes only.
Thinking about building your own team of chat support representatives? Send us an email at hello@boothandpartners.com so we can assist you with your business needs.
Discover more about outsourcing and
how you can maximize it for your
business success!
Get a copy of our E-book: Guide to Outsourcing.
DOWNLOAD NOW