A Guide to Building and Managing Your Remote Graphic Design Team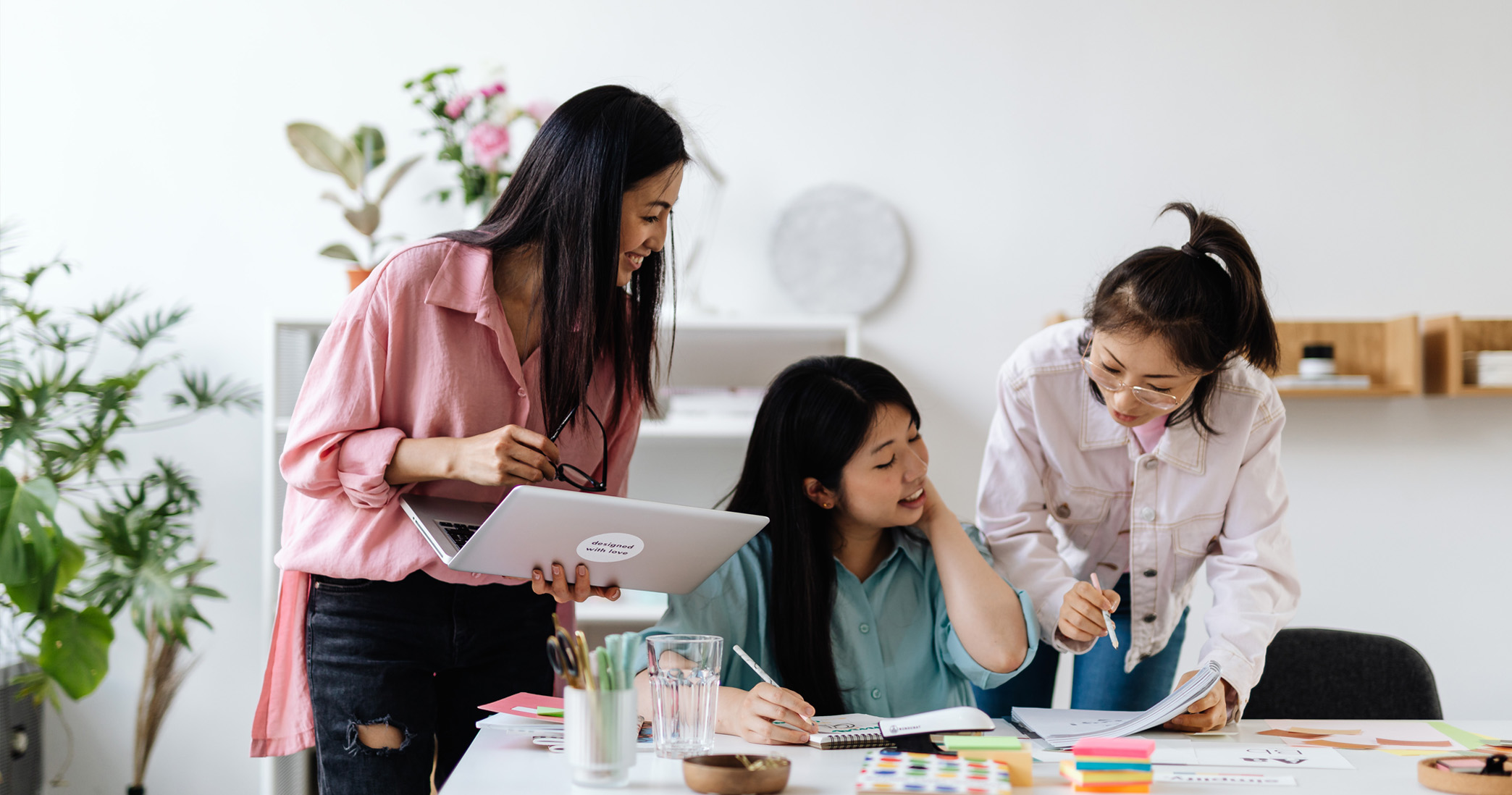 Some businesses feel like they don't need a graphic designer or a team of remote graphic designers, but it could be farther from the truth. According to this study, marketing professionals who collaborated in a fast-growing company said design and creativity were the main drivers causing the company's accelerated growth. Graphic Design is worth investing in and many successful businesses are aware of that such as Apple, Google, and Target. One of the things that these companies have in common is they are being represented by the world's most famous logos. 
Indeed, graphic design is a powerful mode of communication that combines art and technology to represent your brand. It creates an organic impression that could attract your target audience. So whether you're a small business starting out, a medium enterprise that needs help with branding and creating marketing collaterals, or running an event and advertising agency looking to expand your workforce, a remote graphic design team will definitely help you achieve the following:
✓ Stay consistent with your branding
✓ Save more time for core business processes
✓ Save funds in the long run
✓ Give you a fresh perspective on your business
✓ Help you achieve the business results you're eyeing
What is a Remote Graphic Designer?
Having the same job as regular graphic designers who work onsite, remote graphic designers create visual concepts to communicate a message that informs, inspires, and captivates the target audience. Their only difference is they work from home or any location rather than the office. 
Based on the report of the US Bureau of Labor Statistics, they have identified around 280,000 graphic designers in the US and 41% of them are willing to permanently shift to remote work setup.
Remote graphic designers help businesses to create a brand impression and express an idea through designs. They commonly collaborate with all other types of artists to bring visual concepts to life. Samples of their output include posters, magazines, advertisements, billboards, brochures, the digital materials you see on social media, and many more. 
Why Do You Need Remote Graphic Artists for Your Business?
One of the first things that decision-makers consider before making a verdict is the value they'll get from something. When deciding whether or not to get a team of graphic designers, here are some of the most important things you need to know:
1. Give Consumers a Hint
Designs give consumers a hint about your products and services. Take a moment to look around you. Notice every design detail you see on the magazine cover, a bottle of soda, a pack of crackers, or even in the clothing you wear. Each of them has the goal to communicate. Just by looking at the packaging of a product already gives you a hint of what it is and whether or not you'll like it.
2. Get Insights from the Professionals
First impressions matter, right? Graphic Designers are knowledgeable about what each color, shape, picture, font, and texture represents. They can positively influence your target audience's impression of your brand through these elements. For example, Blue in business represents trust, honesty, and dependability, which is why many businesses use this color for their logo.
3. Consistency is Credibility
Consistency looks professional, plus it helps ensure that your intended message is being communicated efficiently. A lack of consistency in design doesn't only result in messy compositions, but also leaves your audience confused. To create credibility in terms of design, you definitely need a graphic designer. 
4. Creativity Can Bring You On Top of the Competition
If you truly want to be ahead of your competition, you've got to be creative. Create content that would help and guide your audience. It will only be possible with the help of a professional designer. They can clearly present your message and idea to your audience. Moreover, some people are visuals. They would understand the message more through visual materials.
5. A Remote Team Has Many Benefits
 A remote team offers many advantages. It includes allowing you to work with a diverse group that could bring a unique set of skills to the table. Plus, if you're looking to save on operational costs, a remote graphic designer is the answer! Hiring a remote team eliminates office expenses, which is the biggest operating expense of businesses. Also, it gives your people more time for themselves. 
How to Build a Remote Work Team of Graphic Designers
When planning to start your remote graphic design team, here are the options you got to build a successful crew:
1. In-House Staffing
In-house staffing proceeds through a step-by-step process. In this hiring practice, companies reach a pool of candidates through job postings, job referrals, advertisements, and eventually hiring the most qualified candidates for your remote graphic design team.
In-house staffing has its fair share of benefits, but can often be a hassle and financially demanding. With an in-house staff, you need hands-on efforts to take good care of your people. Plus, companies would have to offer a competitive salary, room for growth, and other in-office perks to keep employees motivated for future projects and help the company in all ways. 
2. Staff Leasing Services
However, for many companies, there is a faster and more cost-effective way of hiring employees remotely, and that solution is using a Global Professional Employer Organization (Global PEO) or a Staff Leasing Service Provider.
While services offered by PEOs or Staff Leasing service companies can vary between providers, services often include payroll processing, onboarding, recruitment, benefits management, IT and HR solutions. At Booth & Partners, our Staff Leasing service model allows you to retain full operational control over your team of graphic artists. You will be the one to manage and give directives to them while we, the outsourcing service provider, will back you up in terms of providing regular reports, and taking care of non-core business activities. 
When you choose to build your remote graphic design team through Staff Leasing, you have 3 Staff Leasing models to choose from depending on your business requirements:
Remote Work

– When you need a highly-skilled full remote team.

Dedicated Office Space

– When you need office-based employees.

FlexiPlace

– When you want a mix of remote and office-based work setup.
3. Managed Services
Most commonly known as the "fully managed" or the "traditional" outsourced staffing solution, Managed Services allow you to outsource a business function. 
If you need 3D designers for example, and you chose to build a team through this outsourcing option, you will be the one to identify the KPIs and SLAs of the team while the service provider will oversee the day-to-day operations. It only means that you have less work on your hands. You don't need to worry about your team as your outsourcing partner will take care of almost everything, hence it's called "fully managed".
When choosing between these staffing solutions, it is important to evaluate first the need of your organization to scale up. Otherwise, neither of these outsourcing options nor the in-house staffing solution will ever work.
How to Manage Your Work-from-home Team of Graphic Artists
Once you have established a team of remote graphic designers, the next step is to know how to effectively manage them. 
Managing a remote work department presents some unique challenges and it's time you learn how to manage, grow, and equip them to become more successful at their remote graphic design position. Here are some best practices you can use to inspire creativity, productivity, and teamwork:
1. Use the Right Tools
Graphic Designers, especially those that are working remotely, rely heavily on digital and cloud-based tools. Without the proper equipment and tools, they wouldn't be able to work. That's how important these apps and software are for remote graphic design teams. 
For things to run smoothly within your team, leveraging unified tools is necessary. Establish a set of remote work tools for project and people management, communications, and collaborative design. 
Some remote work tools you may use are the following:
Slack

– For team communication and collaboration

Zoom

– For video conferencing

Trello

– For project management

Monday.com

– For project management

Google Drive

– For file sharing and collaboration

Adobe Photoshop

– Raster graphics editor software

Adobe Illustrator

– Vector graphics editor software, and many more.
To pick the right tools and make sure that everyone is comfortable with them, ask for the team's input. It would also help to research the tools that could give you a better experience. It's better to use something that the members are already familiar with to get everyone on the same page. You wouldn't want to have an issue with the file format from time to time as a result of having half of your team use Photoshop while others are working through Illustrator.
Whether it's a file, a message, or task management, a standardized format and platform will help you run the team easier. 
2. Set Goals and Deadlines
It's important in a remote work setup to align with your group and be clear with your goals. To do this, setting a reasonable deadline for every task and explaining to everyone the importance of having deadlines and setting goals is necessary. It could help increase your team's focus, productivity, and efficiency. 
3. Encourage the Team to Provide Progress Report
Asking each and everyone in your department from time to time to give you the status of every project could be daunting and time-consuming. 
One of the best ways to do it is to set a standardized format and schedule in which each team member will send you a progress report of all the projects they're handling. This way, there's no need for you to get it from them, instead, they'll automatically send it to you.
Another efficient technique to do this is through a project management tool. There are apps, software, and websites that allow you to provide a simple report through different formats depending on your preference. Trello, for instance, helps you list down all the tasks and categorize them based on status. You can even attach a file for the concerned members to see and check the project. 
4. Provide Helpful and Informative Workshops 
Whenever you hear the word "Workshop", you'll immediately think of something engaging and interactive, right? An event with lots of new and helpful information, knowledge, and skills to get.
Remote graphic designers know how important workshops are in their role as they're aware that in their field, everything is dynamic. There will always be new apps and software to use as well as updates to the existing tools. This is why providing training sessions to your team at least every quarter can help them improve and be up-to-date with what's latest in their job.
And since the graphic design industry is continuously changing for the better, it would be helpful for both sides if you encourage the team to be adaptable. 
5. Enable Communication and Collaboration
Communication can be one of the trickiest parts of a remote work setup. There will be times when one isn't responding or it takes them time before receiving your message. Dealing with it could be a challenge. One way to be synchronized with your remote graphic artists is to set a clear goal when it comes to communication. Always remind them to keep their lines active during work hours. This can help your team have smoother and faster processes, eliminating the wait time.
But take note that your communication shouldn't only be bound to work-related topics, casual chats have something that can make the team closer and help build a better relationship. 
To break out the chat, initiate a conversation. Ask the team about how their weekend went, their opinion on random topics, or send a meme you saw while browsing your social media feed. These simple actions could create better harmony in a remote graphic design team.
6. Get the Team Involved in the Decisions
Just like any other department in a company, graphic designers also have specific needs, and every decision you make can affect them. Understanding each member of your remote graphic design team as well as the entire workflow is important to make the best decisions for your group. 
That's why it's best to keep them in the loop. Set up a virtual meeting with them to share the decision you're about to make and ask for their insights. 
It could lead you to the most ideal decisions for the whole team and keep everyone productive and efficient in the next days, weeks, or months to come.
7. Navigating Creative Blocks
Believe it or not, even the most passionate and most professional creative people experience burnout blues and creative blocks. 
In remote graphic design work, it takes a certain amount of creativity to come up with ideas great for a project. But what happens when a graphic designer starts to feel creative block? How can you virtually help them get back to their feet? 
One thing you should understand is that you can't force creativity. The more you push and stress yourself, the more time you'll waste thinking about that one great idea. 
Giving them some time to rest and somehow refresh their minds can get their creative juices flowing again. Encourage them to do something free from screens, something they love outside their remote graphics design career, or do some virtual team-building exercises.
Another thing is you can hop on a virtual meeting and help them brainstorm ideas for the project and share tips to inspire creativity. 
8. Encouraging Teamwork
Whether you're working virtually or not, teamwork will always be a vital part of the equation in any group. However, it's more challenging to observe this when you have an online remote graphic design team. 
Encourage your department to work as a team by building an environment where they can thrive despite working remotely. Inspire the spirit of being at each other's side and backing one another, especially in tasks. This will take you towards the best team you'll ever have, one that can stand independently even when you're not around. 
9. Give the Right Projects to the Right People
Not all graphic designers are created equal. They all have their own strengths and weaknesses. Some artists are good at creating artworks for advertisements some are for infographics, some love abstract, and many more. Plus, they all have different skillsets and preferences, which you should know when you're handling a remote graphic design team. 
Understanding the strengths and weaknesses of each team member allows you to determine who is the ideal person for a specific project. Try to distribute the tasks based on who you think would be the best fit for it. It's always better to have the person interested to do the work rather than push it to someone who has a different interest. It could help you both bring out the best in them and get the best artwork you could ever have. 
In Conclusion
In building a team of creatives, properly choosing the best staffing solution fit for your business requirements will create a big difference in the result. Once you have built your team, it needs the right organization, tools, goals, policies, and direction to reach its targets, and it can be extra challenging in a remote environment, but that doesn't mean that the quality of work should suffer.
Take the time to lead a remote graphic design team with the tips we have enumerated above. These are just some of the strategies you could do to effectively build and manage your remote creative team for improved team-wide collaboration. 
Start setting your team today towards their best work yet and lead them to thrive in creative, collaborative, and visual settings so you can move towards a strategy for success.
How to Find the Best Remote Graphic Designers
Your journey to finding the best remote graphic design team begins today! If you're looking for a reliable outsourcing company, you're at the right place! At Booth & Partners, we always make sure to get candidates tailor-fit to business culture and requirements. With our Staff Leasing and Managed Services, we will help you find the best remote graphic design team that could help achieve your goals and scale your business. Get in touch with us today to know more about our services. 
Discover more about outsourcing and
how you can maximize it for your
business success!
Get a copy of our E-book: Guide to Outsourcing.
DOWNLOAD NOW