Elevating Business Efficiency: Booth & Partners Named Among Top Virtual Assistants of 2023 by Clutch

Virtual assistants are paramount for businesses, offering efficiency by managing administrative tasks and allowing business owners to focus on what truly matters—their core responsibilities. These versatile digital allies provide a range of benefits, from managing costs through their performance-based payment model to adapting seamlessly to varying workloads. Their skill set spans tasks from everyday administration to specialized areas, bringing a multifaceted solution. With the added advantage of remote work, overhead costs are reduced, and their availability around the clock ensures consistent support.
Elevating Efficiency Through Strategic Partnership
Partnering with a virtual assistant service provider offers a host of advantages. At Booth & Partners, our team provides tailored outsourcing solutions to businesses of all sizes across diverse industries. Our Talent Solutions and Managed Solutions yield outstanding results while minimizing operational expenses. We have the expertise to optimize your processes.
Clutch has recently acknowledged our dedication to excellence. We are ecstatic to share this remarkable achievement with our community. This recognition speaks volumes about our commitment to delivering top-notch outsourcing services to our clients and the broader market. It serves as a testament to the extraordinary efforts put forth by our incredible team.
Empowering Businesses
Clutch is a prominent platform in the heart of Washington, DC, with a clear mission—to assist small, mid-market, and enterprise businesses in identifying and connect with the service providers necessary to achieve their objectives. With its established presence, Clutch bridges the gap between companies and service providers, facilitating crucial connections that drive success.
We extend our gratitude to Clutch, its dedicated team, and every individual who contributed to making this recognition possible. Your acknowledgment of our contribution to the industry is genuinely appreciated. To mark this achievement, we want to highlight one of our favorite reviews from our Clutch profile that encapsulates the value we bring to our partners: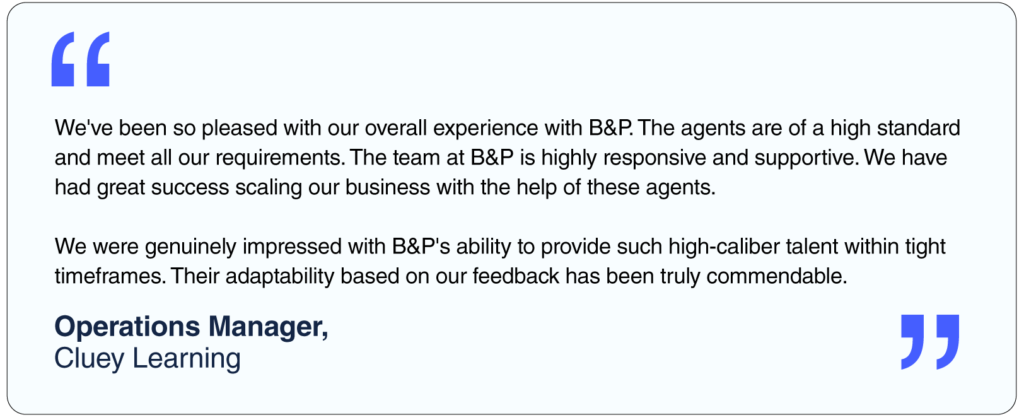 Your Journey Forward

Tell us about your workforce and the staff you need to outsource. Our tailored solutions are designed to propel your business toward growth and efficiency. Get in touch with us, and we'll provide you with a customized quote that aligns with your unique requirements. Your success story starts here.
Discover more about outsourcing and
how you can maximize it for your
business success!
Get a copy of our E-book: Guide to Outsourcing.
DOWNLOAD NOW