How the Outsourcing Industry is Adapting to the New Normal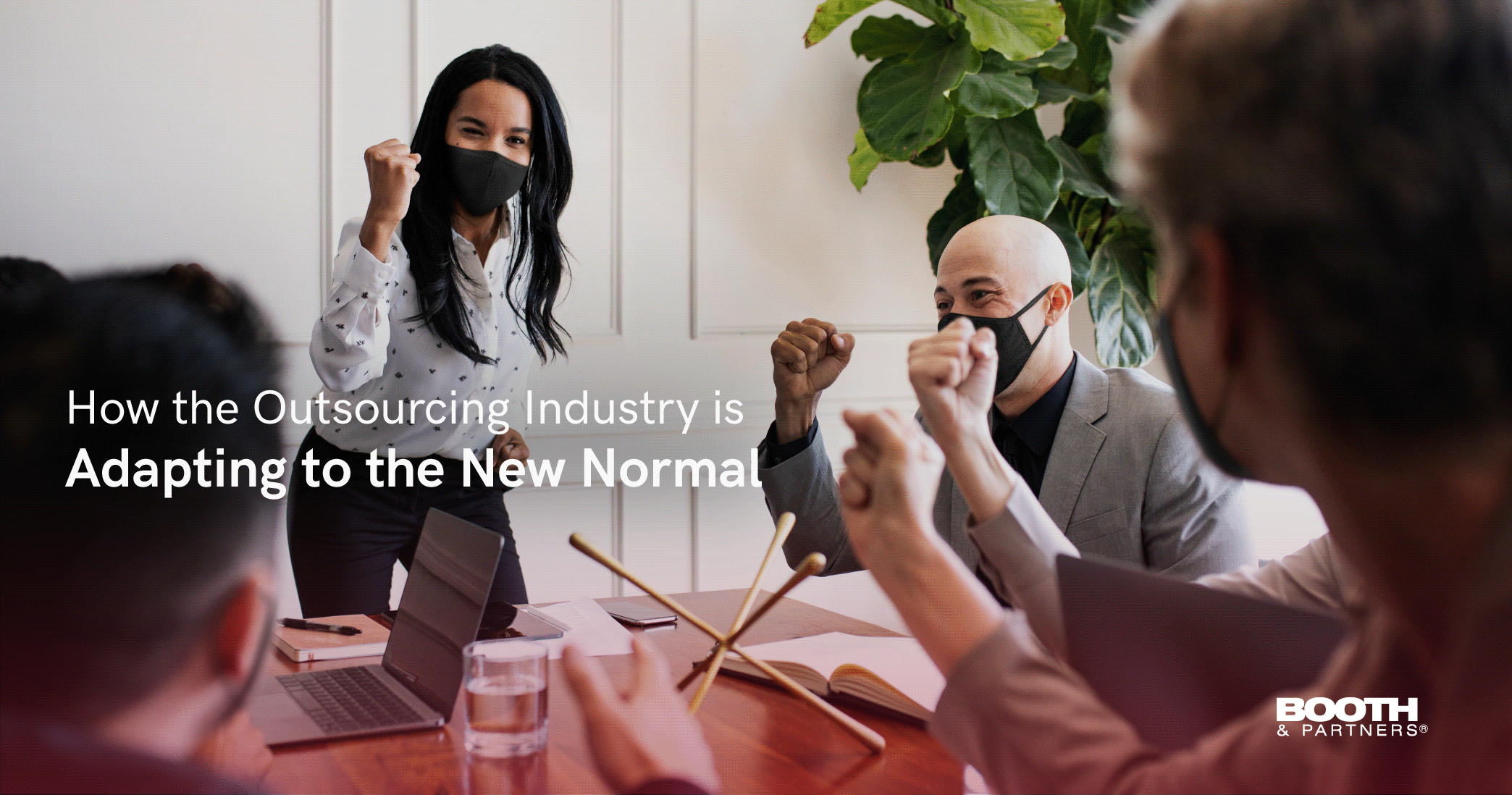 Due to the COVID-19 pandemic, the global economy plummeted by 5.2% — the deepest recession ever since the Second World War. No market in the world was spared. Like any other industry, the 187-billion-dollar outsourcing industry had to scramble for solutions to stay afloat when the pandemic hit. And now that the world economy is starting to gradually recover, we'll examine how the outsourcing industry has adapted and continues to adapt to the new normal.
Different Outsourcing Markets Experienced Different Effects
Most — if not all —businesses suffered when lockdowns were imposed around the world, but not all of these experiences are equal. In the outsourcing industry alone, traditional outsourcing was hit relatively harder than business process outsourcing (BPO).
Traditional outsourcing is the type of outsourcing done for production and manufacturing. When the pandemic hit, the supply chain was interrupted and some companies had to shut down due to lockdowns. Automotive manufacturers and tech companies faced challenges in ordering components. There is even an ongoing global shortage of semiconductors that caused some of the biggest auto companies to pause or slow down production at their factories.
On the other hand, the BPO industry worked through the pandemic. It was hit hard in the second quarter of 2020 when it saw a 16% decline in managed services. But due to an accelerated drive towards digitalization and reducing operational costs, many companies are choosing to outsource their business processes. In turn, experts claim that this will significantly boost the BPO market in the coming years.
The Challenges Faced by the BPO Industry
An optimistic forecast does not mean that the BPO industry has no hurdles to overcome. At the onset of the pandemic, BPO companies found themselves facing a number of challenges, especially the following:
1. No one was prepared for a pandemic
Business Continuity Planning (BCP) is a common practice in the BPO industry. But before the pandemic, most of the disruptions that these plans took into account were related to natural disasters, such as storms, fires, and earthquakes. No one was prepared for a global pandemic. As a result, organizations had to quickly implement work-from-home (WFH) arrangements as part of their BCP when governments imposed quarantine regulations.
2. Declining employee performance
The abrupt changes to their work arrangements and environments were rattling for a lot of BPO employees. Even though experts claim that remote work improves employee productivity, the onset of the pandemic made this difficult to prove, and it even hampered employee performance. Access to the right tools and technology was hindered by many. The pandemic also dealt a huge blow to people's lifestyles and brought anxiety to everyone. These, along with the need to adjust to their new situations, are factors that contributed to a decline in employee performance.
3. The global economic recession
The global recession following the pandemic sank the economies of developed countries, and the developing nations had it even worse. This is especially concerning for the BPO industry, as the biggest global outsourcing hubs are located in developing countries like the Philippines and India. By May 2020 in the Philippines — two months after the government imposed lockdown regulations — 37.7% or almost four out of ten BPO employees were placed in "floating" or "no-work-no-pay" status.
Despite these challenges, the BPO industry picked itself up and now continues to thrive in the New Normal. BPO companies were able to adapt to the current situation by altering their operations.
Remote Work and Remote Hiring
Reports claim that BPO companies are particularly vulnerable to COVID-19 outbreaks. Common areas, shared desks and equipment, and seats being close to each other are avenues for cross-contamination. However, these are common and sometimes unavoidable in BPO workspaces.
As such, many BPO companies chose to do everything remotely, including recruitment and their core activities. They adjusted their systems and technology to allow for remote operations, with some companies shipping equipment to the homes of their workers. For employees who cannot work from home (e.g. due to poor or no internet connection, not enough space, etc.), companies like Booth & Partners began to offer hybrid work arrangements. And many employers are looking into implementing remote and hybrid work arrangements permanently even after the pandemic.
Driving Digitalization
The pandemic has highlighted the need for digitalization and accelerated digital transformation. Although the outsourcing industry was already in touch with technology and digitalization before the pandemic, they still had some adjustments to make to keep up with the new normal.
Internally, BPO companies had to digitize their monitoring, evaluation, and training processes. And externally, they had to further optimize their business offerings, such as investing in technology-enabled, platform-based services. This move towards digitalization allows outsourcing service providers to improve various aspects of their business, such as resources management, business agility, and disaster recovery.
Data Security is More Important than Ever
Now that the world has moved further into digitalization, companies are managing more data and so data security is more crucial than ever. However, this has become harder to implement during the pandemic, with quarantine restrictions and employees working from home. In fact, a study by Tessian found that 47% of their respondents fall for phishing scams while working from home.
Data security has always been important to the outsourcing industry. And many BPO companies are strengthening their data security measures to adapt to the new normal. This entails enriching their internal IT support to efficiently assist remote workers, as well as implementing new security systems and protocols that extend to employees who are working from home.
How Outsourcing Can Help Your Business Adapt to the New Normal
The ways that the outsourcing industry adapts to the new normal can also be applied to other businesses. To thrive in the new normal, other industries also need to implement remote operations, keep up with digitalization, and strengthen their data security. And to do all these successfully, you will need all the support that you can gather.
Outsourcing can help your business adapt to the normal efficiently. With the right outsourcing partner, you can achieve the following:
Operational efficiency:

outsourcing reduces operational costs while improving the efficiency of your business. It gives you a team of dedicated experts who can quickly deliver high-quality results.
Instant access to expert talent:

you will not spend a lot of resources in hiring and training expert talent. Your outsourced team will be already equipped with the right tools and equipment, as well.
Greater agility:

outsourcing service providers equip their teams with the best technology and systems, and they make sure that they are up-to-date with the latest innovations. This allows your business to consistently keep up with trends.
A wider reach:

this is especially true for

offshore outsourcing

, as it lets you safely explore other markets and extend your brand to new territories.
Focus on the things that matter:

since you are letting a third party handle some of your business processes, you will have more time to focus on more important things. This can help you streamline your overall operations, improve your products and services, or simply boost your work-life balance.
A Partner through Thick and Thin
Looking for the best support in adapting to the new normal? Booth & Partners is here for you. We are an outsourcing service provider based in the Philippines that specializes in Staff Leasing and Managed Services. We strive to support businesses of different sizes and industries, wherever they are in the world. And we pride ourselves on ensuring the safety and security of both our clients and our team during the COVID-19 pandemic.
We have a Business Continuity Program in place for fully Managed Services and being offered as well to Staff Leasing services. In case of disasters or catastrophes, secondary sites are available to cater to identified key personnel. A call tree is defined that will allow the associates to escalate emergency situations up to the BCP Committee. The BCP Committee will decide on the next course of action based on the BCP document and procedure, and an Emergency Response Team is available to respond for immediate assistance. We will open communication channels to inform clients that a disaster has occurred and the BCP was triggered and update them for any progress.
When you partner with us, we will make sure that your business flourishes in the New Normal. You will be able to closely monitor and retain control over your outsourced staff. We will work with you every step of the way to guarantee that your team is always optimized, and can deliver the best results for your business.
Get in touch with us today to learn more about our services!
Discover more about outsourcing and
how you can maximize it for your
business success!
Get a copy of our E-book: Guide to Outsourcing.
DOWNLOAD NOW