Learning to Lead: Why Leadership Training Can Help Your Career Growth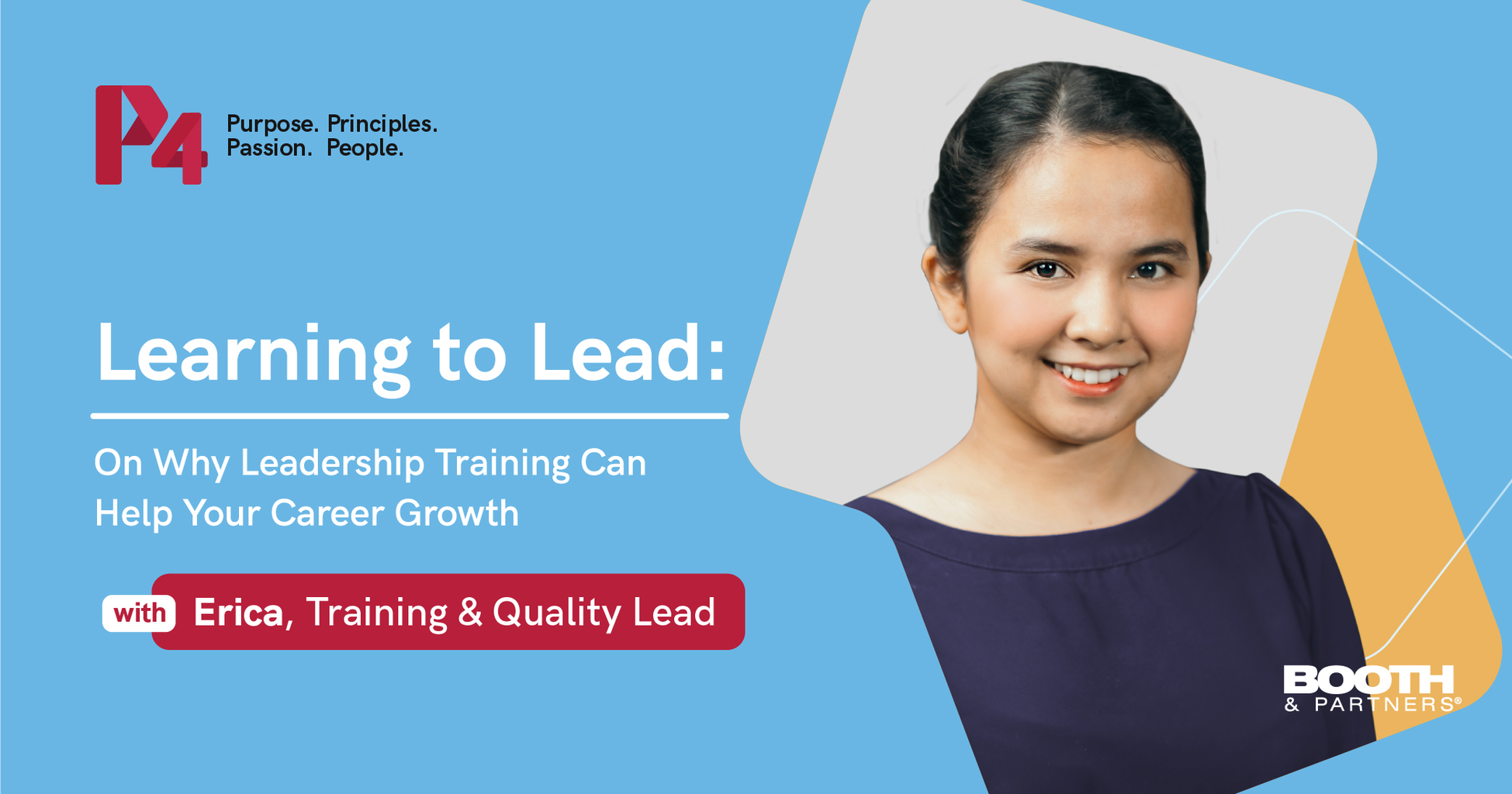 All professionals have the goal to move up within their organization and be the leaders of their own team. But with great leadership comes great responsibility. Some people seem to be born knowing how to lead, but for some, it doesn't come naturally. Fortunately, leadership is something that one can acquire and practice, and it's normal to think whether leadership training could be beneficial to your career.
In this article, we will hear it from Erica, our Training & Quality Lead, as she talks about how training to lead has been crucial to her career growth. 
Training to Lead
Leadership is more than just understanding people or encouraging them to do their daily tasks. It is about mapping out the path you should take to win as a team. An effective leader sets a clear direction, builds an inspiring vision, and creates innovative strategies that could help the team achieve its goals.
"Leaders are made, not born," says Ethan Bernstein, a Professor at Harvard Business School. This is why training to lead is crucial to career development. It provides you with 3 important benefits:
Assess your effectiveness as a leader by helping you understand your current abilities and how you can develop them.

Learn important leadership theories and skills and put them into practice in a collaborative setting.

Get genuine feedback from experienced leaders.
At Booth & Partners, we believe that anyone can be a great leader when they are given the opportunity and the platform to grow. That's why we encourage our employees to grow and develop their careers. We help them innovate, transform, and evolve through leadership programs that set out to nurture their personal growth, skill-building, feedback, and conceptual awareness. 
To enable our leaders to gain more relevant knowledge, skills, and experience in and out of their current job position, we launched our very own leadership program called P4 Leadership Program. Members of our tribe are given the opportunity to take part in our leadership programs like this and we make sure they are well-supported and are set up for success.
What is the P4 Leadership Training Program?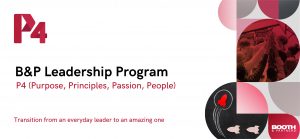 P4 Leadership Program focuses on the 4 Ps of leadership: Purpose, Principles, People, and Passion. It is designed for all supervisors and leaders wishing to improve their skills in leading teams and improving processes. 
In order to teach leadership, you need a company culture that is open, honest, and innovative. The program helps our employees understand our company's core business and culture as well as the internal processes that relate to People Management. In addition, allows our employees to learn the art of management, as well as key principles of leadership, led from a variety of notable leaders and resource material. It is based upon Mentoring and Action learning principles. 
This style of learning leverages the power of "learning while doing" and requires a great deal of open-mindedness as well as commitment and strategic teamwork between the participant and their Mentor.
Erica De Guzman's P4 Leadership Training Experience
Being a Team Leader, Erica felt that having the right foundation in leadership is something that she owes to her team, which inspired her to enroll in the P4 Leadership Program. "The part I truly looked forward to was working with co-leaders and mentors. I was excited to hear stories, experiences, and best practices," she said. 
She learned about the training through her former supervisor, who was one of the brains of the leadership program. Erica immediately signed up through the email campaign sent by the company to encourage employees, especially leaders to join. 
Taking the First Step
Her role in Booth & Partners entails a lot of feedback giving, coaching, talking to different kinds of people, collaborating with other departments; basically just working with and through people. 
Erica originally enrolled in the P4 program in 2019. She was a newly promoted team leader at the time. There were bigger shoes to fill which meant there were opportunities but it also had its own set of challenges. With her new position being a leader, Erica acknowledged the need to understand the role of a leader, the tasks involved, and what it takes to be a good leader. 
In 2020, she enrolled again, and it took her 3 months to finish the entire workbook and was certified shortly after. She shared, "It was honestly a daunting experience and the exercises were rigorous, but it is fulfilling to see how much I have learned through the process."
Many associates have spent their entire tenure in a single business function and often within the same department. This program will be their stepping stone into leadership and help them progress to a Senior or SME position. 
The program is meant to educate the participant with the knowledge gaps that come from the lack of understanding of the purpose of other business functions and how all of the pieces fit together to achieve organizational success. You get to do activities that are focused on understanding each department's role, how they contribute to the bigger picture, and how everyone functions. It teaches you so much about humility, accountability, and integrity. According to her, these things are important to both her personal and professional life.
Unlike other leadership programs, P4 does not just rely on modules focused on leadership theories. It has a lot of hands-on activities that will help a leader understand what his role is about. "I personally think that P4 is a manifestation of our niche "right people, right solutions," she said. We want to have not just the best but the right kind of leaders for our tribe, our clients, and our stakeholders.
The biggest challenge she had to deal with while taking the P4 Leadership Program was time management. While on the program, Erica still had to do the day-to-day, monitoring her team, doing administrative work, and managing her own projects. The technique she did to properly handle it all was strategically scheduling her time and using it wisely.
Key Takeaways from the P4 Leadership Training
Because of P4, Erica gained efficient techniques and practices from other co-leaders and mentors and also developed new and interesting insights on leadership:
How you can effectively deal with people from diverse backgrounds

How to build lasting work relationships

How to work with people's strengths and your own strengths, and many more. 
It genuinely helped her understand her own leadership style and strategies.
Moreover, the Gallup test allowed her to see her strengths. The activities in the workbook helped strengthen her great leadership qualities. But the most important thing according to her, "I learned to be self-aware and to be grounded with humility. Leadership is not about being better than everyone else, it's about how we can all be better together." 
Her tip to employees planning to take the P4 Leadership Program:
"Having to reach out to different team leaders and members of different teams, adjusting to their availability, asking for feedback, raising questions, being willing to learn from others regardless of rank and position—all these will teach you to be humble in your role. Whatever you think you've already achieved in your career, it is still with humility that you can be effective in leading and empowering your team. It holds you accountable and helps you gain the trust of your people.
Learn as much as you can from other leaders and managers, ask questions and trust your mentor. Most importantly, dedicate time to it. You will only be able to appreciate all the learnings if you know that you did not rush the activities and you've allowed yourself to digest every single thing that you will pick up from the program."
What's Your Leadership Roadmap?
All of us have the potential to become great leaders. You just have to put it in the work to grow and create your own roadmap. Anyone can be trained to manage, but only a few succeed in becoming truly effective leaders. 
Are you an aspiring leader looking to be a part of a company that will allow you to learn a unique leadership approach? If so, apply now and tackle today's complex challenges with the help of our P4 Leadership training!
Read: How to Prepare for and Ace Your Remote Job Interview
If you are an entrepreneur or a decision-maker looking for a reliable offshoring service provider, Booth & Partners can be your outsourcing partner. We offer tailored and cost-efficient outsourcing services. Plus, our employees go through timely and extensive training sessions and seminars that will surely help your business grow. Get in touch with us today to learn more about our service offerings.