What is Healthcare BPO and Why Should You Outsource It?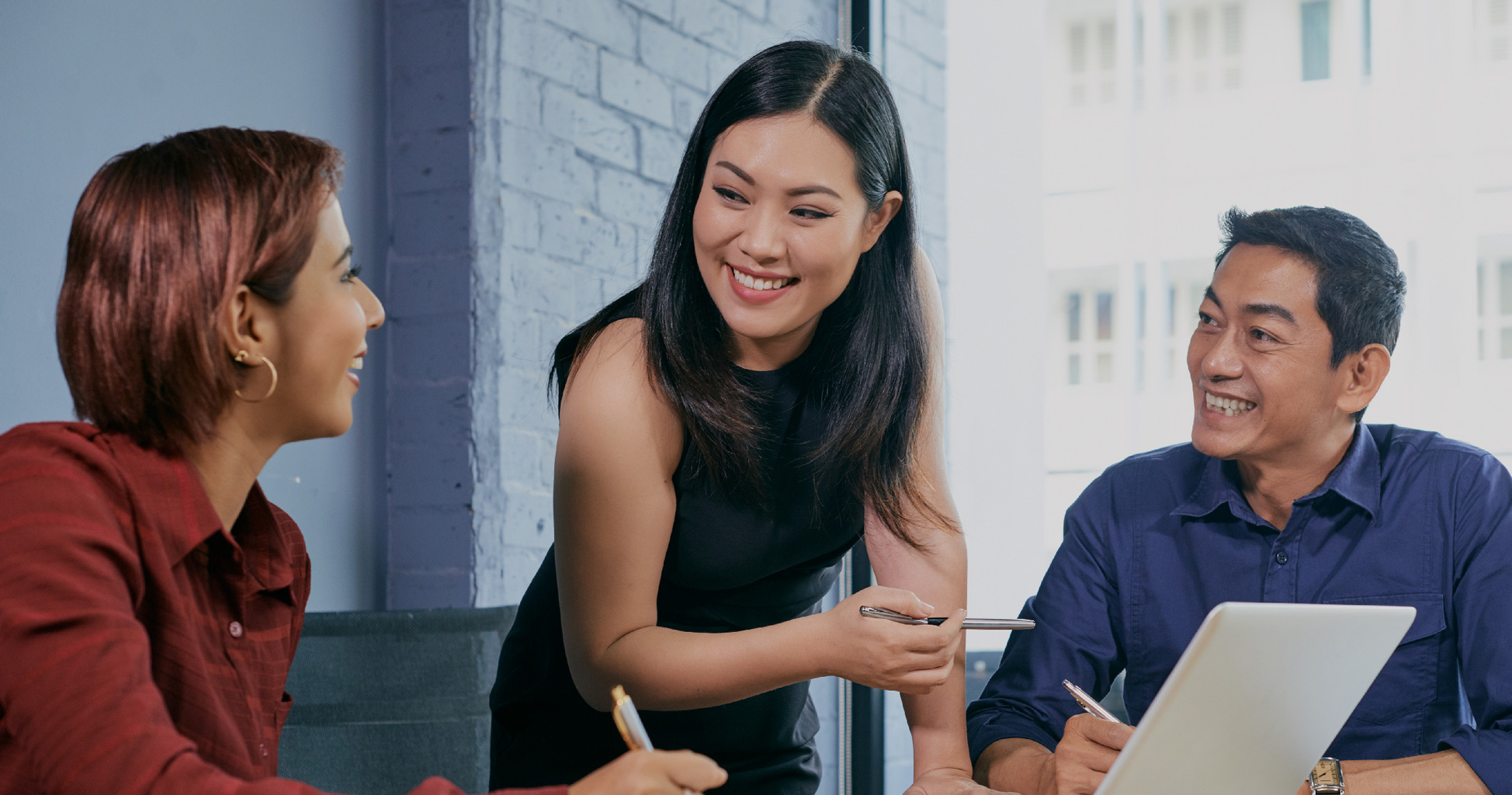 Sustaining a healthcare organization is a balancing act — you need to provide quality patient care while minimizing costs to remain operational. A good way to achieve it is through a business activity called healthcare BPO. Through this, you can cut down on overhead costs without sacrificing service quality.
What is Healthcare BPO?

Healthcare BPO Services You Can Outsource

Why Outsource?

Benefits of Outsourcing Your Healthcare

When is it Ideal to Outsource Back Office Healthcare Services?

How Much Do Outsourced Healthcare Services Cost? 

Common Challenges in Healthcare Outsourcing and How to Solve Them

The Non-negotiables: What to Look for in a Healthcare Service Provider?

Conduct Your Due Diligence

Your Trusted Healthcare Provider
What is Healthcare BPO?
Healthcare business process outsourcing, or healthcare BPO, is the process of hiring an external service provider to handle some of your clinical or non-clinical tasks.
One of the immediate effects of healthcare outsourcing is the freed-up time for your in-house medical workers. This means they can focus more on the actual patient care and less on administrative duties. 
Healthcare BPO Services You Can Outsource
There are various kinds of services under healthcare BPO, which are often classified as clinical and non-clinical. To determine what you need to outsource, it's critical to conduct a needs assessment. This way, you can have more confidence that you're making the right investment decisions.
A word of advice: Begin with areas where you have little to no expertise (non-clinical tasks), then keep your specializations in-house. Always keep in mind that your patients' health comes above everything. Outsourcing is meant to supplement your existing services and fill in the gaps in your operations.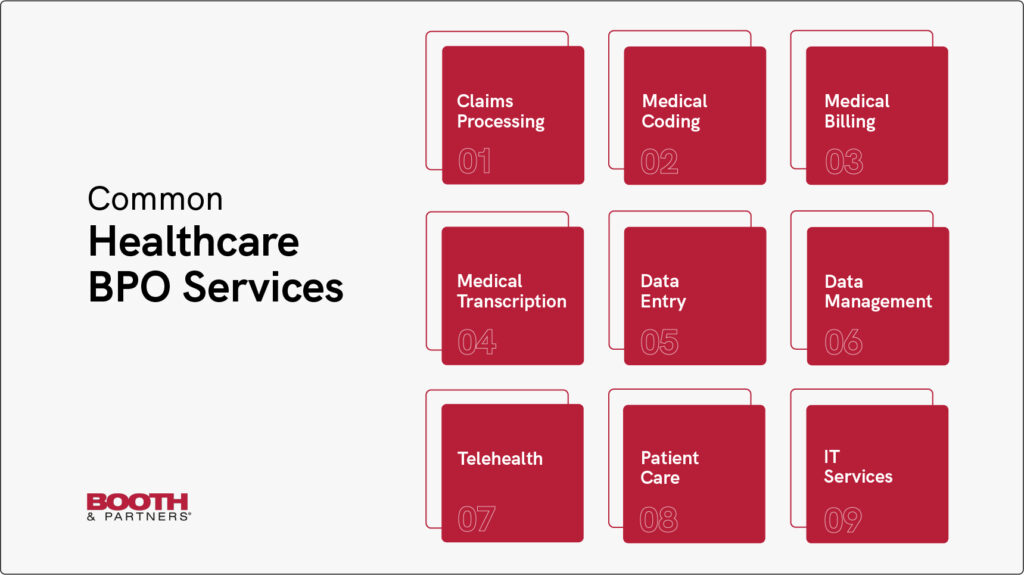 Here are the most common services under healthcare BPO outsourcing:
1. Claims Processing
Healthcare BPO companies with a background in revenue cycle management and technological capabilities can help increase your success rate. Automating the administrative side of this service, particularly with data entry, also lets you become more efficient and accurate. The lesser the data entry errors are, the higher the chances it will get approved, which means higher revenue for your facility.
2. Medical Coding
With outsourcing, you can work with quality employees who are well-versed in translating medical reports into universal medical alphanumeric codes. Backed with their knowledge in computer software and system literacy, outsourced medical coders also oversee the systematic coordination of different data to various sources.
3. Medical Transcription
Medical transcription is more challenging than it sounds. While it seems like a simple task of transcribing audio files into text formats, if you're not familiar with medical lingos, you can have a hard time deciphering what the doctor said.
This activity can be too intensive and time-consuming, explaining why you're better off outsourcing it to professional medical transcribers.
At the very least, you should choose an outsourcing company with HIPAA compliance to guarantee the confidentiality of your patients' data.
4. Data Management
Data management includes services like data processing, data entry, data mining, data cleansing, data conversion, and product information management.
A healthcare service provider like Booth and Partners can help you automate these processes so you can avoid errors that may lead to inaccurate decisions — both for your decision-makers and healthcare practitioners.
5. Telehealth 
Telehealth services gained popularity during the pandemic. Because people can't go outside due to lockdowns and going to hospitals was risky at the time, telehealth became an acceptable practice of receiving basic and non-clinical healthcare.
Even if restrictions ease, telehealth will stay an important healthcare option. In a report from the Insider Intelligence, 83% of millennials (25-40 years old) and 73% of Gen Zs (18-24), and over half of Gen Xers and baby boomers said they will continue using this service due to its innate convenience.
Outsourcing telehealth services will give your doctors time to focus on in-patients while your remote staff addresses basic healthcare concerns.
6. Patient Care
Much like how meaningful customer experiences can leave a positive impact on a business's bottom line, a good patient experience can also improve your cash flow and image.
Outsourcing a portion of your patient care, such as your facility's call center for timely responses, can be a huge boost to your performance. In fact, 68% of healthcare consumers expect organizations to engage with them in real-time.
The call for immediacy is getting stronger. To stand out from your competition, you must capitalize on it by letting a specialized service provider connections to your market through omnichannel.
7. IT Services
Running your facility's operations on legacy systems is a bane to providing modern healthcare service. Aside from slow-moving processes, it also restricts you from providing an outstanding patient experience. Moreover, outdated systems can be a risk to your data security.
If you're experiencing difficulties in embracing digital transformation initiatives due to a lack of expertise, in-house IT experts, and budget to meet today's salary expectations, you may want to explore IT outsourcing services.
By outsourcing to an offshore location, you can work with skilled IT professionals at almost half the price. 
Why Outsource?
In 2020, 19 hospitals closed down in Georgia. A year later, seven hospitals across seven states in the U.S. had also taken their final bow. What's common between these two separate occurrences? 
The answer is financial uncertainty; hospitals don't make enough profits to cover their operational costs. Add to this the increasing costs in labor expenses due to workforce shortages.
Aside from financial concerns, here are the other reasons why you should consider healthcare BPO outsourcing as a strategy to improve your service:
1. Patients' Expectations of Healthcare are Changing
We are in the era of accessibility and convenience. Even in healthcare, people — especially millennials and Gen Zs, show strong interest in technology-driven healthcare.
However, 47% of consumers believe healthcare and life sciences are more focused on industry needs than patient needs.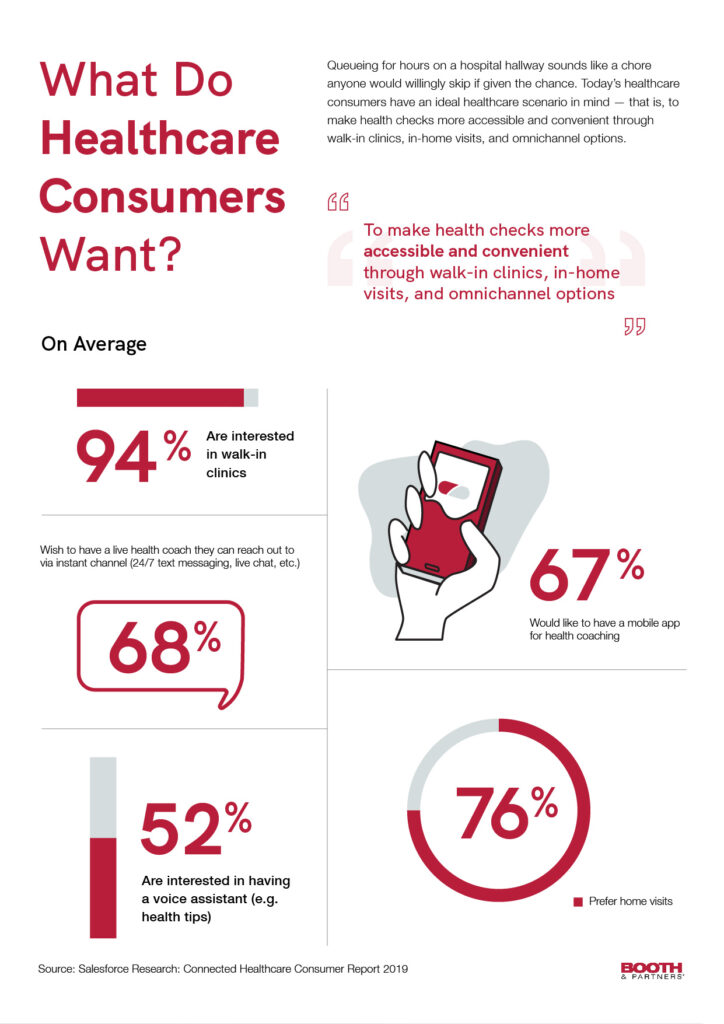 As the infographic above shows, remote access through omnichannel options is an increasing preference among healthcare consumers. A cost-effective way to meet this expectation is by outsourcing your customer service to a specialized healthcare BPO to ensure you're delivering quality care to your remote patients.
2. Fierce Competition for Top Talents
Staff shortages emerge as the biggest challenge for healthcare finance leaders, according to a survey of 400 healthcare financial leaders. 71% of survey participants said the competition for top talent has a negative impact on their operations.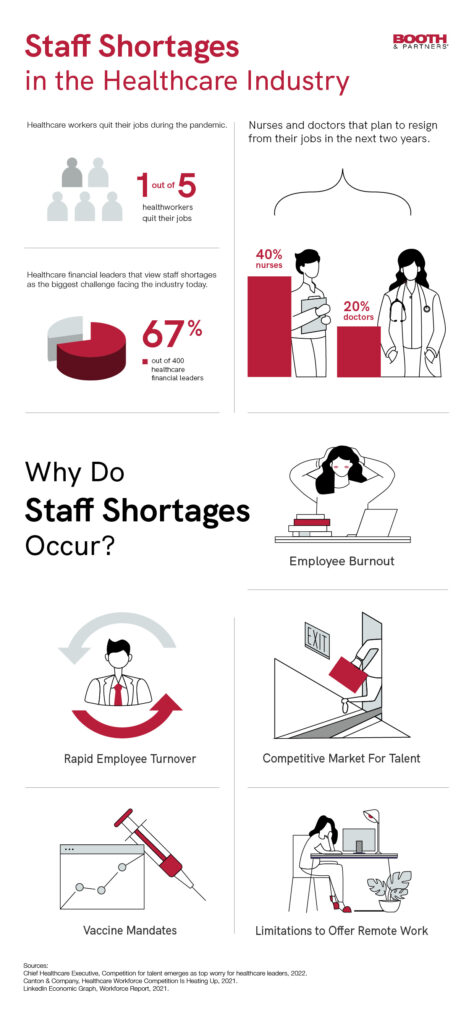 Meanwhile, a 2021 LinkedIn Workforce Report shows that the industry has a 54.5% year-to-year job growth. The demand for healthcare workers is ever-increasing. The question is, how can you fill in the job vacancies in your facility?
Again, outsourcing can be a viable option. This business model allows healthcare workers to work remotely. This arrangement can be favorable to professionals who have walked away from the industry due to excessive stress and employee burnout.
By allowing licensed medical professionals to work remotely, there's a chance that you can fill in the employment gaps in your organization in no time.
3. Paperwork and Other Admin Duties are Time-Consuming
Tending to paperwork is good; it's a necessary requirement to gather, store, and analyze pertinent records. However, every time lost to these admin duties is also a time lost in delivering better patient care. 
Since the majority of healthcare BPO services deal with admin tasks, it's time to consider letting go of these time-eaters so you can focus more on your actual duties.
Benefits of Outsourcing Your Healthcare
Is healthcare outsourcing just a fad? Its potential benefits say otherwise. Take a look at the positive impacts it can bring to your organization.
1. Save Costs 
With the right outsourcing partner, you can save as much as 70% on your operating costs. Aside from the lower labor costs, you also don't need to spend on additional offices and equipment.
Try our Outsourcing Savings Calculator
2. Increased Efficiency and Fewer Errors
Outsourcing enables you to make better use of your time by removing non-core, time-consuming tasks from your shoulders. This newly-gained focus also makes you more competent at your work, which reduces potential mistakes.
3. Better Healthcare Service
When you're free from the tedious paperwork, you can have more time to focus on your actual duty — that is, treating your patients better.
4. Prevent employee burnout
With no extra admin duties at hand, your in-house staff will no longer be overwhelmed and can attain a better work-life balance.
5. Convenient and accessible services
On your patients' end, this is a good thing since they have the option to access quality healthcare through their handy devices. It's also a good thing for you since you can reach patients from afar, even those from outside your geographical area. 
6. Access to global talents
Another great thing about outsourcing is it lets you work with global talents. Wherever they are, as long as there's a stable internet connection, they can deliver the service you need to improve patient care.
When Is It Ideal to Outsource Back Office Healthcare Services?
So, is it time to outsource your healthcare? Only you can know for sure. But if you're wondering when is the right time, try to answer the questions below.
Do you or your medical staff consume a significant amount of time doing paperwork?

Do you need to cut costs?

Do you need support in improving your healthcare delivery?

Do you need help in strategizing and implementing digital transformation initiatives?

Are you having a difficult time filling in the seats in your healthcare facility?

Do you have risk mitigation plans in place to strengthen data security?

Are you willing to conduct due diligence before outsourcing?

If you answer a resounding YES to all these questions, then healthcare BPO outsourcing may be a good fit for your organization.
How Much Do Outsourced Healthcare Services Cost?
The cost of an outsourced healthcare service varies from one service provider to another. The country where you will also outsource it also determines how much you will pay. 
Outsourcing to offshore locations like the Philippines may be more cost-efficient due to its lower labor market rate. On the other hand, onshoring, or outsourcing to a service provider within your country, may not provide significant cost savings since they also follow the basic salary rates in your jurisdiction.
Other than these, here are some factors that affect the end cost of healthcare outsourcing:
Type of service you need

Number of staff

Level of expertise of medical workers

Number of hours (full-time or part-time)

Length of contract

Any add-ons (for example, business continuity options or software upgrades)

For additional reference, you can also read our guide, Can You Really Save Costs by Outsourcing? or calculate your ROI using our Outsourcing Savings Calculator. 
If you need to get a more accurate quote, please feel free to get in touch with our team.
Common Challenges in Healthcare Outsourcing and How to Solve Them
Here are some of the challenges you might encounter with outsourcing and the ways to mitigate such potential setbacks.
1. Losing control over the outsourced service
Outsourcing is a form of delegation where you must willingly let go of tasks you cannot handle anymore. And it's not about who has control over the function either. Instead, it's about how you guide your outsourced team so they can fulfill your desired results.
Always ensure your communication lines are open and make it a practice to inform each other whenever an issue surfaces so you can act on it accordingly and on time.
2. Inconsistent service quality
Without proper training, handover of tasks, and onboarding, the service provided by an outsourcing company can be inconsistent with the one you provide.
You can prevent this from happening by investing enough time at the beginning of your outsourcing engagement. Take the time to train your outsourced staff or at least make the effort to inform your service provider about your expectations. Provide all necessary materials (e.g., guidelines, playbooks, etc.) that your outsourced team can follow so they won't feel lost on what they should do.
3. Incompatible Platforms
In an ideal world, your technological platforms should sync seamlessly with the platforms of your provider without any delay or error. Make sure to check the tools used by your provider before signing any engagement documents to avoid any form of technological incompatibilities.
4. Unclear Scope of Work 
Unclear expectations can lead to miscommunication and worse, an outsourcing nightmare. 
Don't let this happen.
Make sure that you identify KPIs, minimum performance standards, and the process for reporting and evaluation on your SLA right at the beginning of your partnership. This way, your service provider will know how they should perform and the targets they must meet.
5. Threats to Data Security
A data security breach is a disaster for healthcare organizations. It exposes confidential patient records, medical information, and other sensitive data to potential threats. 
To avoid such catastrophic events, choose an outsourcing company that meets HIPAA regulations and other compliance standards.
What to Look for in a Healthcare Service Provider
You can pull out a list of healthcare BPO companies with a quick Google search. However, choosing among these companies is more challenging than you expect it to be.
Look for these non-negotiable elements to help you shortlist potential candidates.
1. HIPAA Compliance
HIPAA stands for Health Insurance Portability and Accountability Act. This federal law enforces all healthcare and medical institutions "to protect sensitive patient health information from being disclosed without the patient's consent or knowledge."
2. Proven Track Record
What's the experience of the service provider in delivering healthcare services? Looking into their past projects and client feedback can help you determine if this company is worthy to work with.
3. Business Continuity 
Find out if the outsourcing company has business continuity measures. Ask them how they can provide continuous service amid unforeseen incidents such as power interruptions, typhoons, or sudden employee resignation.
4. Quality Control Measures 
Determine if the service provider has the appropriate quality monitoring procedures. How can they assure that they can maintain good service quality? Who is in charge of reviewing the team's outputs and performance? By doing so, you can have the peace of mind that you won't receive substandard service from them in the future.
5. First-Class Technology and Infrastructure
Examine the technological capabilities of the service provider. Assess if they can support you in terms of automation and digital transformation. Also, figure out if their technology and infrastructure are enough to meet patients' expectations of accessible and convenient healthcare service.
Conduct Your Due Diligence
Healthcare outsourcing is a two-way street. To make it work, you must also do your part in examining all shortlisted BPO companies.
Before you begin, ask for the assistance of a lawyer who can advise you on basic outsourcing requirements and healthcare regulations. 
Doing a background check is also a must, just as you would when hiring employees. You can also check online reviews and client feedback to get a grasp of how this company carries out its outsourcing duties.
In addition, you may also want to check if there are any hidden costs. See to it that everything is transparent in your partnership to avoid mishaps once your engagement begins.
Due diligence may sound tedious but it can save you from possible outsourcing failure.
Work with the Trusted Partners of Healthcare Providers
Are you ready to embark on your healthcare outsourcing journey? Booth and Partners is here to provide the support you need. 
We comply with HIPAA guidelines and implement our own strict data security protocols to safeguard the confidentiality of your medical documents. Our entire business is also powered by technology — analytics, artificial intelligence, automation — to streamline our processes and help increase the efficiency of your healthcare facility.
For your outsourced team, we hire only the best in the industry. We follow a standard recruitment procedure to screen, interview, hire, and train all successful applicants before onboarding them to your account to attain outsourcing success.
Contact us today to learn about the healthcare BPO services we have in store for you.
Discover more about outsourcing and
how you can maximize it for your
business success!
Get a copy of our E-book: Guide to Outsourcing.
DOWNLOAD NOW