Top 5 Reasons Why a Seamless Customer Service Keeps Customers Loyal

In business, the products and services are just half of what the customers would look at. The other half falls on the customer service — how you take care of your clients and the overall experience you provide them. That is how important delivering seamless customer service is. But have you ever thought of why customer service is important in making your clients stick to your brand? How can it help your business achieve growth and sustainability? 
You might feel like it's not a priority, that there are other business activities you should be focusing more on, but it is. Investing time and effort to provide seamless customer service can drive loyalty and revenue in the long run, especially that the voice of customers keeps on getting louder every day.
Importance of Providing a Great Customer Experience
Customer service impacts not only the potential customers but the existing clients as well. Yes, it helps boost sales and creates a good impression for your brand when done right, however, poor customer service may damage your overall reputation. Aside from losing the specific customer who had a bad experience, they are also more likely to tell it to other people. In a study, 62% of consumers said that they share negative customer experiences with friends, colleagues, and loved ones. Losing customers will surely impact your sales. 
If you want to be on top of the game, providing high-quality products and services is not enough to keep customers coming back to you. Understanding what your clients expect is more important. This includes delivering a better customer experience. In recent reports, 86% of customers said that they are willing to pay more for an excellent customer experience while 68% of consumers note that positive feedback from previous clients encourages them more to purchase.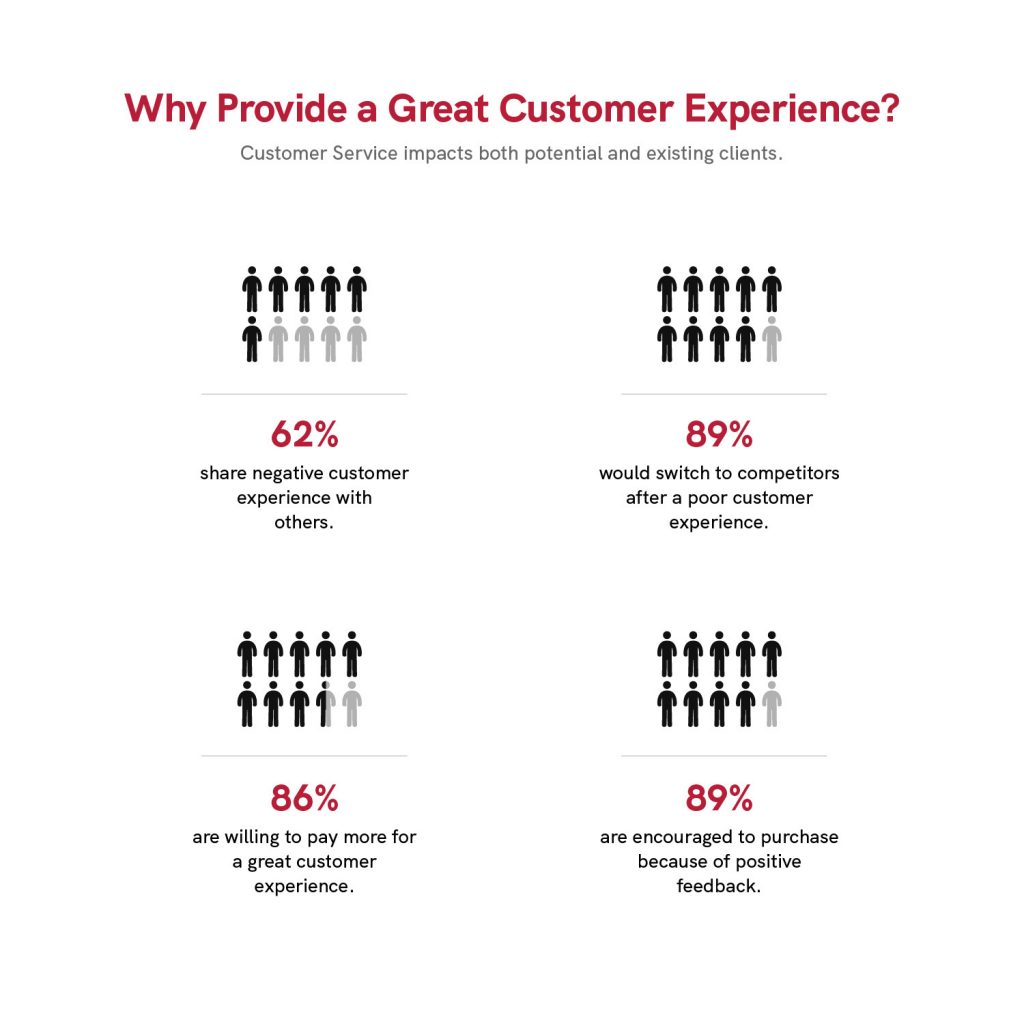 Positive customer experience encourages repurchase. Once you make clients feel that they are valued, they will love your brand and may soon become a loyal customer. If for instance, a customer needs a product like that of yours fourfold a month, when you win their loyalty, you now have four secured sales every month.
Why a Seamless Customer Service Keeps Customers Loyal
When doing business, you might get confused as to why you should take some effort and keep an eye on your customer service when almost all processes require your time and attention. Let's dive into the top reasons why seamless customer service is important to keep clients loyal:
1. Customer Support Helps Increase Revenue
Entrepreneurs always lean towards the strategies that can provide sustainability and growth to the business. Profitability is the key, and note that customer service, although not a core business activity, correlates to business revenue in a sense. 84% of organizations working to deliver a higher level of customer support reported an increase in their revenue. A totally satisfied customer contributes as much as 2.6 times to your revenue.
This becomes possible when consumers love your brand and patronize your products and services. This promotes customer retention, which is a clear path to business success that can increase revenue by up to 25%. More than the value-for-money output, customer experience is a part of the top in today's business landscape as it helps keep clients stick to your brand.
2. Satisfied Customers Help Build a Good Reputation
If you are aiming to attract different sets of people to your venture such as customers, employees, investors, partnerships, and many more, your reputation can make your business go a long way. 
Building a good reputation is helpful as individuals are more likely to trust advice from the people they know. This is in line with the fact that 69% of customers would recommend your brand and share the great experience they had with your business. And businesses are aware of how effective word-of-mouth marketing is that 82% of marketers use this strategy to increase brand awareness.
For instance, a client considered their experience with your business as excellent, they would tell it to their friends, colleagues, loved ones, and many more, especially when someone they know needs the same products and services. They are unaware that they are already promoting your business for free.
3. Better Customer Care Decreases the Churn 
Since customer experience has become one of the things that consumers look into when purchasing, 89% of them would switch to competitors after experiencing poor customer service. And you don't want your business to experience this. Improved customer support can greatly help prevent the customers from churning as it makes them feel valued. 
Another thing that correlates here is employee happiness. When your staff is happy, it would reflect the way they serve customers. And clients would support a business that knows how to take care of their people. This would increase the customer ratings by up to 10%.
4. Customer Advocates Lessens the Expenses in Marketing
Once customers become loyal to your brand, they turn into advocates. Through them, your business can save a lot of marketing costs. More than patronizing your products and services, they also bring new business or potential clients from time to time. They help you get sales without even spending much on advertising and marketing, especially now that 84% of consumers do not fully trust advertisements anymore. 
Just a tip: Before spending on the marketing and advertising activities, check first how you can maximize the existing ones. For example, if you are getting a lot of leads from word-of-mouth marketing, you can offer a promo to your existing customers. This can be like they can get 10% off their next purchase when they post on social media something about their previous experience doing business with you. The feedback can create a reputation for your business while giving a simple reward to your existing clients.
5. Having Loyal Customers is Important in Uncertain Times
Anytime, your customers can be encouraged by your competitor to shift, especially that hundreds and thousands of advertisements are everywhere. How can you secure loyalty and build a strong business relationship in this type of environment? 
Make your customers feel special, that they are important to your business, and that they are being cared for through personalized content and experiences. Additionally, ensure to provide an accurate and dependable service. Always consider delivering more than your promise. This cannot fully guarantee a strong and long-lasting business relationship, however, it can give you higher chances of winning customers.
How to Provide Excellent Customer Support
One of your options to ramp up your customer support is to build your in-house team. However, it can sometimes take a lot of your time, from sourcing a talent pool to the onboarding process. It may also cost more than you expected. 
If you want to avoid the hassle, another option you have is to outsource customer services, which could be beneficial to you and your business. Remember that you don't have to deal with every business activity on your own. There are many more important areas of your venture that need your attention. 
When you outsource your customer service, it saves you more time as the service provider will take care of everything, from the initial to final steps of hiring as well as the HR and administrative tasks covering your team. A fully hassle-free experience for you. 
Moreover, in terms of costs, outsourcing can help you spend less, especially if you outsource to countries with lower labor rates such as the Philippines. Also, you don't have to purchase new equipment, dedicate an office space, and take care of the benefits of your staff as the service provider will be the one to take care of these things for you.
Customer Service Provider in the Philippines
Customer service is a powerful tool for businesses when properly done. Its success can impact every level of your organization, which is why companies should always provide seamless customer service, especially if you are aiming at what can make your clients stay loyal to your brand.
If you are looking for a reliable customer service provider in the Philippines, Booth & Partners can set up the floor for you. We provide a top-notch offshore customer service team and we will assist you throughout the process. Contact us to know more about our tailored outsourcing services. 
Discover more about outsourcing and
how you can maximize it for your
business success!
Get a copy of our E-book: Guide to Outsourcing.
DOWNLOAD NOW