Why Businesses Should Hire a Virtual Assistant for the Holiday Season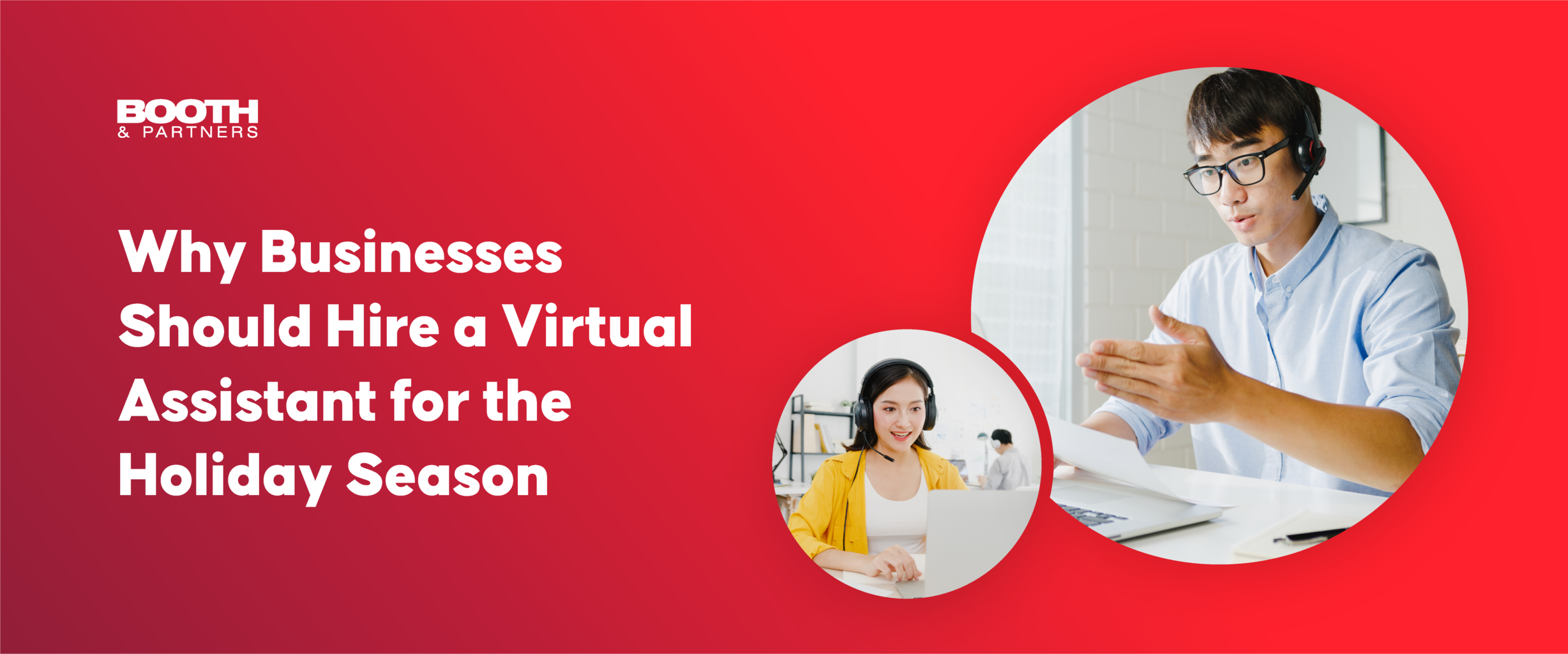 The holiday season is one of the most awaited moments of the year. Because who wouldn't love the fun and exciting vibe during this season? However, it is also the busiest time for most businesses. Countless meetings here and there, planning and executing the company's year-end party, and getting the remaining projects done before the start of a new year, all while juggling with hectic personal holiday celebrations. To keep up with the holiday rush, it is the perfect time to hire a virtual assistant, also known as an offshore assistant, which is one of the roles most outsourced in the Philippines.
Virtual assistants can remotely assist with any business-related activities. They are commonly independent contractors and typically on a work from home set-up. They can provide excellent support that will surely exceed the expectations of businesses. Moreover, they specialize in administrative remote work. And yes, they are not physically present in the office, but they can give the same or even better service than a regular personal assistant can. 
Benefits of Hiring a Virtual Assistant for the Holidays
Having an offshore assistant especially during the holiday season is undeniably beneficial to both you and your business. With this, here are just some of the benefits you can get when you outsource a virtual assistant for the holidays:
1. High Productivity Rate Even on Holidays
Even on special dates like the Yuletide, it is business as usual. This is the perfect time for companies to flourish as people are generous, purchasing different products and services here and there. And to keep up with the demand while enjoying the celebration with loved ones and get the most out of the season, hire a virtual assistant to help keep the business operating with maximum productivity during these days.
2. Cost-Efficient Access to a Professional Assistant
A regular assistant is likely to file for a vacation leave during this time as they also want to spend time with their family. Hiring another personal assistant just to get by the holiday rush may cost more than you expect. Instead, it would be more ideal to outsource an offshore staff by staff leasing in the Philippines. Through this, you can get the help you need at a more affordable cost as they allow you to hire a virtual assistant on your required season. 
For instance, your business has higher demand during the Yuletide season, this means you need more people for the time being. Set an agreement with one of the virtual assistant services companies in the Philippines to provide additional staff only during this season. It is more cost-efficient as you will only need to pay for the time and days spent doing your business processes for the holidays.
3. Greater Flexibility
Lessen the burden of heavy workload as a result of the holiday rush. Get the help of offshore staff who can keep on working for the business even on holidays. Virtual assistants can work from anywhere in the world as long as they have the access to the internet. They work around your timetable. As a result, it allows easier contact anytime you need them, no matter if it is new year's eve.
4. Helps Prevent Burnout
Take some time off the office, especially during the holiday season. It helps you appreciate your business even more, given that this is the ideal time to create special moments with your family and friends. Let a virtual assistant make it possible. Delegate some of the non-core back-office functions to them to save more personal time as these may take up a lot of hours to do.
17 Ways a Virtual Assistant Can Help During the Holidays
Many great opportunities are there for businesses during the holiday season as people are buying gifts online, finding relaxing places to stay, and many more. This causes the demand in various business industries to increase, which is why hiring virtual assistants in the Philippines at this time to add manpower may drive your business towards success. They will help you with the following tasks among others:
1. Acts as a Customer Service Representative
Customers are more likely to reach out at this time whether to buy or just merely to inquire. It would be ideal to have someone such as a virtual assistant who will gladly assist customers with their questions, concerns, and even to get what they need.
2. Handles Business Transactions
According to a study, 76% of consumers do their shopping during holidays. Have a virtual assistant to help handle business transactions such as taking and tracking orders up to the dispatching process. It allows you to continuously serve and keep being a reliable brand to clients even at the time when they least expect it.
3. Helps with Marketing Processes
Virtual assistants can also aid with some of the marketing processes. An example is by promoting products and services through social media and other platforms available. This keeps you on top of the competition.
4. Responds to Emails Immediately
Reading and responding to emails can be a tedious task that can take up a lot of time. Fortunately, a virtual assistant can take over. They can reply to emails, create an organized mailing system, and respond to customer inquiries instantly. 
5. Creates Exceptional Newsletters
One way to get more leads and boost sales is through an email newsletter. Providing updates about the brand's latest news, products, sales, and services helps promote repeat business, which is a great area to focus on when you are aiming to increase sales.
A virtual assistant can write comprehensive newsletters and send them out to the existing customers. They can even update the list of contacts while they are on it. 
6. Creates Basic Graphics for the Content
During holidays, businesses ensure to flaunt a vibrant vibe to consumers, such as through banners and posters. An assistant in a remote work set-up can help prepare basic graphics matching the content and campaign.
7. Prepares Business Communications
A work from home assistant during holidays can help type, edit, and proofread manuscripts, correspondence, and other business communications. This can help save more time.
8. Organizes Files Digitally
The technology keeps on innovating that allows businesses today to store files online. As a result, easier access to data anytime and anywhere in the world. For businesses using digital storage but have no time to properly organize all the files, hire a virtual assistant. They can get things sorted quickly and easily. 
9. Manages Year-End Tasks
A new year brings opportunities for growth and goal-setting to businesses. This is an ideal time to outsource an offshore staff to delegate year-end tasks and allows you to concentrate on creating business plans. They can also function as a sounding board or a brainstormer who is ready to give fresh and unique ideas to help the business thrive.
10. Prepares for a Critical Workload
Whenever the holidays approach, the workload starts to pile up. A remote team can assist businesses during the holiday season, especially since some of the employees may become unavailable. An experienced virtual assistant can carry out important tasks and aid in achieving all the goals for the time being.
11. Helps Businesses Get Ready for Tax Season
Sooner or later, the tax season will come creeping in. Avoid last-minute work by getting a bookkeeping virtual assistant to help organize receipts, take care of the paperwork, and create an organized spreadsheet of expenses. 
12. Takes Care of Bills, Accounts Payable, and Bookkeeping
Businesses can also rely on a virtual assistant for some of the accounting functions. Most of them know how to properly process these and prepare the accounting paperwork.
13. Get Quotes from Contractors and Suppliers
Executives already have a lot on their plate to handle other processes. A virtual assistant can be the one to get in touch with contractors and suppliers to get quotes, set an agreement, and many more.
14. Updates the Inventory
An inventory is important for a business to track the movement of products and all the business transactions. To have this off your table, you can ask the help of a virtual assistant to do this.
15. Manages Your Calendar
The holiday season is a hectic time. If you can't keep track of your calendar, a virtual assistant can do it for you. They can manage your schedule, emails, and plans for the holidays. They can book your flights, prepare your meeting schedules, reserve a table at your favorite restaurant, and send you reminders for upcoming events, among other things. 
16. Organizes Cards and Presents
Sending cards and presents to clients, employees, and business partners is a great gesture to show your appreciation. Save the hassle of finding the perfect gifts by hiring a virtual assistant. They can do all the researching, ordering, and shipping of the presents while you focus on more important activities of your business. 
17. Allows Business Owners and Staff to Take a Holiday Break
The holiday season is a time for yourself and your loved ones. This is why many employees want to take some time off to celebrate with their families. However, they may feel guilty, especially when the work is piling up. To make them feel more relaxed and recharged for the coming year, give your loyal and dedicated staff much needed time off by getting the service of a virtual assistant who is willing to work this season to fill their shoes for the time being. 
Aside from helping you keep the business operating during the holidays, it will also prevent a huge pile of workload when you and your people go back to the office.
Hiring a virtual assistant is like getting numerous employees for different roles all at once. They undeniably wear many hats, which is beneficial to businesses, especially in terms of cost savings. If you are a business owner in need of outsourcing in the Philippines, now is the time to hire a virtual assistant from Booth and Partners. Get in touch with us and we will gladly provide you with a professional virtual assistant perfect for your business needs.
Discover more about outsourcing and
how you can maximize it for your
business success!
Get a copy of our E-book: Guide to Outsourcing.
DOWNLOAD NOW