5 Reasons to Hire a Virtual Assistant for Your Business this 2021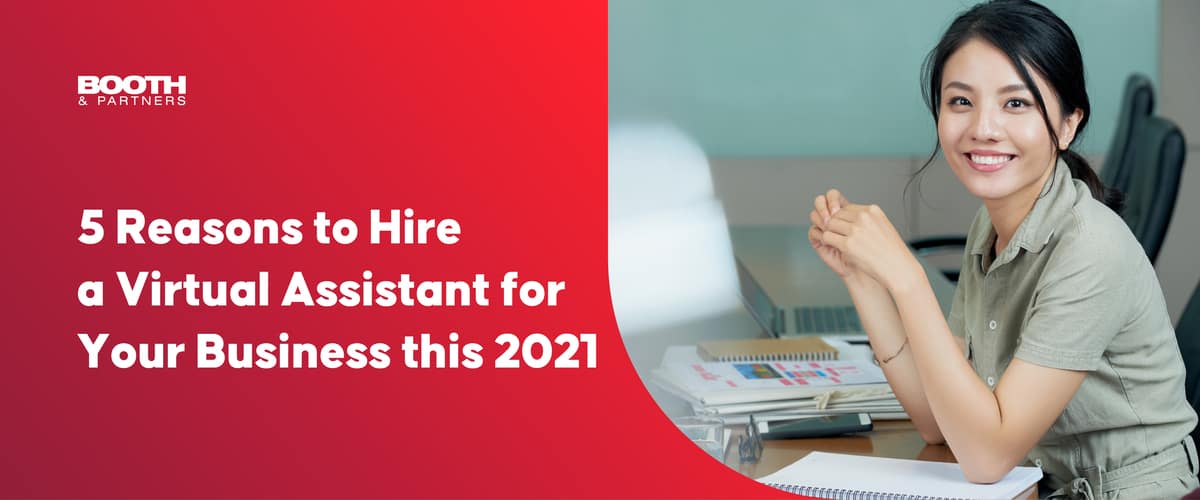 Nowadays, businesses hire a virtual assistant as a strategic and supportive solution to skyrocket their success without breaking the bank. This has become one of the key components in the formula towards growth and efficiency. 
Being an entrepreneur, delegating non-core tasks to virtual assistants can be your way to the top and will allow you to focus on taking the next steps forward to achieving your business goals this 2021.
Let's delve deeper into how this business strategy can be your key to entrepreneurial success today. 
What is a Virtual Assistant?
If you are looking for someone with a great set of skills, hire a virtual assistant. It is an individual who works remotely and provides a range of services to businesses and entrepreneurs. 
Back then, most of them are self-employed and freelancers, doing specific tasks that commonly focus on executive assistance. However, the industry continuously grows and today, you can now hire a virtual assistant for full-time work. Moreover, they have adopted a wider range of skills and knowledge that makes them more ideal to hire.
How Can a Virtual Assistant Help You in Business Activities?
According to The Week Notes, there are more than 5,000 virtual assistants listed on Upwork, 74,000 on Guru, 26,000 on Freelancer, and 5,000 on PeoplePerHour. But what are these people doing? What are the services they can help you with? Here is a list of some of the notable tasks that a virtual assistant can do for you:
Administrative Tasks

Accounting and Bookkeeping

Data Entry

and Management

Social Media Management

Personal Tasks

Content Creation

Research

Executive Assistance

Sales and Marketing, and

many more
This great business support can do almost any work-related tasks. They have a wide scope of skills and knowledge beneficial to you and your business. Just tell them what you need and they will be more than glad to assist you.
Why You Need a Virtual Assistant
These days, remote assistants are everywhere. More and more businesses and entrepreneurs are turning to them through staff leasing because of the help and all the benefits they could give. And based on their standing as of today, it seems like they are here to stay to constantly assist companies.

Here are the top five reasons why you need a virtual assistant this 2021:
1. Maximize Costs
According to a study, businesses can save up to 78% on operating expenses when they outsource a virtual assistant. This is one of the main reasons why entrepreneurs and businesses, especially startups, choose to hire a virtual assistant. 
Instead of getting a full-time in-house employee to do a small or specific job, a virtual personal assistant would be better as they can handle more than just one type of task. That is one employee equivalent to many.

They commonly charge either on an hourly or project basis. This means you only have to pay for the hours spent or the work that's done. No more, no less.

Additionally, there are no overhead expenses like the equipment, office space, internet connection, training, and many more, which is excellent profitability as they are working remotely. 
2. Increase Efficiency and Productivity
Every company has a list of non-core activities to do and this can take up a lot of time and resources. A virtual assistant can help boost your focus by optimizing your time and helping you access the data and relationships you need for your business strategies to thrive. 
Based on an article, an average staff can only be productive for about 2 hours and 53 minutes in an eight-hour workday, yet you are paying the full eight hours. This means outsourcing a virtual assistant to do the non-core business processes can be more efficient since they are only working on an hourly or per-project basis. To support this fact, it was found in a study that remote workers are 13% more productive.
Moreover, VAs allow you to invest and optimize your time and resources. All you need to worry about are the core areas of your business, the ones that can greatly impact its growth. 
3. Scale-Up Business Operations
Strategic thinking and decision-making are some of the most critical tasks an entrepreneur must do, but some business processes impact strategic vision. These ideas don't just pop out of your head instantly. You need time, but how can you do it if you have an increased work volume with decreasing turnaround time? Get a virtual assistant who can help scale-up your business quickly. They can handle the increased work volume and support you as you set goals that can guide your company towards long-term success. 
When you hire a VA for your day-to-day operations, you can now easily cope with the increasing work demands without worries rather than stressing yourself about how you can maximize your time and resources doing all the things that need to be done.
4. Round-the-Clock Services
A regular employee has a pre-set schedule of work hours. However, there are times when you need them after the common business hours, especially when the task that needs to be done is urgent. This is one of the advantages of outsourcing a virtual assistant. You have the option to use their service anytime you need it or easily ask them to change the schedule for a specific date. 
There are many reasons why getting a VA through staff leasing is better. One is it offers 24/7 services. they can be there to help you anytime you need it. And since they are working remotely, most of them are in a different time zone than you. It could be your advantage to maximize their service by having them cater to different time zones. 
Through this technique, you and your in-house staff can enjoy a full work-life balance while still having some of your business processes work at your convenience. 
5. Provide Greater Skills Needed for Your Business
Admit it or not, you may be good at doing some of the processes of your business, but no matter how good you are with the core areas, there are certain things we can't do or are struggling to deal with such as creative and IT works. The good thing is you can transfer these activities to a virtual assistant. 
Outsource a VA fit to what your company needs. Discuss the skills you require to ensure that they can provide the skills needed for your business. They will support you throughout the process. It's always better to let the professional do what they do best anyway.
In Conclusion
Whether you need a great option to streamline your daily to-do list or you want to aim for the ace, a virtual assistant would be a reliable addition to your team. They don't need hands-on supervision as they are already skilled at what they do. They can be of great assistance as you work on the more important activities towards business growth. 
Thinking of hiring a virtual assistant this 2021? We've got you covered! Get in touch with us today and we can discuss a setup that works for you. 
Discover more about outsourcing and
how you can maximize it for your
business success!
Get a copy of our E-book: Guide to Outsourcing.
DOWNLOAD NOW