Your Ultimate Guide to Building an Effective Telemarketing Team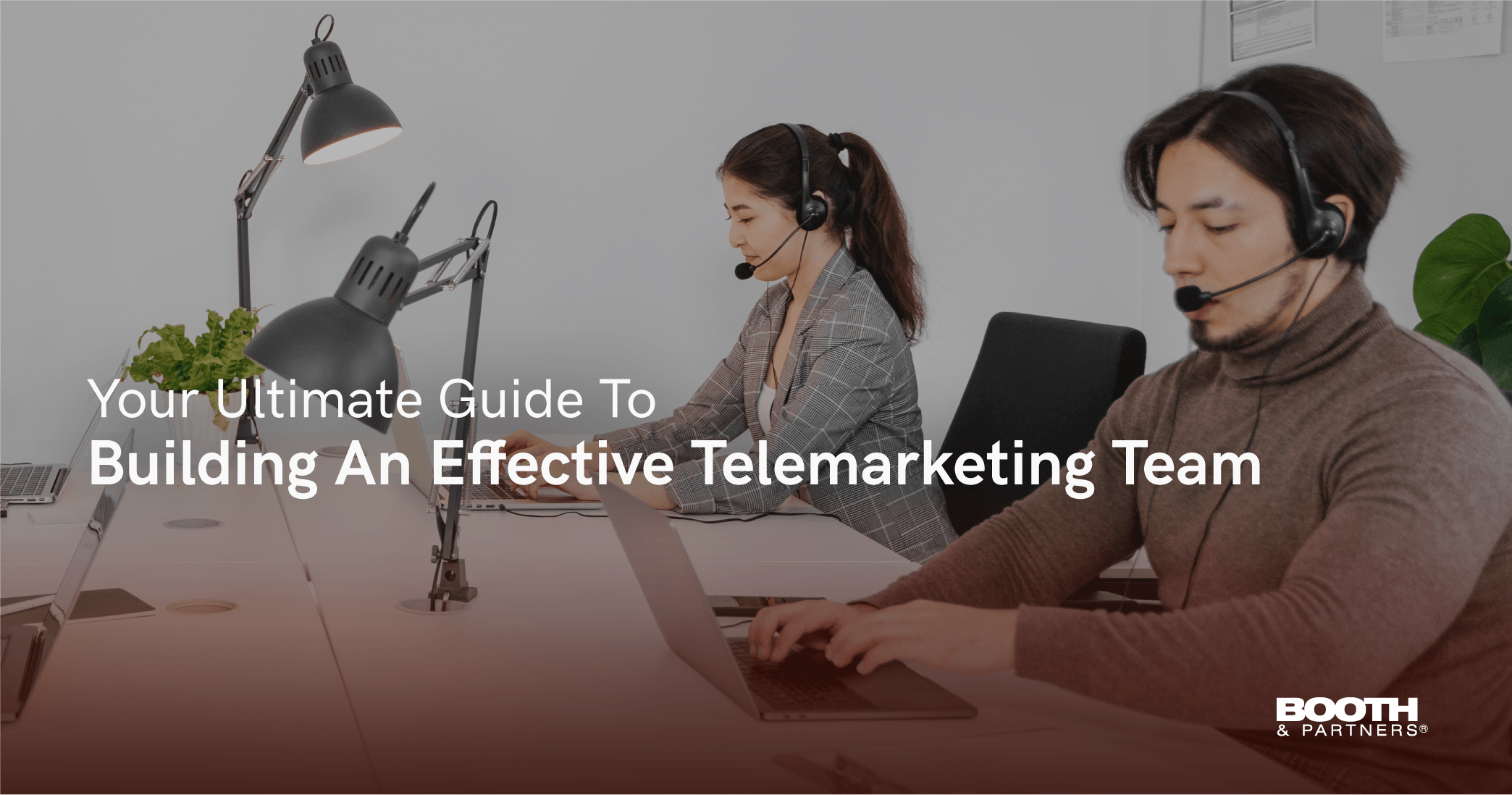 Although online marketing is the latest and all-encompassing trend nowadays, offline marketing remains a fundamental strategy for many companies. These are companies that understand that marketing is all about connecting with your audience. And one of the best ways to do that is through a telemarketing team.
Telemarketing allows you to forge a strong bond with your client base. Here, they can connect with your brand through live, human conversations. When done right and done thoroughly, it can even boost your business beyond your goals.
If you feel that telemarketing can be an effective sales and marketing tool for your business, then maybe it's time to build a telemarketing team. For this, you need to find the right people and come up with the best strategies. These are not easy tasks but don't worry, because this guide has got you covered.
What is Telemarketing?
With digital solutions becoming increasingly available, businesses are going online. Offices are going paperless to improve efficiency and optimize the customer experience. But on the other hand, this movement leaves little to no physical communication between customers and merchants. And telecommunications isn't much of a marketing tool now, as well.
However, online platforms are quickly getting saturated. And your brand can easily get buried under the influx of ads that users encounter daily. So, telemarketing remains a powerful tool to push your products and services.
Telemarketing is a method of direct marketing where you promote products and/or services to potential customers via call. You can also schedule face-to-face or online meetings to discuss and sell your products and services through the call.
Telemarketing is effective in improving brand awareness, vetting prospects, and generating leads. It's also ideal for appointment-setting, surveying, and database maintenance. As a marketing strategy, it's an easy way to obtain valuable information about your audience. They would be more likely to talk about their needs, interests, preferences, buying patterns, and backgrounds. And this information would help you build stronger and more effective strategies. 
Types of Telemarketing
There are four main types of telemarketing. Each type fits differently for each business, and it's extremely important to choose the right one for yours. Sure, you can implement multiple types of telemarketing at once, but you still need to know which to prioritize. And for that, you need to understand each of them well.
1. Outbound Telemarketing
This type of telemarketing is mainly concerned with outbound or outgoing calls. Here, telemarketers will initiate the call with prospective or existing customers. The process of initiating the call is called "cold" calling because the client is not expecting the call and has no idea about your products or services.
Outbound telemarketing requires a team that has thorough training and product knowledge. Your agents should have a profound knowledge of your products and services. And they also need to be experts in marketing and selling your brand to consumers.
2. Inbound Telemarketing
Unlike outbound telemarketing, the prospects initiate the calls in inbound telemarketing. And your telemarketing team will be receiving the calls, which are usually generated by advertisements. It also happens when the prospect made an inquiry beforehand, and your team gives them a "warm" call in response. In contrast to "cold" calls, "warm" calls are expected by the recipient.
One of the main goals of inbound telemarketing is to take orders for products or set appointments for services. Since the prospect initiated the call and is already interested in the product, they have to be handled well. This requires in-depth knowledge of your target market and profound expertise in customer service
3. B2B Telemarketing
B2B telemarketing is short for business-to-business telemarketing. Here, the prospects are other companies that might need your products or services.
Like in other types of telemarketing, B2B telemarketing aims to sell your products and services, and increase brand awareness. At the same time, however, it's also about building relationships with your clients. This is because there are only so many companies in each industry, so the number of prospects is often limited.
Your contacts in B2B telemarketing are key decision-makers in business. For this, you need a team that's well-versed in pitching your brand to executives. They also need to guarantee customer satisfaction and nurture client relationships.
4. B2C Telemarketing
B2C or business-to-costumer telemarketing directly targets the end-users of your products or services. This type of telemarketing is very ideal for retail businesses. It's similar to outbound telemarketing, in that you're calling prospective customers. However, B2C telemarketing is more about sales and transactions.
Here, you need a team that specializes in both sales and marketing. Also, you should only call prospects who expressly want/need what you offer. This way, they'd be most likely to complete a transaction during the call.
Telemarketing Advantages and Disadvantages
Telemarketing has plenty of benefits for your business. The most vital of these is increasing your brand awareness and expanding your client base. It also lets you determine your customers' interest levels towards your brand, which is crucial when introducing new products and services.
Other advantages of telemarketing include:
Building rapport with customers easily

Personalized and interactive sales services

Efficient generation and vetting of leads

Explain technical terms and processes clearly

Sell products and services remotely

Expand the reach of your brand rapidly

Reach out to both new and existing customers

Ideal strategy during a

pandemic

, when face-to-face interactions are limited or restricted
Despite these advantages, telemarketing also has a downside, particularly when done poorly. It's important to know these disadvantages to know what to expect or avoid in your telemarketing campaign.
Some of the cons of telemarketing are:
Some customers resent telemarketing. This is more likely to happen in B2C telemarketing, especially when calling at night or very early in the morning.

Customer lists are sometimes expensive.

You can be at risk of violating

telemarketing laws

, especially when your customer list is badly maintained.

Building a telemarketing team often costs lots of time and resources.

Poor telemarketing can damage your brand's reputation.
Telemarketing Tips for Beginners
Most of the cons of telemarketing are avoidable. But beginners are susceptible to these pitfalls. Follow these tips to avoid mistakes and maximize your strategy:
Communicate in a relaxed, comfortable, and natural manner. Prospects dislike it when you sound stiff and scripted. Instead, foster a natural flow in the conversation to keep their interest.
What's in it for your prospects? Before making the call, consider why your prospect would want your product or service. Identify the challenges and issues that your product/service addresses. And include these points when explaining the reason for your call.


Narrow down your prospects.

Filter your list to prioritize those who are most likely to convert. In B2B telemarketing, for example, this could mean targeting prospects in specific locations, in particular industries, and of certain sizes.

Maximize the number of calls you handle.

The more prospects you reach, the more likely it is for you to convert more of them. To achieve this, you need a team that's solely dedicated to telemarketing, who would not get distracted by other tasks.

Invest in training.

You and your team need the right skills and knowledge to function effectively. Training will help you become resilient to rejections and prepared for objections. Proper training and coaching will also make you a more engaging communicator and customer service expert.

Ask good questions.

Asking the right questions will not only keep your prospect engaged — it will also help you diagnose their pain points. Use a blend of closed and open-ended questions that would allow your prospect to speak more than you. With the right questions, flow, and timing you can easily convert them.

Research telemarketing rules and regulations in your target locations.

Each area has different laws on telemarketing.

In the US, for example, you need to be mindful of the

Telephone Consumer Protection Act (TCPA)

, the Telephone Sales Rule, and the Telemarketing Consumer Fraud and Abuse Pre through the callYouvention Act.
How to Build Your Telemarketing Team
Assembling a dedicated team of telemarketers is the best way to maximize your telemarketing campaign. And the sole task of this team is to handle telemarketing calls. You have several options in building your team, which are:
1. In-house Hiring
In-house hiring is what usually comes to mind when you're thinking of building a telemarketing team. Here, you are in charge of recruiting, training and monitoring your team. You also need to provide the necessary tools, equipment, and workspaces.
Despite being the traditional option, there are many disadvantages to in-house hiring. Recruiting, onboarding, and training candidates often consume a lot of time and money. The top-notch telemarketing tools and equipment are expensive, as well.
But although in-house hiring takes so much time and resources, the team would be your own. You can monitor them closely. And you can implement your own management structures, training programs, and performance metrics.
2. Staff Leasing
Outsourcing is a great alternative to in-house hiring, and one way of doing this is through staff leasing. Here, you will pay another company to provide the workforce for your telemarketing team. The third-party service provider handles recruitment, human resource administration, and other administrative and support functions for your team.
Through staff leasing, you can have a team easily and quickly. Plus, you don't need to spend resources on onboarding, training, and equipment. All while ensuring that your telemarketing campaign is in expert hands. However, in most cases, staff leasing means having less control over your team.
With providers like Booth & Partners, you won't have to worry about relinquishing control over your staff. Our staff leasing services still leave the operational control entirely to you. You can implement your management structures, even on an offshore telemarketing team. Meanwhile, we're here to assure the quality of your team by taking care of their HR needs and providing suggestions on how to maximize their performance.
3. Managed Services
Hiring managed services is another way to outsource your telemarketing team. Like staff leasing, it gives you quick and easy access to a team of experts. And you don't need to spend time and resources on onboarding and training, and acquiring new tools.
In managed services, however, you are outsourcing the entire business process. This includes performance management, as well as HR and other administrative support and functions. In turn, you will receive regular reports on the performance and operations of your outsourced team. This is an ideal solution for lessening your company's workload.
Managed services don't necessarily mean that you have zero input on your outsourced staff. With Booth & Partners, you will work hand-in-hand with our operations managers to discuss Service Level Agreements (SLAs) and target Key Performance Indicators (KPIs) that are best for you. We can also help you build training materials if you don't have them yet.
Outsourcing vs. Building An In-house Telemarketing Team
Doing it in-house may be the top-of-the-mind option for building a telemarketing team. But in an increasingly competitive and globalized market, outsourcing might be the better option. 
Here's why:
It's more cost-efficient in the long run.

Recruitment, onboarding, and training cost a lot. You also need to provide equipment to your team and pay for employee premiums. With outsourcing, you don't need to mind any of those, since your service provider has got you covered.

Easy access to expert talent.

With an outsourcing partner like Booth & Partners, you can rest assured that your telemarketing campaign is handled by experts. Your outsourced team will be made up of handpicked talents that fit your goals. No need to spend resources to search for and train them on your own.

Easy access to better technology.

You don't have to research and buy new hardware and software for your telemarketing staff. When you outsource, your team will be equipped with the best and latest tech already.

Maximize your campaign.

An outsourced team would solely focus on handling your telemarketing campaign and have no other tasks. This focus is especially crucial in telemarketing because it maximizes the number of calls. In turn, it helps improve the reach and quality of your brand.

You can focus on your core functions.

Your service provider will take care of your telemarketing operations. So, you can focus more on the core activities of your company, such as improving your products and services.

Have more flexibility in staffing.

You can outsource a telemarketing team to meet temporary needs. Afterward, you can simply release them once you're done. You don't need to commit to continuous employment.

Expand your geographical reach.

This is especially true for

offshore outsourcing

. Your telemarketing reach would not be limited to your region. With an offshore team, you can easily reach international prospects, as well.
These are only some of the benefits of outsourcing your telemarketing team. And with the right service provider, you can enjoy even more of these benefits, all while having a team that propels your business to greater heights.
Wrapping Up
Telemarketing is a highly effective marketing strategy. It allows you to improve your brand awareness, connect with your target market, and drive more sales. So, it's very crucial to have a skilled team that would handle your telemarketing campaign.
Although businesses prioritize digitization and online efforts in this digital age, telemarketing should not be undermined. It remains a powerful marketing strategy. And it's important for lead generation, customer relations, and brand expansion.
However, building an effective telemarketing team isn't easy. A successful telemarketing campaign turns contacts into new customer prospects. It requires in-depth research and planning, taking up a lot of your time and resources. Fortunately, you don't have to do it all by yourself. Businesses running telemarketing campaigns can either use their own sales staff or outsource to a specialist call center or an outsourcing service provider to help you build your dream telemarketing team.
Learn More About Outsourcing
Are you thinking of starting your own telemarketing team today? Outsource professional telemarketers from a reliable outsourcing service provider in the Philippines. Booth & Partners will help you discover the right talent for your market through our tailored recruitment process. Get in touch with us now, and let's discuss how we can help your business.
Discover more about outsourcing and
how you can maximize it for your
business success!
Get a copy of our E-book: Guide to Outsourcing.
DOWNLOAD NOW